David Andrews defends Bill Belichick as hot seat rumors continue to swirl
Patriots

"Without him I probably wouldn't be sitting here."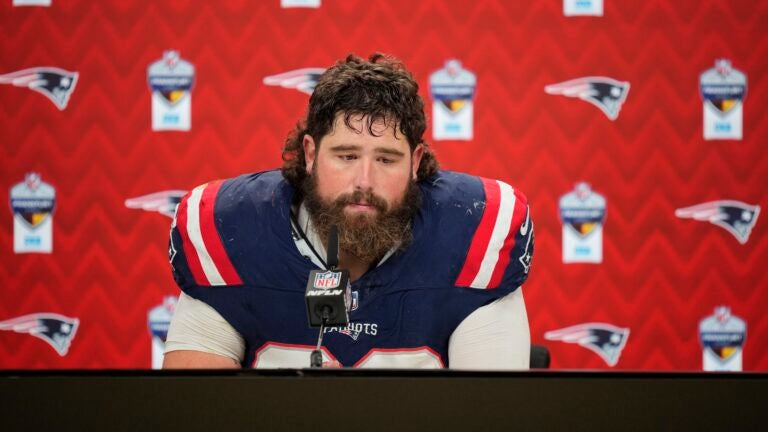 What current, former Patriots said about Mac Jones' recent benching against the Colts


Bill Belichick explained his decision to bench Mac Jones in the Patriots' loss to the Colts

Both Bill Belichick and Robert Kraft have publicly admitted that the Patriots' 2-8 start was disappointing.
Belichick has been asked about his professional status several times in recent weeks. Several reporters including Ben Volin from The Boston Globe and Tom E. Curran of NBC Sports Boston have said that Belichick is in the hot seat.
Given how this season has played out and his long and storied history with the franchise, it's hard to say what Belichick's future will hold with the team.
After Sunday's 10-6 loss to the Colts, a reporter asked offensive tackle David Andrews if he still believed in Belichick after the team's poor start.
"May faith be in him. Without him I probably wouldn't be sitting here," Andrews said. "Not many people wanted me when I came out, except Bill. He was the only coach who came and trained me, so I have a lot of trust in him. I had a lot of success. I believe in what he says, what he does, because I know it has helped me in my career and become a better football player."
Andrews signed with the Patriots as an undrafted free agent out of Georgia in 2015. He is now in his eighth season in the NFL and is a team captain.
"I never thought a kid from Georgia would be sitting here in Germany playing in an NFL game," Andrews said. "Coach gave me a chance when that was all I wanted and the Lord was good to me."
Belichick has many supporters, including Andrews, as the Patriots endure the worst season in the coach's 24-year career with the organization.
The results are still standing. The Patriots simply haven't been good enough to win much this season.
"We just have to finish, everyone has to do a better job," Andrews said. "We all have to do a better job. Look, it's the same thing I could say. We had chances. We just have to do a better job."
Sign up for Patriots updates🏈
Get breaking news and analysis in your inbox throughout football season.