Wanderer, 17, was saved from a near-fatal fall while taking a selfie by the waterfall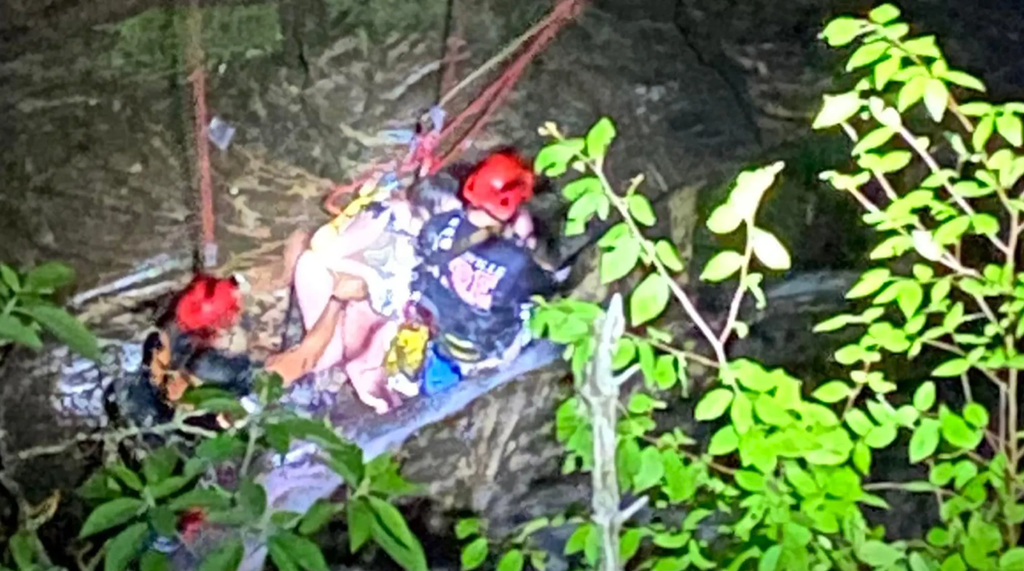 Authorities in Georgia have described the "miracle" rescue of a 17-year-old hiker who became wedged in rocks after falling 15 meters off a cliff while trying to take a selfie.
Rescue workers from 18 agencies were called to Raven Cliff Falls, near the town of Helen, just after 5pm on Friday after the teenager fell off the edge of a hiking trail and became stuck in rocks a third of the way down the falls. Now Habersham reported.
Rescuers located the hiker, who was wedged in a crevice from the chest down after rappelling off the cliff.
The Georgia State Patrol used a helicopter to lower down workers from the Cobb County Georgia search and rescue team to assist with the mission.
After six hours, the rescue workers were able to free the trapped hiker from the rocks and bring them to safety with ropes.
Suffering only minor bruises and scrapes, she was able to walk out of the woods with the assistance of rescue teams in the early hours of Saturday morning, said White County Fire and Emergency Management Agency battalion chief Josh Taylor Now Habersham.
She was then taken to a nearby hospital for treatment. No other details about her condition were known.
Rabun County Technical Rescue Team's Chris Wright said the hiker appeared out of range at times and "the situation was looking grim."
He recognized the combined efforts of the many federal, state, and local agencies involved in the effort.
"Through courage and determination, a multi-agency team from across the region has wrought a miracle," said Wright Now Habersham.
https://www.independent.co.uk/news/world/americas/georgia-hiker-selfie-waterfall-rescue-b2085710.html Wanderer, 17, was saved from a near-fatal fall while taking a selfie by the waterfall