Ukraine news – live: Russia's Belgorod is 'shot at' as Kyiv issues ceasefire warning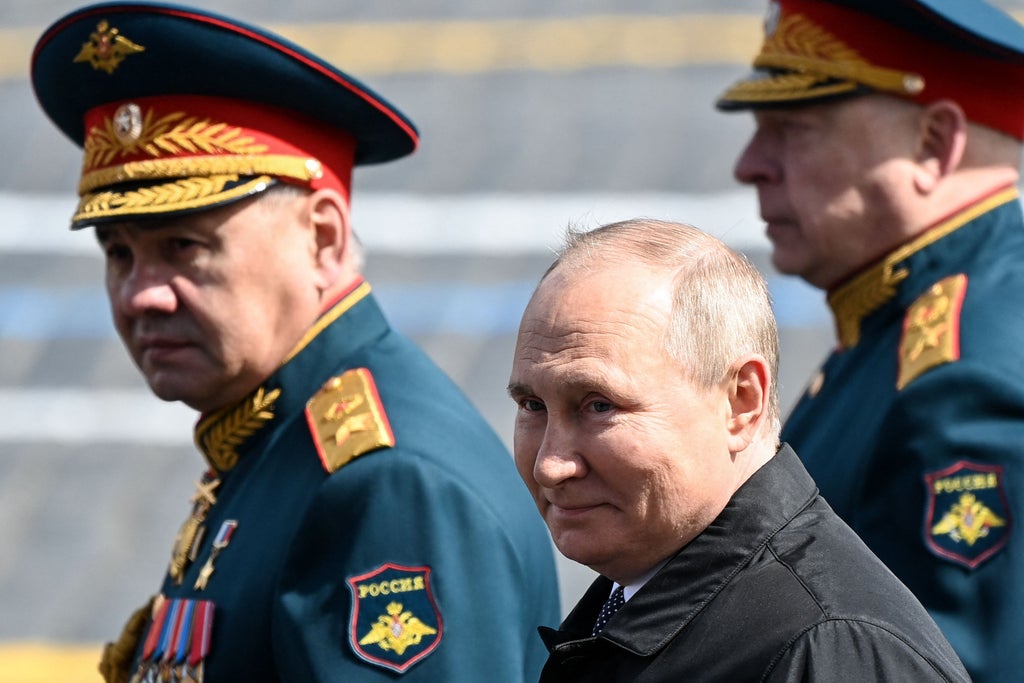 President Zelensky meets US officials
Officials in Russia's Belgorod border region have claimed the area has been under fire from Ukraine for the past week.
The governor of the region Vyacheslav Gladkov said the village of Solokhi had been shelled several times "from the Ukrainian side" over a period of days. On Telegram he said on Wednesday that a man had been wounded.
Earlier this week, on Tuesday, Mr Gladkov reported that the village of Bezimeno in Belgorod was also shelled "from the Ukrainian side" and that there was one person who suffered "minor injuries".
On May 13, he said an 18-year-old man – Ruslan Nefedov – was buried after he "died during the shelling of our border village of Solokhi by Ukraine's armed forces."
The first suspected Ukrainian attack on Belgorod in the wake of the Russian invasion of Ukraine was reported on April 1 when two helicopters attacked an oil depot.
Meanwhile, Ukrainian government adviser Mykhailo Podolyak said Ukraine should only be offered a ceasefire if Russian troops completely withdraw.
He added: "Ukraine is not interested in a new 'Minsk (Protocol)' and a restart of the war in a few years."
1653012029
The EU is considering using the oligarchs' fortunes to help rebuild Ukraine
The European Union is studying ways to use the frozen assets of Russian oligarchs to finance post-war reconstruction in Ukraine, said European Commission President Ursula von der Leyen.
"Our lawyers are working hard to find ways to use frozen oligarch assets to help rebuild Ukraine. I think Russia should also make its contribution," she told ZDF.
Lamiat SabinMay 20, 2022 03:00
1653008454
Donbass region "completely destroyed," says Zelenskyy
Russian forces "completely destroyed" the Donbass region in eastern Ukraine, Volodymyr Zelenskyy said.
"In the Donbass, the occupiers are trying to exert even more pressure. Hell is there – and that's no exaggeration," the Ukrainian president said in a late-night video address to Ukrainians.
Lamiat SabinMay 20, 2022 02:00
1653004854
The last phase of the war is expected to be the "bloodyest" – Zelenskyy
Volodymyr Zelenskyy said he could not yet call on Ukrainian refugees to return home, fearing the final phase of the Russian invasion would be the bloodiest.
Speaking to students, the President of Ukraine said: "The last phase is the most difficult, the bloodiest, that really exists.
"We can't break away and say, 'That's it, the war is over.' I'll tell you frankly that since the end of the occupation of the Kyiv region there has been a feeling in Kiev that that's it, there is no war. Until the moment when the missiles don't fly."
He added: "I can't say 'come home' to all those who are abroad today because the war is not over yet."
Lamiat SabinMay 20, 2022 01:00
1653001254
Five Ukrainian civilians killed in Donetsk region – local official
Five civilians were killed and six injured in Russian military activities in the Donetsk region today, Ukraine reported.
Pavlo Kyrylenko, head of the administration of Donetsk region, wrote on Facebook: "On May 19, Russians killed 5 civilians in Donetsk region: 2 people in Bakhmut, 1 person in Krasnohorivka, 1 person in Avdiivka and 1 person in Khrestyshche."
"Six other people were injured."
It is currently not possible to determine the exact number of victims in Mariupol and Volnovakha, Mr Kyrylenko said.
Lamiat SabinMay 20, 2022 00:00
1652997659
Putin's daughter 'went to Germany 50 times in two years'
According to research by Russian and German media, one of Vladimir Putin's daughters flew more than 50 times from Moscow to Munich between 2017 and 2019.
Katerina Tikhonova – a scientist and former acrobatic dancer – had traveled on charter flights with full state support and accompanied by staff from Putin's own Presidential Security Service, a joint investigation by independent Russian media outlet iStories and the German magazine The mirror suggests.
The leaked document cache also contains the passports of a then two-year-old girl, suggesting that Putin has a previously unknown granddaughter.
According to a report by the Munich State Ballet, the passport of Igor Selenskyj, the former director of the Munich State Ballet, was also found Guardianwho is suspected of being Ms Tikhonova's partner and the father of her child.
Lamiat SabinMay 19, 2022 11:00 p.m
1652995859
In case you missed it: George Bush's Freudian slip
George W. Bush described the invasion of Iraq – which he led as commander in chief – as "brutal" and "utterly unjustified" before correcting himself and saying he was referring to Russia's invasion of Ukraine.
The former US President said during a speech at his Presidential Center in Texas: "The result is the lack of checks and balances in Russia and one man's decision to launch a totally unwarranted and brutal invasion of Iraq – I mean Ukraine. "
The 75-year-old blamed his age for his mistake, while commentators called it a Freudian slip.
His decision to launch a US invasion of Iraq in 2003 was based on alleged weapons of mass destruction, the existence of which has never been proven.
Read the full report from here Alisha Rahaman Sarkar
Lamiat SabinMay 19, 2022 10:30 p.m
1652994059
Watch: Biden welcomes Sweden and Finland's NATO bids
US President Joe Biden has backed Sweden and Finland's NATO applications.
He dismissed Turkey's opposition to its bids to join the military alliance, insisting the two countries "meet all NATO requirements and then some."
Mr Biden appeared in the White House Rose Garden with Swedish Prime Minister Magdalena Andersson and Finnish President Sauli Niinisto.
Biden welcomes NATO offers from Sweden and Finland
Lamiat SabinMay 19, 2022 10:00 p.m
1652992247
Number of Ukrainian fighters still unknown in Azovstal
It is not known how many Ukrainian militants are in the Mariupol Steel Plant during an evacuation process.
The Russian Defense Ministry said 771 fighters from the Azov Regiment of the Ukrainian Armed Forces surrendered over the past day.
This brings the total number of those who have surrendered since Monday to 1,730.
Ukrainian officials declined to comment, saying it could jeopardize rescue efforts.
The Azov Battalion of the Ukrainian Armed Forces had neo-Nazis in its ranks – leading Russia to claim its invasion was an attempt to "denazify" Ukraine.
Here is more about the evacuation history of Emily Atkinson
Lamiat SabinMay 19, 2022 9:30 p.m
1652990459
Egypt expressed its gratitude for Russia's refusal to supply grain from Ukraine
Ukraine's Foreign Minister Dmytro Kuleba has thanked Egypt for turning back a Russian ship laden with grain, which it said was stolen from Ukraine.
On Sunday, Egypt's supply minister said a ship had been turned away because it did not have the necessary papers. The Ukrainian embassy in Cairo claimed the ship was transporting grain from Russian-controlled areas of Ukraine.
Mr Kuleba tweeted: "I spoke to my Egyptian counterpart Sameh Shoukry. I am grateful to Egypt for turning away a Russian ship loaded with grain stolen in Ukraine."
Ukraine and Egypt have agreed to coordinate their efforts to get Russia to unblock Ukraine's food exports, he added.
Mr Kuleba also held talks with Ivory Coast Foreign Minister Kandia Camara on the importance of unblocking Ukraine's food exports to "stave off hunger and rising prices in Africa".
It comes after British Prime Minister Boris Johnson and Ukrainian President Volodymyr Zelenskyy spoke on the phone today about opportunities to export Ukrainian grain.
A Downing Street spokesman said after the call: "They were reviewing options to open critical sea and land supply routes for Ukrainian grain supplies and committed to directing their teams to work on next steps as a matter of urgency."
Lamiat SabinMay 19, 2022 9:00 p.m
1652988659
Kyiv official hails US Senate approval of $40 billion in aid
A senior adviser to Ukrainian President Volodymyr Zelenskyy thanked the US Senate after spending almost $40 billion (approx.
Minutes after the vote, Mr Zelensky's chief of staff, Andriy Yermak, said in an online post: "We are confidently and strategically moving towards victory. We thank our allies."
He also tweeted: "Thank you to the US Senate for the historic decision to provide Ukraine with a $40 billion bailout package. Together we will win."
The Senate approved the package of military, economic and humanitarian aid by a vote of 86 to 11.
Lamiat SabinMay 19, 2022 8:30 p.m
https://www.independent.co.uk/news/world/europe/russia-ukraine-putin-war-nuclear-weapons-latest-b2083343.html Ukraine news – live: Russia's Belgorod is 'shot at' as Kyiv issues ceasefire warning