The Unfriend Review: Steven Moffat's debut play is smug and sitcom-esque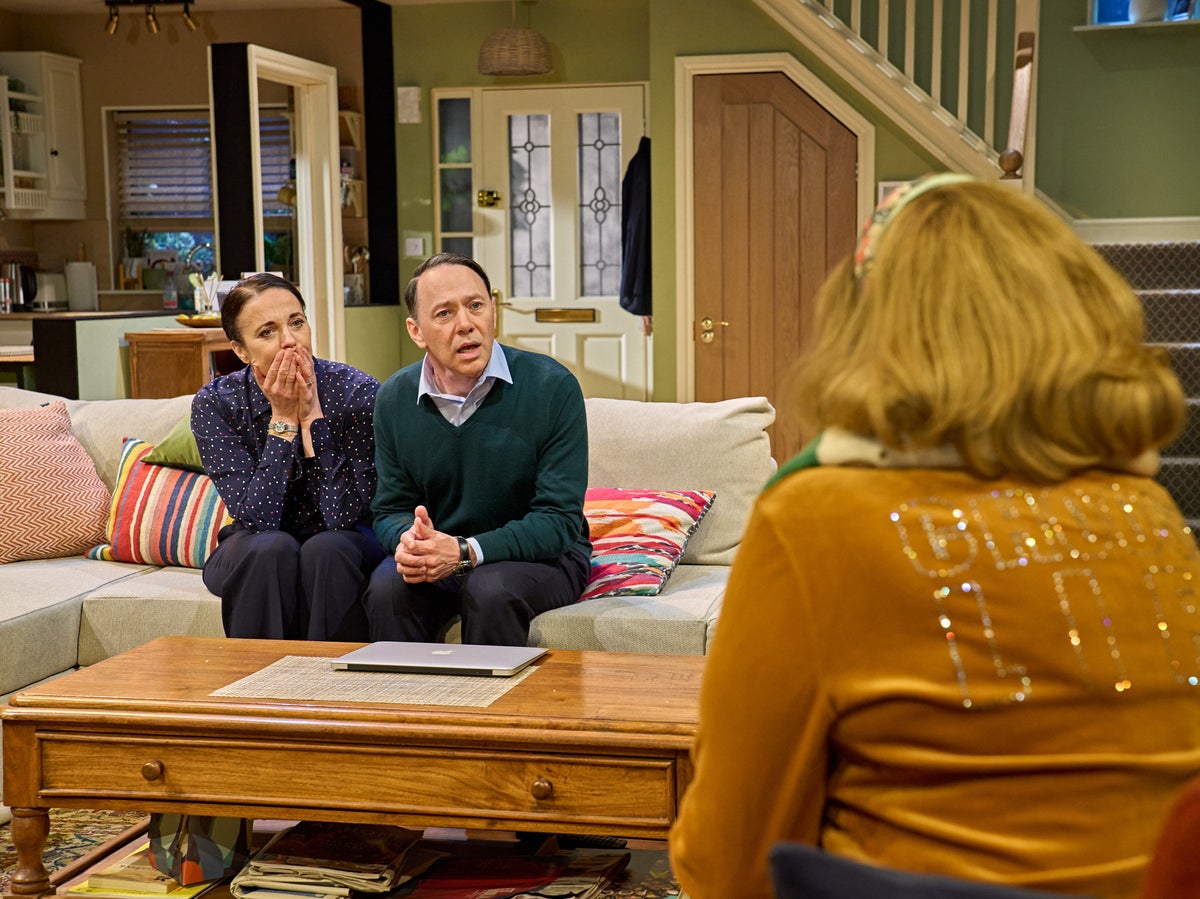 The Unfriend has a great premise… for a sitcom. It also has a Prestige TV cast to match, with Amanda Abbington, Reece Shearsmith and Frances Barber all coming together to tell the story of a middle-class couple who accidentally invite a serial killer into their home. But this isn't a sitcom. It is the debut piece by sherlock Creator and alumni Doctor Who Showrunner Steven Moffat, directed by Mark Gatiss, and the story bogs down in a qualitatively inconsistent writing style.
Middle-class couple Peter (Shearsmith) and Debbie (Abbington) are enjoying the sun on a cruise when they meet Elsa Jean Krakowski (Barber), a loud, charming American woman. She's decidedly un-PC and rattles off big jokes as she babbles on the dangers of vaccines, but – we're told – is a laugh. That is, until Elsa invites herself into her Chiswick home and a cursory Google reveals that Elsa is a suspect in not one, but six murders — including her husband. "She's a murderer and we're too embarrassed to bring it up," says Debbie with a desperate cry.
This revelation is at the heart of Moffat's comedy, which is less about murder and more about British awkwardness. In one scene we see Peter and Debbie sternly telling Elsa what they've learned and asking her to leave, only to then realize it was a dream sequence. The reality is, unsurprisingly, far more pathetic. Shearsmith gets most of the funny lines, while Abbington is the naturalistic straight man doing proper acting. But her role feels compelling and lets her fall back on being the finger-wagging fun sponge.
Barber, on the other hand, is a great physical comedian, howling in pain and shrieking with laughter. Her eyes are drawn from the moment she arrives, her feet bared, and strutting around in a velor tracksuit with the words "Choose Life" encrusted in rhinestones on the back.
Where The unfriend being abandoned is in his script. There is a sickening smugness about the writing; Each genuinely funny line is punctuated by insufferable comments of "She's Murder Poppins!" and "Who likes flowers? They're just vegetables to look at." When the plot falters, Moffat resorts to long stretches of toilet humor and political commentary. Both are clearly attempts at eliciting laughs, but where the former really works (Marcus Onilude steals the show while a cop empties his bowels in their downstairs bathroom), the latter feels tepid and obvious.
There are also gaping holes in the plot that just never get explained. Peter and Debbie are considered the average couple, but there's no attempt to explain that observer-Reading middle-class couple manages to take frequent month-long cruises with two teenagers at home.
Too bad because Moffat's game has potential. As Peter and Debbie watch as pantomime villain Elsa transforms their teenage children from apathetic and angry to cute and hardworking, they lament, "She's the killer who's come to stay, and every day she makes our lives better." ." There's a really good twist in the final moments. Although I won't spoil it almost makes it worth it. But not quite.
The Unfriend runs at the Minerva Theater in Chichester until July 9th
https://www.independent.co.uk/arts-entertainment/theatre-dance/reviews/the-unfriend-review-chichester-steven-moffat-b2088836.html The Unfriend Review: Steven Moffat's debut play is smug and sitcom-esque