The Patriots' O-Line game remains the biggest question mark this preseason
patriots

"For the most part tonight we didn't have a lot of space on offense."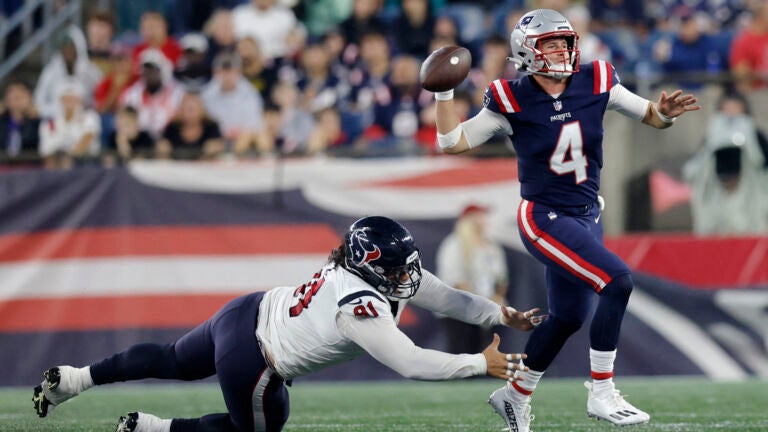 COMMENT
There has been a lot of positive news from Foxborough in the past few weeks.
With Bill O'Brien in charge of offense, New England is devising a varied, thorough schedule that's a far cry from the simplistic, hollow game plan that Matt Patricia and Joe Judge dreamed up last summer.
The first-team offense for Mac Jones and the Patriots has come a long way since the early days of camp, regularly landing shots against defense in match replays, citing a range of pre-snap moves, different formations and a growing chemistry between Jones and New England is attributed top receiving weapons.
Even on defense, a strong unit already expected to be among the best in the NFL has received an added boost from confident newcomers like Christian Gonzalez, Keion White and Marte Mapu.
The NFL preseason is often thought of as a marathon, not a sprint. And after last year's debacle, the 2023 Patriots appear to be a team that's about to rack up good days and build a roster that should be competitive in the admittedly grueling AFC East.
Until you take a look at the New England state offensive line.
Because, despite O'Brien's best efforts to develop a modern, effective offense, it won't do much if Jones spends much of New England's attacks on the grass this year.
Most of the headlines written after the Patriots' opener loss to the Texans on Thursday night revolved around explosive debuts from newcomers like Keion White and Malik Cunningham.
But on a night when New England gained just 164 net yards on offense (75 on the night's final drive under Cunningham's leadership), most of the team's stalled efforts can be attributed to poor pass protection and a malleable run- attributed to blocking performance.
Overall, the Texans had 3.0 sacks, four quarterback hits, and seven tackles, losing to the Patriots. New England averaged just 3.1 yards per stride on the ground.
"I mean, we're dealing with some injuries on offense," Bill Belichick said after the game. "But the people who were in there have some experience. But yeah, it's hard on the back. It's tough for the quarterback. Yeah, we didn't have a lot of space offensively for the most part tonight."
Of course, given the additional context that comes with preseason competitions, those concerns can be alleviated somewhat. A number of New England's expected starters did not play Thursday, including the team's entire planned five-man unit up front.
Still, when evaluating the New England first and second graders' play on the O-Line, there were few positives.
Youngsters like Sidy Sow, Chasen Hines and Andrew Steuber were all beaten for poor communication and lack of execution. Veteran Conor McDermott was regularly beaten as the team's left starter.
"I think we still have a long way to go" David Andrews told Chris Price about it The Boston Globe on Sunday evening. "I'm just stressing these young people out, just put your head down [and] Focus on the little things."
It was a lackluster performance from a group of players who could be pushed into bigger roles this season given the number of injuries that have plagued New England's top unit.
New England has already felt the stab of injury fever this spring and summer.
Trent Brown, who starts as a starting player on the left, has only just begun to get back into replays after a nagging injury. Guard Cole Strange was sidelined for over a week after making a change during a block drill on day one of padded practice, while fellow guard Mike Onwenu remains on the PUP list while recovering from off-season ankle surgery.
New England's first free-agent pick this winter was OT Calvin Anderson, who was expected to act as a valuable swing tackle and compete for regular replays with Riley Reiff and McDermott. But Anderson, 27, has yet to train with the side as the tackle is still recovering from a non-football related illness (NFI).
Getting Brown and Strange back on track this week will be a step in the right direction, especially with practice together and a pre-season battle with the Packers planned for later this week. Strange attended Sunday practice at Gillette Stadium but was unable to participate in competition practice.
If New England's expected five-man unit (Brown-Strange-Andrews-Onwenu-Reiff/Anderson) is operational in Week 1, some concerns about the Patriots' offense should be eased.
But this is a big deal If. Aside from the challenge of helping players recover from injuries (Strange, Onwenu), Brown's conditioning and motivation have been key issues that have dogged the talented tackle throughout his career.
Should more injuries occur, players like Sow, McDermott, Hines and others are likely to be thrown into the fire.
Most of the talk that summer revolved around O'Brien and his efforts to fix the Patriots' stagnant offense.
Ultimately, though, it could be up to new O-Line coach Adrian Klemm to keep that offensive from faltering before it even leaves port.
"There's going to be weeks in the season where the guys are going to have a hard time," Andrews told Price. "We see it year after year. Very few people go from cable to cable.
"It is what it is," Andrews continued. "You just have to be able to get everyone working together, working on the same side and looking at the game with the same eyes."
Subscribe to Newsletter
Stay up to date with the latest news from Boston.com