"The Marvels" is melting down at the box office
Films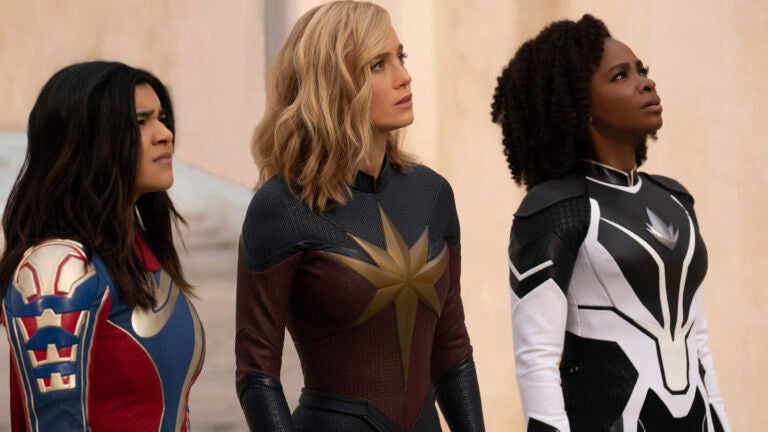 NEW YORK (AP) — Since 2008's "Iron Man," the Marvel machine has been one of the most unstoppable forces in box office history. However, this aura of invincibility is now showing signs of wear and tear. The superhero factory hit a new low with the weekend release of "The Marvels," which opened Sunday with just $47 million, according to studio estimates.
The 33rd installment of the Marvel Cinematic Universe, a sequel to 2019's Brie Larson-directed "Captain Marvel," managed less than a third of the $153.4 million that its predecessor opened with before ultimately opening at #1 worldwide grossed $13 billion.
Sequels, especially in Marvel Land, shouldn't fall off a cliff. But "The Marvels" opened with more than $100 million less than "Captain Marvel" did at its outset — something no sequel has done before. David A. Gross, head of film consulting firm Franchise Research Entertainment, called it "an unprecedented collapse in Marvel's box office."
The previous low point for a Walt Disney Co.-owned Marvel film was "Ant-Man," which ended 2015 with $57.2 million. Otherwise, you'd have to look beyond the Disney MCU to find such a slow start for a Marvel film – releases like Universal's The Incredible Hulk with $55.4 million in 2008, Sony's Morbius with $39 million US dollars in 2022 or the reboot "Fantastic Four" from 20th Century Fox with 25.6 million US dollars in 2015.
But The Marvels was a $200 million-plus sequel to a billion-dollar blockbuster. It was also an exceptional Marvel release in many ways. The Nia DaCosta-directed film was the first MCU release directed by a black woman. It was also the rare Marvel film directed by three women – Larson, Teyonah Parris and Iman Vellani.
The reviews weren't great (62% fresh on Rotten Tomatoes) and the audience reaction wasn't great either. "The Marvels" is only the third MCU release to receive a "B" rating from moviegoers, following "Eternals" and "Ant-Man and the Wasp: Quantamania."
"The Marvels," which increased overseas ticket sales by $63.3 million, could go down as a turning point in the MCU. Over the years, the franchise has raked in $33 billion worldwide – a point Disney noted when reporting its earnings on Sunday.
But as cinema screens and streaming platforms become increasingly crowded with superhero films and series, some analysts have noted a new fatigue among audiences. Disney boss Bob Iger himself has spoken of possible oversaturation at Marvel.
"Over the last three and a half years, the growth of the genre has stopped," Gross wrote in a newsletter on Sunday.
In any case, something is changing for superheroes. The box office crown this year seems certain to go to "Barbie," the biggest hit of the year with more than $1.4 billion worldwide for Warner Bros.
Marvel still produces current hits. "Guardians of the Galaxy Vol. 3" opened this summer with $118 million before ultimately grossing $845.6 million worldwide. Sony's "Spider-Man: Across the Spider-Verse" grossed $690.5 million worldwide and is widely expected to be an Oscar contender after rave reviews.
The actors' strike didn't do "The Marvels" any favors either. The film's cast members were not allowed to promote the film until the strike was called off late Wednesday night when SAG-AFTRA and the studios reached an agreement. Larson and Co. quickly took to social media and made surprise movie appearances. And Larson was a guest on "The Tonight Show" on Friday.
The strikes also disrupted the normally orderly flow of MCU releases. After numerous strike-related delays, Deadpool 3 is the only Marvel film currently on the studio's 2024 calendar, opening July 26.
Separately, Universal Pictures' "Five Nights at Freddy's" slipped to second place after two weeks at the top of the box office with $9 million in its third weekend of release. The Blumhouse-produced video game adaptation has collected $127.2 million domestically.
Taylor Swift's concert film "The Eras Tour" took third place with $5.9 million from 2,484 venues in its fifth weekend of release. Produced by Swift and distributed by AMC Theaters, the film has grossed $172.5 million domestically and $240.9 million worldwide.
Sofia Coppola's "Priscilla" held strong in its second weekend of release. The A24 film, starring Cailee Spaeny as Priscilla Presley and Jacob Elordi as Elvis, remained in fourth place with $4.8 million, down just 5% from the previous week.
Martin Scorsese's "Killers of the Flower Moon," an Apple Studios production distributed theatrically by Paramount Pictures, grossed $4.7 million in its fourth weekend, bringing its domestic total to around $60 million increased. Although "Killers of the Flower Moon" is quite low for a $200 million film, it is primarily an awards season statement from Apple about its growing filmmaking ambitions.
In its first weekend of extended release, Alexander Payne's acclaimed film "The Holdovers," starring Paul Giamatti as a curmudgeonly boarding school teacher, opened with $3.2 million from 778 locations. The Focus Features release, an expected Oscar contender, is poised for strong success later this fall.
"Journey to Bethlehem," a release from Sony's Christian subsidiary Affirm Films, opened with $2.4 million in about 2,000 locations.
Estimated ticket sales for Friday through Sunday in U.S. and Canadian theaters, according to Comscore. The final domestic figures will be published on Monday.
1. "The Marvels," $47 million.
2. "Five Nights at Freddy's," $9 million.
3. "Taylor Swift: The Eras Tour," $5.9 million.
4. "Priscilla," $4.8 million.
5. "Killers of the Flower Moon," $4.7 million.
6. "The Holdovers," $3.2 million.
7. "Journey to Bethlehem," $2.4 million.
8. "Tiger 3," $2.3 million.
9. "Paw Patrol: The Mighty Movie," $1.8 million.
10. "Radical," $1.8 million.