The Great British Bake Off Review: Like the monarchy, it must adapt to retain its appeal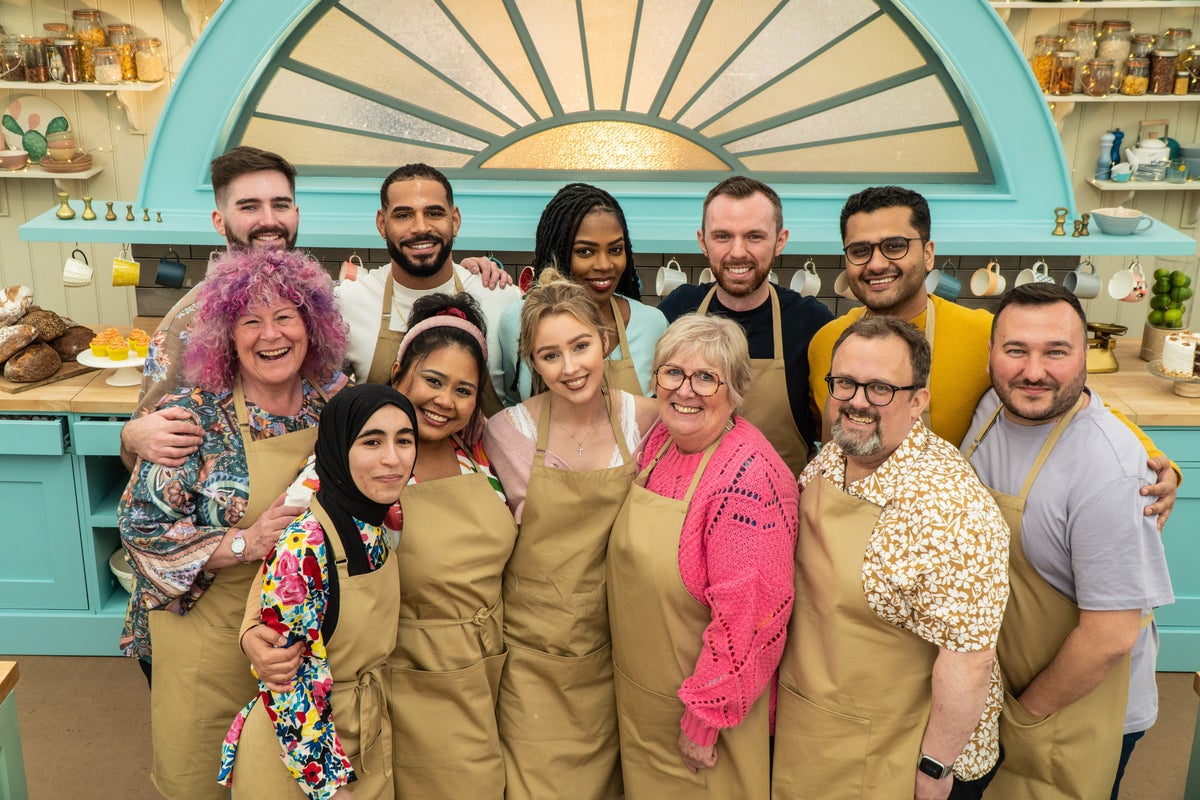 It's then, and it's probably just as good. That is the comforting power of The Great British Bake Off (channel 4); it seems unthinkable that it would have been canceled or postponed just because the Queen had passed away. Indeed, that very fact, and the emotional trauma it has inflicted on a nation and commonwealth of some 2.5 billion people, makes it imperative that Justices Prue Leith and Paul Hollywood and their sweet, charming nominees get out the mixing bowl to ease the collective pain .
They happily went about it with liberal slathers of buttercream and lame jokes. In which GBBO Tent, nestled in its warm, gloriously green surroundings, the real world and its horrors feel far, far away. No one asks aloud what the gas bill will be for 168 cakes, or notices how much the price of flour and raisins has risen recently. There is no cost of living crisis in Bakeoffland and we like it that way. Even if we can't afford an apple strudel or a Belgian bun, it's nice to see people indulge themselves. If you think about it, it's also the underlying appeal of most things the royal family does.
Anyway, cake and participants. Once again, it features a multicultural and socially diverse cast so diverse it almost invites Nigel Farage to come down and stake the tent. Personally, I see no problem with the increasingly diverse backgrounds of the participants and their correspondingly adventurous creations. In the "Showstopper" round, the 12 bakers are asked to bake cakes that are modeled after their own homes or places where they have lived.
Maisam made one inspired by the lemon trees surrounding her childhood home in Libya, Abdul had some mango jam reminiscent of his Pakistani heritage, and Syabira's Malaysian ingredients were unfamiliar to me. Janusz – my pick for this year's winner – recreated his mother's house in Poland in such detail that it looked like an architectural model and deservedly earned him the Star Baker win in the first round.
So that was all very refreshing and delicious, but the presenters and judges were, well, a bit sloppy – a word that came up a lot in this edition. Matt Lucas seems to have lost his sense of humor, and I think I prefer Noel Fielding running like a rascal across countertops looking for litter.
He's livelier these days and it just doesn't suit him. His new persona is about as appealing as marmite in a baklava — and don't tell me that's a way to achieve umami, though I should take credit for it if it is.
Prue is as friendly, fair, and knowledgeable as ever, but Paul just looks bored now — a man who's tasted as much amateur red velvet cake as he'll ever need. Unfortunately, he seems to have misplaced the recipe for his own dish out of slightly spun spicy disdain, and how much we miss it.
More like Her late Majesty, the GBBO has a very long running time and is very popular – how could we do without it? But I'm thinking baking, like the monarchy, must adapt to retain its appeal. There are too many contestants baking too many cakes, oddly enough, making it harder to watch than it needs to be, and if I were king I'd bring back Mel and Sue and their merciless innuendos. In the big marquee it will be a bit spongy for the time being.
https://www.independent.co.uk/arts-entertainment/tv/reviews/great-british-bake-off-matt-lucas-time-judges-who-left-b2166851.html The Great British Bake Off Review: Like the monarchy, it must adapt to retain its appeal