Sound of the Police filmmaker tells his son, "Nothing good can come from an encounter with the police."
The current and frightening new The documentary "Sound of the Police," co-directed by Stanley Nelson ("Attica") and Valerie Scoon, is a damning indictment of why the black community has long had legitimate reasons to fear the police. The film opens with scenes from Amir Locke's funeral – Locke was killed by Minneapolis police officers who entered his home while he slept – and traces the history of the killing and ill-treatment of black people by police officers, from the days of slavery through decades of lynchings up to the present day. Various speakers, including Rev. Al Sharpton and Salon's Editor at Large D. Watkins, comment on the examples.
"A cop put a gun to my head on the subway for almost no reason."
The case studies presented by Nelson and Scoon show how systemic racism developed over centuries as fugitive slave laws and stop-and-frisk policies were developed to discourage black citizens from living free. There are discussions about so-called karens – white women who call the police when black men are portrayed as threatening, as in the Bird Watcher Event in Central Park — and how police TV shows, starting with "Dragnet," reinforced positive images of cops. Meanwhile, members of the black community experience fear and insecurity as they feel uncared for and vulnerable by the police.
Additionally, video footage of police brutality, from Rodney King to Eric Garner, Breonna Taylor and Freddie Gray (among many others), not only positions Black victims as criminals, but also leads to cases in which police attack and kill these unarmed Black men and Women and will not be held accountable.
"Sound of the Police" examines the riots that have roiled black communities since 1919 and examines how an "us versus them" mindset has evolved when members of the black community experience police interactions where they cannot defend themselves. Nelson and Scoon spoke to Salon about their powerful new documentary.
"Sound of the Police" features many tense interactions between black citizens and the police. Can you describe a personal encounter with the police?
Stanley Nelson: I have had a number of encounters with the police in my life. Getting pulled over for no reason, thrown against walls, raiding neighborhoods, searching everyone and handcuffing people. A cop put a gun to my head on the subway for almost no reason. I've also had experiences with what we now call Karens. I had an argument in a cinema about nothing and [was] said, "We'll call security." It was clearly a threat. If they call security, you'll know which side they're going to be on. That's a constant, especially when you're younger. It tapers off a little as you get older, but when you're in your teens, 20's and 30's it stays constant.
Valerie Scoon: I was stopped two or three times and asked "why are you here?" I said "I live in this building" and they let me go. It happened.
How did you decide which case studies to include? What criteria did you have for admission?
Nelson: One thing we wanted to do was include case studies where there were videos and not just someone's words. Another thing we wanted to do was that when we're dealing with Karens or Stop and Frisk, we need to show multiple, multiple, multiple instances. So you can't just think that this was one bad cop or one bad day. It happens over and over again. The structure of the film was to go to the historical sections and bring them into the present and go back and forth. So we wanted things that reflected what we've talked about in the past.
scoon: We were looking for lived experiences and that's what we represented when we found them.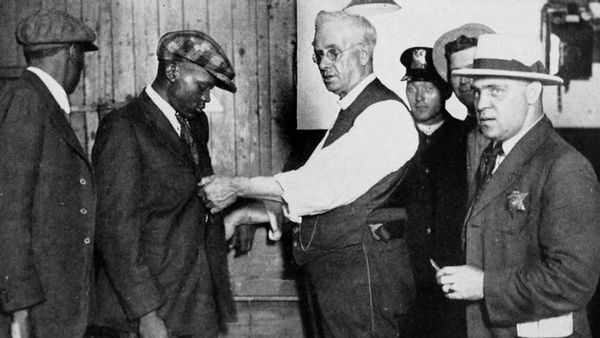 Officers search a black man for weapons at a police station – Chicago, 1922 photo, as seen on "Sound of the Police" (Hulu/ABC News Studios)
Your film features shocking, upsetting and infuriating footage of black men and women being mistreated by the police. Can you discuss the presentation of this content? Your film uses these examples to effectively substantiate each point and lead the viewer to ask: How can this happen? Why is that? hold Event? When will something change?
scoon: The idea of ​​how and why this is happening and how we got here was the question I asked myself when talking to historians and experts. If we look at the history of the police force over the long term, we see how it is linked to slavery and the history of race relations in this country. It was important to follow this thread. When you get to the moments of violence in the documentary, they are disturbing to watch. It was important to show this reality. We don't invent it. That's why we thought it was important to show it. It reflected reality and a trend that has continued since the days of slavery.
They present some positive images of the police, from "Officer Friendly" visiting school children to TV police shows that make police work look cool; They serve as recruitment tools. That's the flip side of abuse – images that make the police look appealing. What can you say about the image of the police in the public consciousness?
Nelson: A few things were important to us. Visually it was stunning watching the intros of the police shows edited together and realizing that we have watched hundreds of different police shows throughout our lives and the cops are good guys and intent on doing what is right for the citizens. And for much of the African American community and other communities in the United States, that's not what the police advocate. We tell our children to avoid the police as much as possible. I tell my son, "An encounter with the police can't do any good." It was important to show that, and it was visually compelling too.
"The most important thing is to get out of the situation alive."
Also point that out Black cops do not necessarily have the opportunity to help their community. Due to their training, they often follow the rules. I can't imagine the mental toll this takes on these black officials. What are your observations on this?
Nelson: One of the things we want to say is that this is about the institution of the police and not about the individual officers – not the individual African American officers or the white officers – but about the culture of policing in the United States. You can't be a cop without being part of that culture. At some point, African-American officers also join. People think it will be better if we get more black officers, but that's not the case. All statistics show that they join the police force and the culture of that police force is already there.
Scoon: I would agree. I think what we're seeing and what the experts in the documentation are pointing out is that it's the system that allows for a lack of accountability. This does not mean that all police officers take advantage of the lack of accountability. This is not an accusation against black or white police officers; This is about the system. We have [Black police officer] Chief Armstrong in the film, and he spoke of being stopped by the police many times and that's why he wanted to become an officer – to try and make things better.
Why do you feel like things are getting worse and worse? With each case, the situation appears more hopeless.
Nelson: I hope the film doesn't make people feel like that. There is hope. One of the things the film says is that things need to change. We don't say, "Go out and do this or that…" because that doesn't work. But when people realize there is a problem, that's the first step to change. I thought of the civil rights movement. Who knew things would change drastically in the Deep South? Who would have thought apartheid in South Africa would end with Nelson Mandela's presidency, except for a few people? But that's all it takes. Change is possible. We have to recognize it as a problem and work towards a change. And I think this change will be better for everyone. One police officer wrote, among other things: "Can you imagine how it feels to get out of your car in a black neighborhood and everyone around you to be radiating hatred towards you, and you experience it every day?" It's soul-numbing. Nobody wants to register for this. There is a better way.
scoon: I agree. Hopefully the documentary will serve as a conversation starter in their communities with law enforcement. The people I spoke to in law enforcement want things to get better. It's hard for her too. It's stark and reflective of what's going on, but hopefully that would motivate people to find solutions.
---
Want a daily roundup of all the news and commentary Salon has to offer? Subscribe to our morning newsletter Crash Course.
---
They show pictures of Martin Luther Kingfrom Black Lives Matter protests around the world. These nonviolent protests are juxtaposed with resistance fighting and rioting, and black men and women who are caught on camera resisting police touching and being harassed and abused. Every action seems wrong and situational. What is an appropriate response to this injustice?
Nelson: I agree with someone in the film explaining what he said to his child, which is, "You just have to come out of the situation as healthy and alive as possible. After that you will have time to take legal action." But you want to get through this situation." In such cases, the police officers in this country have your life in their hands. If you're a cop, carry a gun. The important thing is to get out of the situation alive. And that's no exaggeration. It's that bad. Therefore, a change in police work is required. It is not a single situation, but the totality of things in the country. We believe in change. It would be terrible if we didn't. We would all be unhappy. Hopefully the film is the first small step towards understanding.
scoon: Looking at the story, I agree with what our experts in the documentation say you should do. But hopefully the idea of ​​understanding the story allows the encounter to be made less tense until people move forward and understand the full context. When you understand the story and the context, you have a better tool to make things better for all of us. We're better than that. We may do that.
The Sound of the Police premieres August 11 on HULU.
Read more
about this theme