Sam Kennedy acknowledges 'rock bottom' in Red Sox season
Red Sox

"Right now we lack depth and we saw it manifest the other night."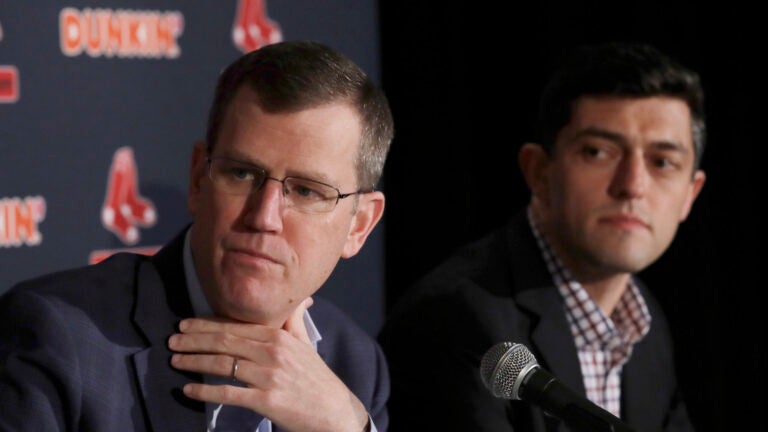 The Red Sox 2023 are mathematically still in the American League wild card race (as of Thursday night).
But after he was defeated by the Houston Astros at Fenway Park in a 13-15 game in Boston in August is currently 6.5 games behind the third wild card th place with a record of 69-65.
With the regular season still a little over a month to go, FanGraphs won Boston with only a 4.6% chance buy a ticket for the off-season.
During an appearance on WEEI's "The Greg Hill Show" Red Sox President Sam Kennedy acknowledged the team's unenviable position in an already grueling wild-card race.
"It's a hard, hard hit," Kennedy said of Boston's recent relegation. "We just don't pitch. We lack depth at the moment and saw it manifest the other night. When you're very weak with your starting pitch and you don't have any starters to get deep and when you have 15 straight games against baseball's class, that just wasn't a good recipe.
"We had a really brutal August. I think we are 13-15. Look, it actually feels like rock bottom. The odds are against us. But nobody gives up. Until our playoff chances are zero, I think the clubhouse, our players, Alex Cora, the staff will do everything they can to get back into this thing. We've got 28 games left so let's jump in and see what we can do in the next four or five weeks."
Given Boston's difficulties with depth, particularly in terms of pitching, Kennedy was asked if there were any regrets about Chaim Bloom and the organization's decision to largely meet the trading deadline and not reinforce a tiring bullpen and broken rotation.
"I think it's natural to question, look back and examine everything, but it's not appropriate now for us – for those of us in the front office who are responsible for these things, starting with me and our entire organization." We're a team," Kennedy said. "Others can look back and ask questions and grapple, but we have to stay focused on what's ahead of us over the four weeks and stay positive and try to get back into this, regardless of what moves have been made or." were not made."
With Boston's playoff hopes dwindling, Bloom and the rest of the Red Sox's front office team will have to be aggressive this winter to bolster a young core of talent.
When it comes to possible off-season priorities, Kennedy's reaction came as no great surprise.
"Well, I think we've seen it, and it's kind of proven in baseball: pitching, pitching, pitching, more pitching is always needed," Kennedy said. "And I think we have some young players and pitchers in this organization that will help us.
"We need to be active in the free agent market for the next five years. Because pitching and defense win championships. We all know that. We have to focus on that in the future."
While the Red Sox can develop a promising young pitcher in 24-year-old Brayan Bello, Boston could use another top hurler (or two) this winter.
The Red Sox have reportedly scouted top Japanese player Yoshinobu Yamamoto multiple times during the NPB season, while Blake Snell, Julio Urias, Lucas Giolito, Aaron Nola and Jordan Montgomery are just a few of the top starts set to hit the open market this winter.
Sign up for Red Sox updates⚾
Get the latest news and analysis delivered to your inbox throughout the baseball season.
Subscribe to Newsletter
Stay up to date with the latest news from Boston.com