Patriots' Jahlani Tavai promises to raise awareness of Maui's wildfires
patriots

"It's hard being out here and it's so far from the island. There's not much you can do except pray," Tavai said.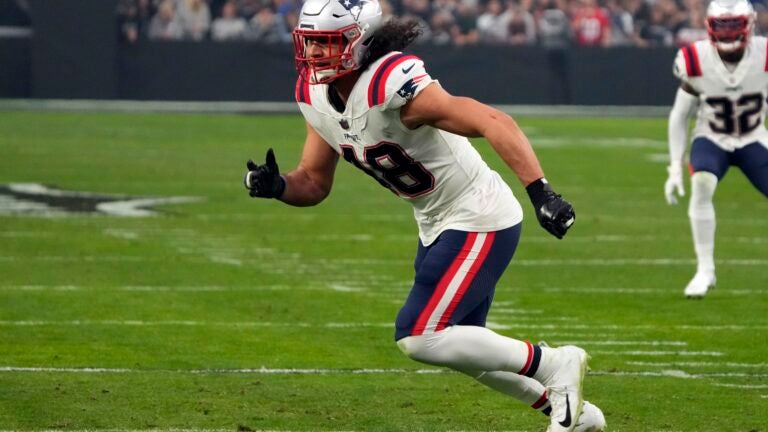 Here's how you can help victims of Maui's wildfires


10 takeaways from the Patriots' opening preseason loss to the Houston Texans

He wears a black University of Hawaii long-sleeve football shirt with green letters and Jahlani Tavai used some of his time on the podium Thursday to draw attention to the damage caused by wildfires on Maui.
"I'm not sure if everyone saw it, but there's a big fire burning out there on Maui," Tavai said. "I've had many family and friends who lost their homes to the fires… It's a great tragedy right now. A lot of people lost their lives and I'm just trying to raise awareness about it."
The death toll from the fires was 53 at the time of publication, making it the second-deadliest fire in the United States in a century according to CNN.
Tavai, who played college football in Hawaii, said he was raising funds to send to the island.
"There's a lot of GoFundMes, I try to raise a lot of donations: clothes, diapers, anything we can get our hands on to send there," Tavai said. "Well, I'll do as much as I can." But yeah, it's tough being out here and it's so far from the island. There's not much you can do except just pray.
So for now it was nice to be out there," Tavai continued. "Playing football because it took my mind off it and allowed me and the other guys to just go out and have fun, you know? Don't think about what's going on in the world, just be free and play football."
According to a report, the fires were 80 percent contained as of Thursday morning Press Release by Maui County Officials. CNN reports that the fires destroyed 1,700 buildings, left more than 10,000 people without power and caused billions of dollars in damage.
Sign up for Patriots updates🏈
Get the latest news and analysis delivered to your inbox throughout the football season.