NH Announces Suicide Prevention Week and New Website
Health

State leaders discussed new resources to combat suicide in New Hampshire on Friday ahead of National Suicide Prevention Week.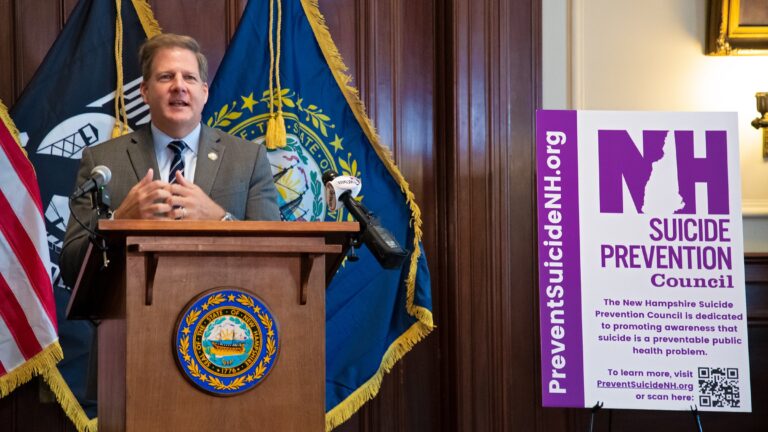 New Hampshire officials announced Friday new measures to prevent suicide, the state's second leading cause of death among people ages 15 to 34 and the ninth leading cause of death overall.
New Hampshire Gov. Chris Sununu signed a proclamation Friday declaring next week, Sept. 10-16, to coincide with the statewide edition of New Hampshire Suicide Prevention Awareness Week. Officials also announced the launch of a new website, PreventSuicideNH.orgwhich provides resources for students, military veterans, suicide survivors and more.
"Let us all take responsibility as parents, teachers, neighbors and colleagues to be part of a system-wide solution to ensure a better future for all," Sununu said.
The governor was joined by officials from the New Hampshire Suicide Prevention Council and representatives from the American Foundation for Suicide Prevention, NAMI New Hampshire and the New Hampshire Department of Health and Human Services to discuss statewide suicide prevention efforts.
Officials also discussed the impact of NH Rapid Response/988 and the launch of a new public awareness campaign called " Strong as granite. A New Hampshire resident also shared her personal story about struggling with suicidal thoughts and the help she received through government funding.
"I have been receiving psychiatric care since I was a teenager," said Karen Privé of Franklin, NH. "Medication, therapy and support groups help a lot and I have had periods of stability, but even with treatment I continue to struggle with depression, complex PTSD and suicidal thoughts. This past year has been particularly tough and led to me reaching out to NH Rapid Response and I have no doubt the call saved my life. Rapid response and mobile crisis teams have been phenomenal, and I am grateful to still be here to be a writer, advocate, wife, stepmother, Grammy, and friend."
State leaders say the Strong As Granite campaign will help New Hampshire people connect with the kind of support Privé has received. The campaign includes the Rapid Response Access Point, the 988 hotline and the 211 via 211 Doorways program.
"When we talk about mental health and suicide prevention, we're talking about people," Sununu said. "New Hampshire has focused our efforts on implementing systems that meet the needs of individuals. As we recognize Suicide Prevention Awareness Week, we continue our efforts 365 days a year to provide community resources to reduce stigma and provide care for those in crisis."
Anyone in New Hampshire in need of mental health support or substance use crisis assistance can call or text the NH Rapid Response Access Point at 1-833-710-6477 or stop by NH988.com. Anyone needing help outside of NH can call or text the Suicide and Crisis Lifeline on 988.
Subscribe to Newsletter
Stay up to date with the latest news from Boston.com