Man arrested for alleged theft and accident involving occupied MBTA van
crime

The man was arrested after a police pursuit. He is said to have hit three cars in the O'Neill tunnel.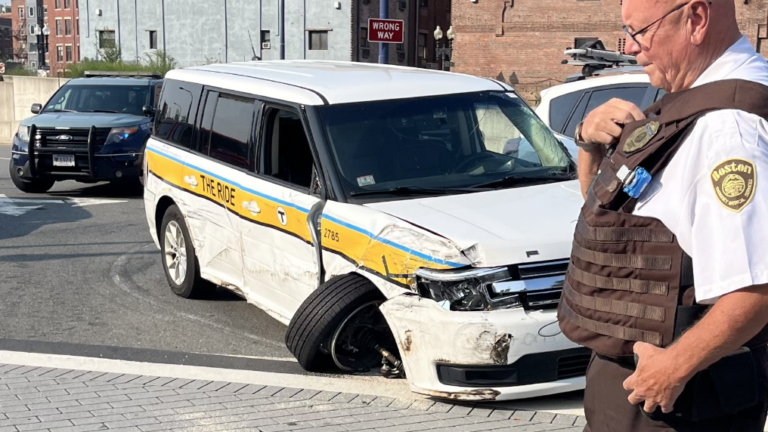 Authorities arrested a 34-year-old man Wednesday afternoon after he allegedly stole an MBTA van with a disabled passenger in it and later crashed into several cars in the O'Neill Tunnel while trying to evade police.
Around 3:30pm an MBTA DRIVE The driver parked a van carrying a disabled woman near 2 Elm St. in Woburn and exited the van, traffic police said a press release.
Police said they believe the driver left the keys in the ignition and then a man got into the van and headed toward Boston with the passenger still inside. The passenger responded by calling 911 for help.
State police said in a statement that transit police alerted them to the alleged theft at 3:42 p.m. Within minutes, a police officer spotted the van in the O'Neill Tunnel and attempted to stop it, state police said.
In the tunnel, the suspect is said to have crashed into several cars with the van, state police said. At 3:54 p.m., police found the car at Mercantile Street and Surface Road in Boston.
The suspect allegedly tried to evade police by running into the Bostonian Hotel, state police said. Police officers searched the hotel for the man and eventually discovered him hiding in a function room.
The police officer arrested the suspect and handed him over to the transit police. The passenger in the van suffered non-life-threatening injuries in the incident and was taken to a hospital, traffic police said.
No one was injured in the accidents, but three cars were damaged, traffic police said. The police are still investigating the incident.
No other information, including the suspect's identity and motive, was released.
Subscribe to Newsletter
Stay up to date with the latest news from Boston.com