News
Live updates on war in Ukraine: Zelenskyy says 300 were rescued in recent evacuations from Mariupol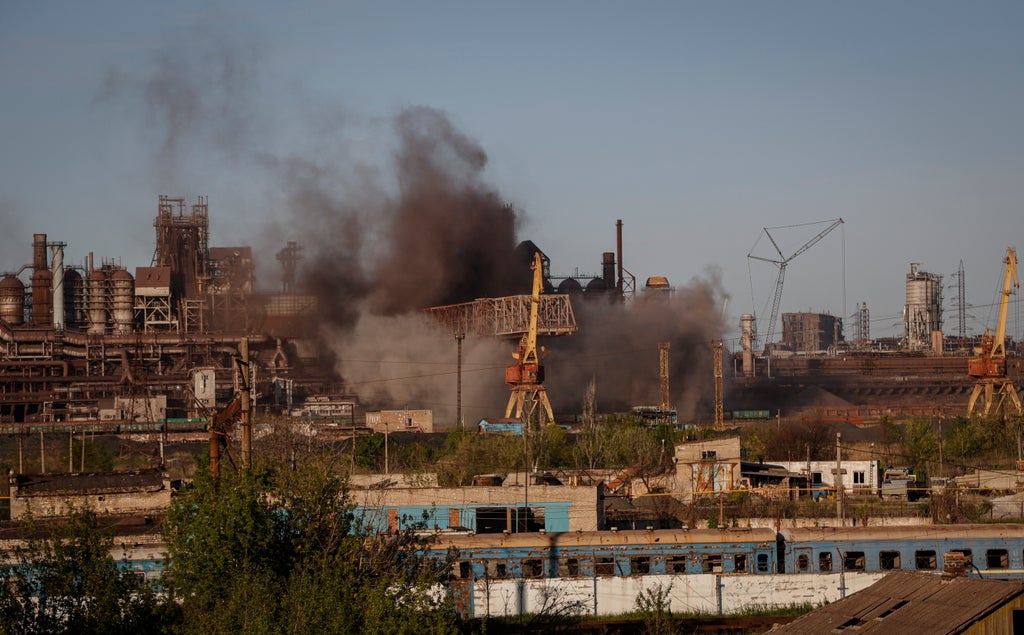 Putin's Wagner mercenaries throw grenades into houses in Ukraine
Ukrainian President Volodymyr Zelenskyy said in a late night address on Saturday that more than 300 civilians had been rescued after a week-long effort from the Azovstal Steelworks in the besieged port city of Mariupol.
"This part of the Mariupol humanitarian operation has ended," said Deputy Prime Minister of Ukraine Iryna Vereshchuk via the Telegram messaging app.
The Soviet-era steelworks has become a symbol of resistance to Russian efforts to seize parts of eastern and southern Ukraine in the four-month war.
Russian President Vladimir Putin ordered the plant locked down after declaring victory in Mariupol on April 21.
Meanwhile, Moscow has claimed to have destroyed a large stockpile of military equipment from the US and several European countries near the Bohodukhiv train station in Ukraine's Kharkiv region.
Russia's defense ministry also said it hit 18 Ukrainian military installations overnight, including three ammunition depots in Dachne, near the port city of Odessa.
1651987001
Biden and G7 leaders have virtual meeting with Zelenskyy today
US President Joe Biden and the six other G7 leaders are set to hold a video call with Ukrainian President Volodymyr Zelenskyy later today to demonstrate their unity as Russia prepares for its Victory Day celebrations.
Leaders of the G7 countries, which include Britain, France, Germany, Japan, Canada and Italy, will hold their virtual meeting in the morning US time, a White House spokesman said.
The talks are expected to focus on recent developments in Russia's invasion of Ukraine, efforts to strengthen the country and ways to "demonstrate the G7's continued unity in our collective response, including imposing heavy costs on Putin's war."
"I'm going to be speaking to members of the G7 this week about what we're going to do or not do," Mr Biden previously told reporters.
Alisha Rahaman SarkarMay 8, 2022 6:16 am
1651986149
Ukraine is preparing for an escalation of Russian attacks
Ukrainian cities are preparing to repel an all-out assault by Vladimir Putin's forces as Russia prepares to celebrate its Victory Day on Monday.
As day approaches, Ukrainian troops have consolidated their positions around the city of Kharkiv, the country's second largest city.
In recent days, eastern Ukraine has been subject to intense fighting as both sides aim to seize areas currently uncontrolled by anyone. "These symbolic dates are like red to a bull for the Russian aggressor," said Ukraine's First Deputy Interior Minister Yevhen Yenin.
The minister added: "While the entire civilized world commemorates the victims of terrible wars on these days, the Russian Federation wants parades and is preparing to dance over bones in Mariupol."
The Russian National Day commemorates the victory of the former Soviet Union over Nazi Germany in World War II. In a show of military might, Russian troops will march across Moscow's Red Square to mark the occasion.
Alisha Rahaman SarkarMay 8, 2022 6:02 am
1651984662
Mariupol street signs were changed to Russian ahead of the Victory Parade
Pro-Moscow separatists were photographed removing road signs in Ukrainian and English and replacing them with Russian ones outside the besieged city of Mariupol.
Ahead of celebrations of Russia's Victory Day, a statement from the Donetsk People's Republic on Thursday said "updated road signs" have been put up outside the southeastern port city. "Work on changing road signs in the liberated area continues," the statement added.
The Russian holiday on May 9 commemorates the surrender of Nazi Germany in 1945 and the end of World War II. The day is usually marked with demonstrations of military might, fireworks and marching troops.
Alisha Rahaman SarkarMay 8, 2022 5:37 am
1651984178
Kadyrov says his troops have 'most of Popasna under control'
Ramzan Kadyrov, the head of Russia's Chechen Republic, said Sunday his soldiers had taken control of most of the eastern Ukrainian city of Popasna.
"Chechen special forces fighters … have taken control of most of Popasna," wrote Mr Kadyrov, who calls himself Vladimir Putin's "foot soldier," in a post on messaging app Telegram.
"The city's main streets and central districts have been completely cleared," he added.
Ukrainian officials denied the claim and said a battle for the city was ongoing.
Oleksiy Arestovych, an adviser to President Volodymyr Zelenskyy, said Saturday heavy fighting around the city continues.
"A battle for Popasna is underway. Russian propagandists have happily reported that they have already taken it, but this is not entirely so. This is their 117th "conquest of Popasna" claim only this week," the adviser said in a video on social media.
Alisha Rahaman SarkarMay 8, 2022 5:29 am
1651982492
Russian troops accused of bombing school
Ukraine on Saturday accused Russia of shelling a school in the Luhansk region's Bilohorivka village, which housed nearly 90 people.
About 30 people were pulled from the rubble.
Lugansk Oblast Governor Serhiy Haidai said the bomb was dropped on a building where "almost the whole village" was hiding from Russian shelling.
Alisha Rahaman SarkarMay 8, 2022 5:01 am
1651981926
Britain pledges an additional £1.3 billion in military support
The UK government has pledged to give Ukraine an additional £1.3bn
Chancellor Rishi Sunak said: "The situation in Ukraine continues to cause immense suffering and brings new, tragic stories every day [Vladimir] Putin's brutality."
He added: "We are unwavering in our support for the people of Ukraine – and this additional £1.3billion will ensure we continue to provide the necessary military and operational support they need to defend themselves against Putin." ."
The new funding comes on top of the UK's existing £1.5bn support to the war-torn country, which is worth around £400m.
Alisha Rahaman SarkarMay 8, 2022 4:52 am
1651960258
Zelenskyy "speechless" after shelling destroyed the museum dedicated to the poet
President Zelenskyi said he was speechless after Russian shelling destroyed a museum dedicated to 18th-century philosopher and poet Hryhoriy Skovoroda.
The night's attack in the village of Skovorodynivka in eastern Ukraine struck the museum's roof, setting the building on fire and injuring a 35-year-old caretaker. The most valuable items had previously been taken away for security reasons, said Kharkiv regional governor Oleh Sinegubov.
"Every day in this war, the Russian army does something that leaves me speechless. But then the next day it does something else that makes you feel the same way again," Zelenskiy said in a late-night video address.
"Aimed strikes against museums – not even terrorists would think of that. But that's the kind of army we're fighting," he said.
Originally from Ukraine, Skovoroda spent the last years of his life in the village of Ivanovka, later renamed Skovorodynivka in his honor.
"This year marks the 300th anniversary of the birth of the great philosopher," Sinegubov said in a social media post. "The occupiers can destroy the museum where Hryhoriy Skovoroda worked and where he was buried in the last years of his life. But they will not destroy our memories and our values."
Aisha RimiMay 7, 2022 10:50 p.m
1651955736
More than 300 people were rescued from the Azovstal plant, says Zelensky
President Zelenskyy said more than 300 civilians had been rescued from the Azovstal steelworks in Mariupol, which had been bombed by Russian forces for several weeks.
Mr. Zelensky said in his nightly address that the authorities would now focus on evacuating the wounded and paramedics, as well as working on humanitarian corridors for all residents of Mariupol and nearby settlements.
Aisha RimiMay 7, 2022 21:35
1651954836
Russia says operation to evacuate civilians from Azovstal plant has ended
The Russian Defense Ministry announced the completion of an operation to evacuate civilians from the Azovstal Steel Plant in the Ukrainian city of Mariupol.
In an online post, the ministry said a total of 51 people had been rescued since the three-day operation began on Thursday, including one person on Saturday. The 51 included 18 men, 22 women and 11 children, she added.
Aisha RimiMay 7, 2022 21:20
1651953936
Ukraine's cabinet approves draft agreement to receive $1.5 billion from World Bank
Prime Minister Denys Shmyhal said the sum will be spent on public servants, government agencies and other budgetary expenses. The Kiev Independent reported.
Aisha RimiMay 7, 2022 21:05
https://www.independent.co.uk/news/world/europe/ukraine-russia-putin-war-latest-mariupol-b2073979.html Live updates on war in Ukraine: Zelenskyy says 300 were rescued in recent evacuations from Mariupol