Jeremy Corbyn blames a running injury for a black eye as he appears at the picket line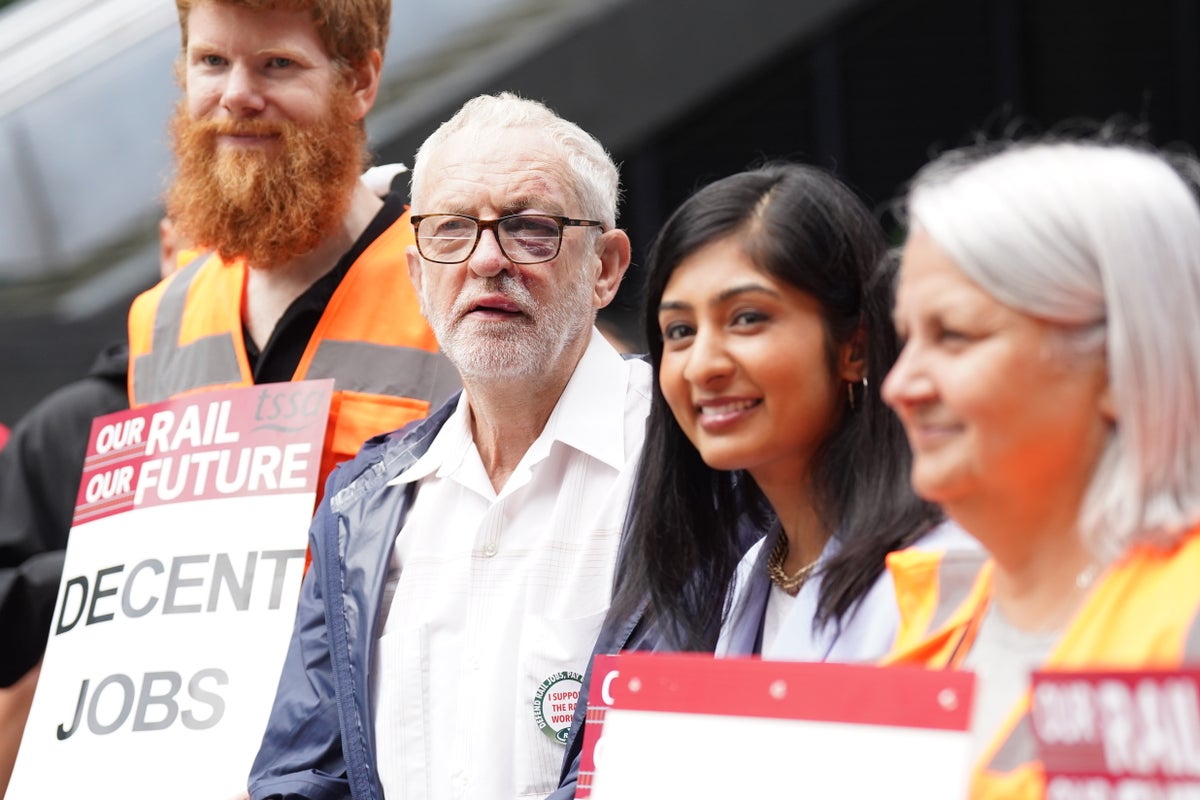 Jeremy Corbyn said he suffered a black eye and split lip after a running injury.
The former Labor leader appeared at a picket line outside London's Euston station to support striking railway workers.
Because of strikes by members of the RMT and TSSA unions, only about one in five trains ran through the country on Thursday, causing significant disruption to commuters and travelers.
Speaking to reporters, Mr Corbyn criticized Sir Keir Starmer's sacking of a shadow transport minister for giving interviews from a picket line last month.
Mr Corbyn said the treatment of Sam Tarry was "very unfair".
He added: "Sam is a union member like me, he used to work for the TSSA, he picketed to support his union and its members. I think it is very unfair to release him from his shadow position."
Mr Corbyn told Mr Tarry after his sacking that he was "very sorry because he has done a very good job, he has been trying to come up with a … much better national transport strategy".
It comes as a union leader warned the rail dispute could be prolonged "indefinitely" as the latest strike by thousands of workers caused travel misery for passengers.
Mick Lynch, general secretary of the Rail, Shipping and Transport Union (RMT), called on the government to end its stance of not engaging in talks on wages, jobs and working conditions.
He joined a picket line outside Euston station in London as only about one in five trains across the country was running due to strikes by members of the RMT and TSSA unions.
Writing to Transport Secretary Grant Shapps, Mr Lynch said: "Your government has taken the decision to use taxpayers' money to save private railway companies from liability for lost revenue due to industrial action, on condition that those same companies follow government instructions to keep wages down, shed thousands of safety-critical rail jobs, introduce driver-only trains and close ticket offices across the network."
Mr Lynch said the union had calculated that including previous and forthcoming industrial action, more than £120m of taxpayers' money had been used to 'bail out' private railway companies to date.
He said: "Using taxpayers' money to feed the Tory party's anti-union agenda and try to break unions is shameful and means the dispute will be extended indefinitely as it won't cost the rail companies a penny." lose the industrial dispute and therefore have no incentive to settle the disputes.
"Instead of waging an ideological war against rail workers, millions of voters would prefer the government to allow a fair negotiated settlement."
https://www.independent.co.uk/news/uk/jeremy-corbyn-euston-labour-london-tssa-b2147569.html Jeremy Corbyn blames a running injury for a black eye as he appears at the picket line