Jack Jones' court hearing has reportedly been postponed until September
patriots

Jack Jones was originally scheduled to appear for his hearing in East Boston District Court on Friday.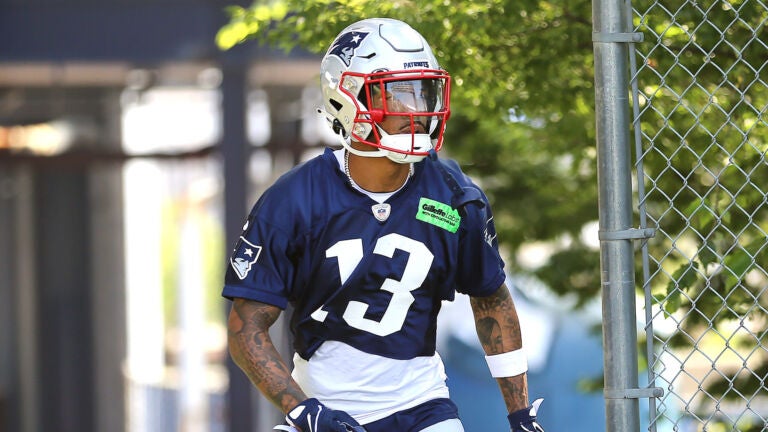 Patriots cornerback Jack Jones reportedly has no time to lose as New England practices with the Packers this week.
Jones was originally scheduled to appear in East Boston District Court for a probable cause hearing Friday afternoon after he was arrested at Logan Airport in June.
But acc NBC Sports Boston's Phil Perry, Jones' probable cause hearing has been rescheduled to Friday, September 15. Perry added that Jones is in Green Bay with his teammates and is expected to practice this week.
Legal expert Michael McCann tweeted Tuesday night that the postponement of Jones' court hearing could be a signal that a deal is being negotiated.
"Could be a sign that a plea deal is in the works for Jack Jones." McCann tweeted. "(A plea deal is the most likely outcome of how his case ends, with his primary goal being to avoid jail time and give the Patriots a reason not to fire him.)"
Jones was arrested at Logan Airport on Friday, June 16 after TSA officers found a pair of guns in his luggage.
Jones was charged on two counts of possession of a concealed gun in a secure area of ​​an airport, possession of ammunition without a gun license, unlawful possession of a firearm, carrying a loaded firearm and possession of a large capacity delivery device.
He pleaded not guilty to gun offenses during an impeachment hearing in East Boston Days later, he was released after posting bail.
Despite his legal troubles and the opportunity to receive additional discipline from the NFL, Jones has been a constant presence in the New England first-team defense throughout training camp so far.
The sophomore played a series of snaps alongside rookie Christian Gonzalez as one of the Patriots' two underdog corners.
Jones, 25, has only met with the media once during training camp and dismissed questions about his future in New England following his arrest.
"It's not my decision," Jones said Aug. 4 of remaining a Patriot in 2023. "It's up to the coach." I just do what I'm supposed to do on the field, do my best every day and hope it works. … "Every day you worry about your future on any team because this league is very liquid and you could be here today and be gone tomorrow on any team." So you just have to go out there and get involved. Availability is the best skill."
Subscribe to Newsletter
Stay up to date with the latest news from Boston.com