Interview with Anne-Marie Duff: "We are a country in trauma – the last 10 years have been a bloody show"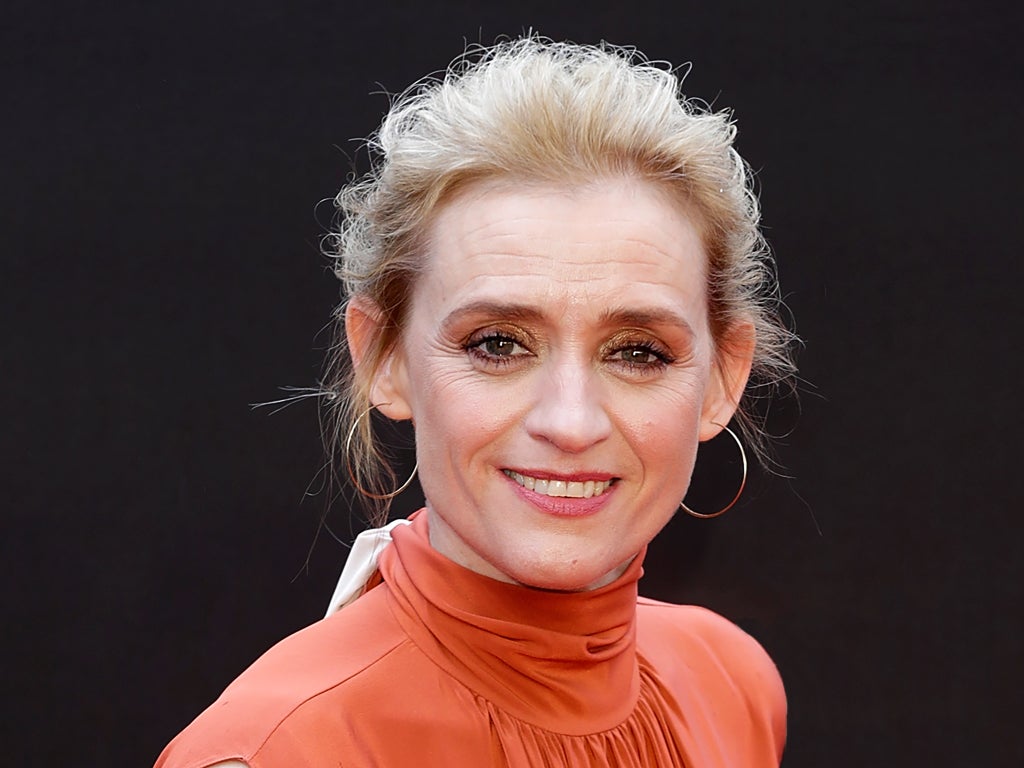 I can never see myself as one of those people who move on question time' says Anne-Marie Duff thoughtfully. "I wouldn't feel like I could articulate myself there. But I think I feel like a political person. I've never defined myself that way, but it's all a political question. And I'm a mom, so everything picks you up and forces you to think about your village, your global village. And you don't give a fuck."
She smiles and leans back in her chair. We chat in the Almeida's bar, which is deserted except for the occasional delivery man. Politics is on the agenda because it stars in Beth Steel's epic new play The House of Shadowsa saga of working-class life that traces the fate of a family from the relatively hopeful mid-1960s, when belief in progress for the poor seemed ingrained in society, to the disillusionment and frustration of 2019, when jobs and Perspectives, pursued are gone.
Duff was drawn to the role of the damaged and damaging matriarch Constance, at least in part because she draws attention to a stratum of society rarely portrayed on stage – and because she seeks to explain how we got to where we are today .
"It's just a brilliant piece about trauma. How everything arises from trauma. And how everything political is personal. The two are very neatly knotted together. You could say that now because it feels like we're a country in trauma, doesn't it? The last 10 years were really ***show. It's like watching a freight train go through the station and you think how many damn cars left? Just when you feel like there's a sun peeping over the horizon, Putin goes damn crazy. It was an incredible test for all of us, wasn't it?"
That's what it's like to talk to Duff, who's been such a familiar figure since her breakthrough at Paul Abbott shameless almost 20 years ago. She is a stealthy conversationalist who attracts you with her questions and affirmative phrases. It's part of the Everywoman quality that has made her not only one of our finest actresses, but also one who is best at evoking empathy and emotion, whether playing the friendly Ma Costa Its dark materialsor a drug addict mother in sex education.
It helps that she looks more like a regular person than a screen star. "I'm not botoxed to the core," she says as we begin to talk about what it feels like to be 51. "I made that decision and some people think it's crazy, but it hasn't stopped me from getting a job and it has meant women on the street stop me and say 'thank you.' It's such an emotional thing, you know?"
But the feeling that she understands ordinary people touches the core of her talent. She seems to have an almost uncanny ability to let her face communicate thoughts and feelings. Just being the person she's playing and letting all her light and darkness flow out of her. For all her success in the film (The Magdalene Sisters, Suffragette) and on TV (she's making a name for herself in a new Channel 4 series suspicious), this ability crystallizes on stage.
She has made a habit of selecting epic and often political plays by George Bernard Shaw Saint Joan to Terence Rattigans Cause celebre about a woman wrongly convicted of murdering DC Moore's Spread (basically who owns England) and Ella Hicksons oil which spanned centuries to explain our relationship to "black gold".
Her political commitment is concentrated on the stage. "Here I make sense. Because history is important to change things. It always has been. Check out Ken Loachs Cathy comes home which got people thinking about homelessness."
The current slide of so many households into poverty is part of the landscape The House of Shadows – and a lot in her head. "I grew up in a household where the gas was turned off, where we had to do without a lot. It's always been my life. I've never had to think about it.
"People forget that. It's not just chalkboards, but how are you going to prepare the food? How do you want to wash your children? It's just scary, isn't it? The relentlessness of it. It makes you feel like you can't do anything. But of course people are good by nature. We saw that during the pandemic. You'd be in line with 100 people at Sainsbury's and only one would be a pain in the ass. We have to stick to that."
I wonder if the theater is really the right forum for social issues. The audience that usually comes may not be the ones that need to change their minds or represent their tales of woe. Here, too, her essential optimism shines through. "It's expensive, even subsidized theater," she says. "Nonetheless, this could be a really good time for subsidized theaters, which often offer more challenging work. People will not be able to afford to pay £100 for a West End theater ticket.
"When I was growing up, we didn't go to the theatre. When you're living on the poverty line, it can't be a priority. So we need theater in schools and things like National Theater Live and cheap ticket systems to make things incredibly accessible to people."
Her own upbringing in an Irish family in west London was poor in some respects but rich in others. Duff remembers her father, a painter and decorator, who sat down with the family to see Franco Zeffirelli's film Romeo and Juliet when it was on TV; he encouraged her to read a lot. "I was a little weird. I read about people like [the 19th-century Italian actress] Eleanora Duse and Ellen Terry. It wasn't like I was watching Deadly Weapon and I think I want to be a star," she says, laughing.
She began acting in youth theater, and only later saw her first play thanks to a school trip hamlet at the National Theater starring Daniel Day-Lewis. She was also influenced by British new wave films such as A taste of honey and Saturday evening and Sunday morning. She would like to do more cinema, "but film is at a weird point right now because there's a lot of certainty around the superhero and the Marvel Universe, the DC Universe and the horror. I found this year's awards season fascinating because it was a real kind of identity crisis."
TV, on the other hand, is popular these days. "And the great thing about storytelling on screen is that there are a lot more amazing roles out there for women." She points out Mare by Easttown as a TV show that people might not have made a decade ago, and we speak enthusiastically about the groundbreaking qualities of sex education, which she joined in series two as the irresponsible mother of heroine Maeve. "I don't think I've been stopped for anything on the street since then shameless. People are just so into this show. Because it's full of love. It is not constructed cynically."
She looks forward to casting one of the sex education's young star Ncuti Gatwa as the new Doctor Who. "I grinned when I saw the news," says Duff. "He's so charismatic and brilliant. All of these kids are brilliant – the kindest, most engaging and most grateful in a really endearing way."
Her own son, Brendan, from her 10-year marriage to actor James McAvoy, is now 12. She and McAvoy met on the set of shameless but divorced in 2016. Brendan lives with Duff, but the actors raise him together. "I love being a mom," she says with a grin. "I always knew I wanted to be one. But," she quickly adds, "I'm also very interested in supporting women who don't want to. I hate the realm of nonsense and the shame that surrounds it."
For Duff, on the other hand, "motherhood suits me well. The great thing about being a working mom is that you will never waste anyone else's time. You will be prepared. You know how precious every thing is. Every minute counts."
Duff's next TV appearance is coming up suspiciousbased on the Danish series Forhoret. It stars James Nesbitt as a detective who is called into a morgue to identify a body – only to discover it is his daughter. The story unfolds as a series of two-handed games starring various actors alongside Nesbitt and a core cast. Duff plays his estranged wife in an almost unbearably poignant episode in which they both leave to say goodbye to their daughter's body.
Is it harder to act out a scene like this when you're a parent yourself? I found it incredibly hard to watch as Duff stroked her child's hair and was reluctant to leave. "I understand you, sister," she says. "It's hard. But it also makes you very respectful of the storyline. You're like, 'oh right, I gotta tell this right'. But the storyline isn't superficial. What gets me excited is when it's tingly. In doing so, has you take the time to respect history."
The series is shown on Channel 4, which is threatened with government privatization. Will she be part of the campaign against such a move? She is clearly opposed to the idea but is cautious in her response. "Well, you're just worried about outside influences making decisions for uncreative reasons," she says.
But the canal and shameless undoubtedly changed her life. "The weird thing about this series was that it brought me other work that you would never imagine. I played Elizabeth I because of shameless. It was a tremendous mediator. I met my ex-husband and we had a child. It was life changing for me and I am very grateful for that. But also what I love shameless was that it was a show about poverty, it had a sense of connection to the real world."
Which brings us back to the beginning and the story's role in helping people make sense of their lives, especially at a time when opinions are so polarized. "The older I get, the less definitive I've become. Which is sometimes exhausting for people, but I think it could be a virtue. We have such a culture of opinion. Still, I feel very uncomfortable. Everything important arises from conversations. And that's what theater does – and film and television. It talks and we can join in quietly."
The House of Shades is on view at the Almeida until June 18; Suspect is coming soon to Channel 4 and All 4
https://www.independent.co.uk/arts-entertainment/theatre-dance/features/anne-marie-duff-interview-house-of-shades-b2084690.html Interview with Anne-Marie Duff: "We are a country in trauma – the last 10 years have been a bloody show"