How Mac Jones kept the Patriots alive after a disastrous pick-six
Patriots

"We know that Mac is a dog and his mentality is always to fight no matter what. That's why we weren't worried after the election."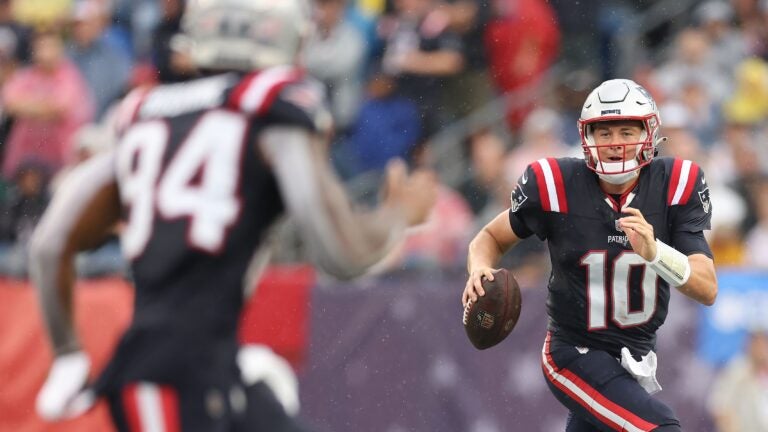 Patriots fall to Eagles, 25-20: Quick observations on Week 1 loss


What Bill Belichick said about the Patriots' fourth down play call

The Patriots Early in their season opener, it seemed like they were headed for disaster when Darius Slay intercepted a pass from Mac Jones and ran it back 70 yards for a touchdown.
Ezekiel Elliott fumbled the only play of New England's ensuing drive, and Philadelphia capitalized on a touchdown that gave the Patriots a 16-0 first-quarter lead.
Jones and the Patriots could have easily given up after that, as they were two points behind at the start against the reigning NFC champion Eagles.
But they didn't. They gritted their teeth, dug their boots into the Gillette Stadium turf and fought their way back into the game.
The Patriots had two chances to win the game with the ball in their hands in the fourth quarter as they trailed by five points. However, they fell just short of what would have been an impressive upset in the Thank You Tom (Brady) game, starting the season with a 25-20 loss.
"Not good from me," Jones told reporters after the game. "They gave me the ball twice to win the game and I couldn't do it, so I just have to go back and see what I have to do better." But as a quarterback, it hurts to have the chance to do that Win the game twice and you can't do that. So you have to learn from it. There are only so many ways to do that in the NFL and I definitely feel like I let the team down."
In the end, Jones completed 35-for-54 pass attempts for 316 yards and three touchdowns. The pick-six was his only turnover. He led the Patriots to 14 unanswered points in the second quarter, cutting Philadelphia's lead to two by halftime.
The third-year quarterback's performance was not the reason for the Patriots' loss, said linebacker Matthew Judon. Rather, Jones played a big role in keeping the Patriots in the game.
"I think as a quarterback you have to come here like that and talk to (the media), but we don't care about that," Judon said. "Mac went out there and played his butt off. It was unfortunate that he got a few bad calls and a few penalties here and there. But we can't transfer this loss to Mac. He worked his ass off."
Although they didn't get the win, the Patriots showed they can keep their cool under pressure. Against one of the best teams in the league, they were competitive until the end, thanks in large part to the way Jones bounced back from the early mistake.
"He's a fighter," Phillips said. "The game will go like that sometimes. We might have to give up a few touchdowns and they might have to crawl back, so it's just what it is. We always help each other. We know that Mac is a dog and that his mentality will always be to fight no matter what. That's why we weren't worried after the election."
Jones distributed the ball and hit six different Patriots for four or more catches. He threw two touchdown passes to Kendrick Bourne and another to Hunter Henry. Henry had a spectacular one-handed catch on fourth-and-8 to keep a crucial drive alive.
The Patriots had some deficits. New England was called into a delay of game, forcing the Patriots into a fourth-and-17 situation on their second-to-last drive. Jones was unable to complete a fourth-down pass to Henry, stopping the nine-play, 36-yard drive.
On the final drive, Kayshon Boutte made a 12-yard catch on the Patriots' final drive that would have turned a fourth-and-11 and put the Patriots at the Eagles' 8-yard line. The play was ruled an incomplete pass because Boutte did not have both feet in the field.
But still, it was the Patriots exactly there.
Several Patriots said after the game that they would not accept moral victories. But it's a promising start to the season, seeing the Eagles play to the finish with a broken offensive line and a comeback that has cornered the Super Bowl runners-up.
"It's resilience, right? And that applies to all of us," said offensive player Calvin Anderson. "We all need to be able to recover from any setback in a game. If you want to win big games, you have to be able to do it. Luckily we have great leadership at the top, people who will tell you it's next game even when you're down. That's why I'm grateful to be around people like that."
Sign up for Patriots updates🏈
Get breaking news and analysis in your inbox throughout football season.