Holly Willoughby looks unimpressed as Phillip Schofield interrupts her in viral This Morning clip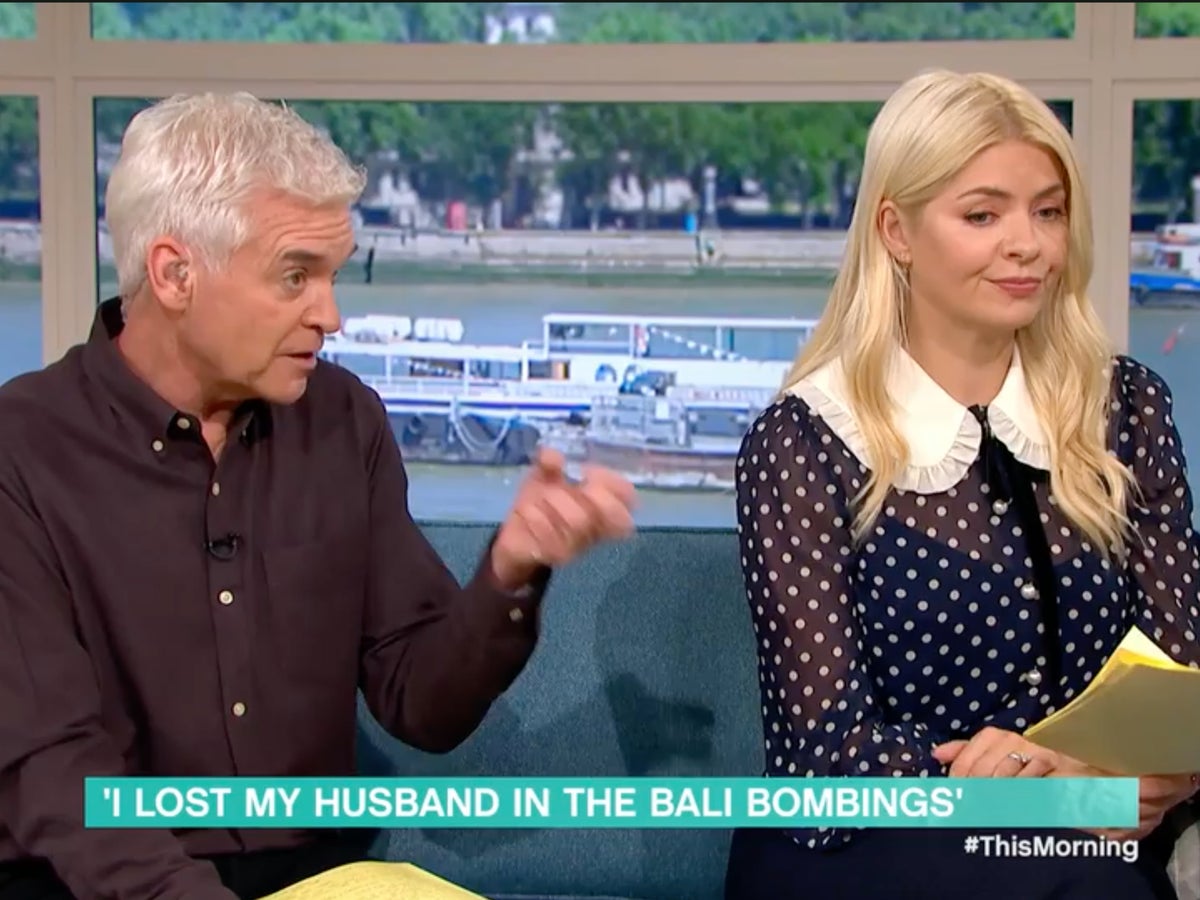 Holly Willoughby seemed unimpressed when Phillip Schofield interrupted her during a tense exchange This morning.
As hosts of Tuesday's show (October 5), the couple sat down for an interview with Polly Brooks, who was implicated in the 2002 Bali bombings and suffered 43 percent burns.
When Brooks, whose husband was killed in the terrorist attack, explained that the loss meant it took her a long time to be glad she survived, Willoughby said, "Wow, wow. My goodness, and even…"
However, she was interrupted mid-sentence by Schofield, who continued to ask Brooks questions about the incident.
In response, Willoughby pursed her lips and looked sideways at Schofield, looking visibly unimpressed.
The clip has gone viral on TikTok, and the voiceover reads, "Holly rolls her eyes as Phil cuts them off."
Commentators suggested there was "trouble in paradise" between the two, while others read the "eye roll" as Willoughby "dissociating herself" from her co-host.
Willoughby and Schofield have been the subject of much public debate over the last month after they were accused of "jumping in line" to see the Queen lying in state following her death aged 96.
Willoughby and Schofield denied the allegations, saying they "would never jump in line."
Despite this, more than 78,000 people have since signed a petition urging ITV to "ax" the presenters over the alleged snake jumping, with the petition's creator admitting the whole ordeal has "kind of destroyed" them.
However, ITV's chief executive said the couple had been "misrepresented" during the scandal and that Willoughby and Schofield were not in danger of losing their jobs.
https://www.independent.co.uk/arts-entertainment/tv/news/holly-willoughby-phillip-schofield-this-morning-b2196717.html Holly Willoughby looks unimpressed as Phillip Schofield interrupts her in viral This Morning clip