Here's what happened when 5 million bees escaped from a truck
world news

"My first thought was, 'Wow, I survived,'" said the driver. "Then it was like, 'Oh my God, all my bees.'"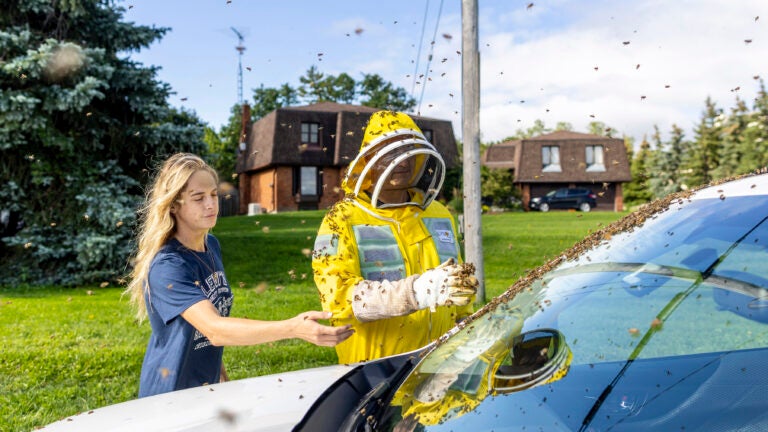 The calls for help went out to dozens of beekeepers across Ontario early Wednesday morning.
Luc Peters had just got up and was feeding his pets. Mike Barber helped his 8-year-old son get back to sleep. Terri Faloney spoke to her mother, who broke the news to her.
Around 5:30 a.m., a pickup truck carrying crates containing about 5 million honey bees lost control on a road, causing the crates to fall and the bees to flee. Police officers responded by urging beekeepers to bring the situation under control and urging the public to stay away.
The beekeepers grabbed their hazmat suits and rushed to the scene, where the police barely knew what to do. The beekeepers put the bees back in the wooden boxes and by 11 a.m. they had everything under control.
"It was a little messy," Barber, a beekeeper from Guelph, Ontario, told The Washington Post.
The night before, farmer and commercial beekeeper Tristan Jameson collected bees from one of his apiaries in Milton, Ontario and loaded boxes into a trailer attached to his Ford F-350. He took her to another apiary about 35 miles south in Grimsby.
Jameson was on the Guelph Line, a road in Burlington, Ontario, when he said he saw something move in front of his truck. Jameson said he turned right. To avoid falling into a ditch, Jameson made a sharp left turn, causing about 16 of his 44 cases to fall, but stayed on the road.
"My first thought was, 'Wow, I survived,'" Jameson, 23, said. "Then it was like, 'Oh my God, all my bees.'"
After he stopped shaking, Jameson said he found construction cones on the side of the road blocking the trailer as he tried to signal drivers to exit the area. He said he ran to a landscaping company across the street and asked a worker to call 911. Then he began to collect the bees in the boxes.
At 7:14 a.m., the Halton Regional Police Service advised people to close their windows and avoid the area. Around the same time, officials found beekeepers online and called for help, while some beekeepers saw the news and volunteered.
Constable Ryan Anderson said it was the first time in his decade with the service that police had been called to check on millions of bees. Officers briefly closed one side of the dual carriageway where the incident occurred, Anderson said.
"We get calls from wild animals or occasionally have to deal with a bear or deer, but never bees," Anderson said.
Peters, a beekeeper who lives in Hamilton, Ontario, suspected something bad must have happened when the police called him. Barber, 36, said he missed about 10 calls from police officers when he checked his phone just after 7am. Faloney's mother Brenda Carroll saw footage of the incident on CHCH-TV and urged her daughter, who lives in Hamilton, to volunteer.
When they arrived, many bees were still flying erratically. Others were lying on the ground, on top of cars, and on the scattered boxes. Barber said the hum made it sound like helicopters were circling the crime scene.
Beekeepers said it smelled like honey, beeswax, and bananas (a smell bees give off when they sting). Beekeepers also use bee smokers to help calm panicked bees.
Beekeepers said that walking among millions of bees is normal in their job.
"I love being surrounded by bees," said Faloney, 32.
Jameson said he was stabbed more than 60 times and was treated by paramedics but did not require any further medical attention. He helped other beekeepers organize the boxes and look for queen bees. When the queen bees returned to their hives in the boxes, many bees followed them.
Many police officers stayed in their vehicles, Barber said. Faloney said she gave her beekeeping suit to a reporter but was still only stung once. So many beekeepers came that some were later turned away.
"There was no lack of help from the beekeeping community," said Peters, 36.
Crates were loaded onto the truck Jameson kept there for rogue bees to find their hives. But hundreds of bees died in the crash and from stings, Jameson said.
"If we took all the boxes back then, we would have left a very large number of bees that would have practically no home," Jameson said.
Jameson received two parking tickets, including one for driving with unsafe cargo, Anderson said. Police continue to urge people to avoid the area.
After corralling most of the bees, Jameson was driven home to Grimsby by a colleague. He plans to return to the truck Thursday night to drive the bees to Grimsby.
Faloney and Peters, who are friends, went to breakfast. Faloney said she was disappointed the restaurant didn't serve local beekeeping honey to complement her "much needed" coffee. Even though she had been standing among millions of bees minutes before, she longed for a spoonful of it.