Healey wants to ban state authorities from purchasing single-use plastic bottles
politics

The governor said Massachusetts would be the first U.S. state to adopt such a ban, which she hopes will help protect marine life and reduce carbon emissions.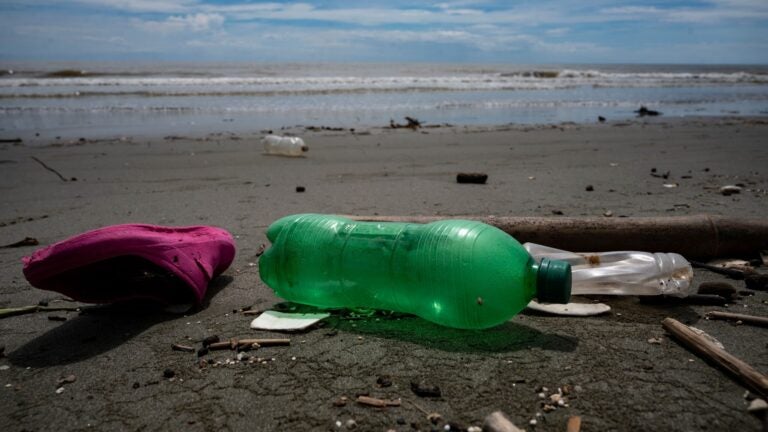 Massachusetts Gov. Maura Healey announced her plan to ban state agencies from purchasing single-use plastic bottles during a speech on Monday about the importance of clean oceans and biodiversity.
During a speech in Clinton Global Initiative In New York City, Healey said the ban, intended to protect marine life and reduce carbon emissions, was the first to be enacted by a U.S. state.
"Plastic production and plastic waste are among the greatest threats to our oceans, our climate and environmental justice. As a government, we have a duty to stop contributing to this harm and find a better way forward," she said.
Healey's office said the governor plans to issue the ban through an executive order on Thursday.
How the ban will affect Massachusetts
The ban will be most noticeable during visits to state agencies, which purchase about 100,000 plastic bottles annually across all departments, Healey's office said. For example, the governor's office will not distribute bottled water at meetings. Instead, her office said visitors would see more water coolers and other types of water dispensers.
There are some exceptions to the ban, Healey's office said. It does not apply to ongoing contracts or when there is no alternative to plastic bottles, for example in emergencies.
"We also encourage all quasi-governmental agencies and boards in Massachusetts to adopt their own plans to eliminate the purchase and sale of single-use plastic bottles," Healey's office said in a statement.
According to the Sierra Club of Massachusetts, Americans consume about 50 billion single-use plastic water bottles per year, but only about 29% of them are recycled. Not only do these bottles remain in the environment for 1,000 years, but the environmental group said that the carbon footprint of bottled water, between the fossil fuels used to produce it and its impact after use, is 11 to 31 times greater than that of tap water .
According to the Center for Biological Diversity, swirling accumulations of plastic make up about 40% of the world's ocean surfaces, and much of it is single-use plastic. The plastic could be fatal to marine life, it said.
These are among other reasons why in 2012 Concord was the first municipality in the state to ban the sale of single-use plastic water bottles. Since then, 24 other communities did the same.
Healey addresses the loss of biological diversity
In addition to the bottle ban, Healey said she would issue an executive order that would direct the state to set biodiversity conservation goals for 2030, 2040 and 2050. The state would also be tasked with developing strategies to achieve these goals.
The resulting biodiversity protections would be "the strongest in the nation," Healey promised in her speech. This includes measures to protect the state's salt marshes, protecting against storm impacts and removing carbon from the atmosphere. Officials will also consider strategies such as establishing "marine sanctuaries" that would protect coastal and marine habitats, she said.
The governor emphasized this Massachusetts is home to 432 species that are endangered, threatened or of particular importance, worldwide, for example One million species are threatened with extinction.
"We have been working to protect our natural resources for decades. But as climate change accelerates decline, biodiversity loss threatens public health, economic stability, food security and our emissions targets," Healey said.
The governor also pointed to measures she has taken since taking office earlier this year to address environmental issues, such as establishing a climate chief at the state cabinet level, establishing a state climate bank and issuing climate funds over $31 million in grants to communities for climate resilience efforts.
"In our coastal state, we know that climate change is our greatest threat. We also believe that action is our greatest opportunity – securing a safe, prosperous and sustainable future," said Healey.
Reactions to the ban
Many environmental groups in Massachusetts praised the ban on Monday.
"Today's announcement leverages the power of the executive branch to take swift action to protect the ocean biodiversity that has supported our state for centuries." Environmental League of Massachusetts Vice President Amy Boyd Rabin said in a statement.
"It's a bold step that we need more of" Mass Climate Action Network Executive Director Elischia Fludd said in a statement. "Leading by example and curbing unnecessary plastic consumption is a good place to start."
Julia Blatt, Managing Director of Massachusetts Rivers Alliancesaid her organization supports the ban because plastic bottles often end up in rivers and streams, and because Bottled water is less regulated and often less safe than tap water.
"Bottled water is also many times more expensive than tap water. So when state authorities buy these small bottles, they are wasting taxpayer money," she said in a statement.
But not everyone involved in state politics was satisfied. Jim Davidson, a candidate for the Massachusetts Republican State Committee, tweeted on Monday"Of all the issues facing Massachusetts, Maura Healey decides that banning plastic bottles and withdrawing from the Clinton initiative is the top priority."
Subscribe to Newsletter
Stay up to date with the latest news from Boston.com