Gunned down in Tehran: The killing of a Revolutionary Guard officer raises fears of an Iran-Israeli escalation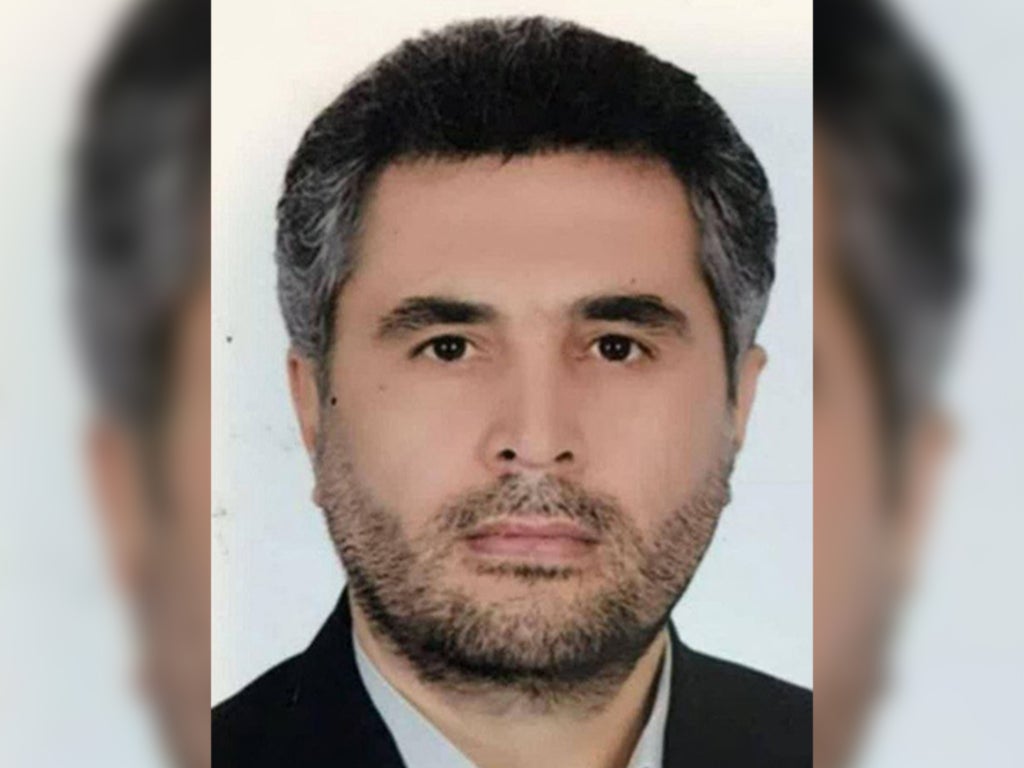 The brazen daylight killing of an Iranian military officer in Tehran has sparked calls for revenge and highlighted the ongoing shadow war between the Islamic Republic and Israel.
Colonel Hassan Sayyad Khodai was a Revolutionary Guard officer involved in operations abroad, including in Syria and possibly elsewhere. He was shot and killed by gunmen on a motorcycle around 4 p.m. Sunday afternoon. He was returning from work in his car and had just approached his home in eastern Tehran when the killers fired five shots at him, state media reported.
One photo showed him in bloodied civilian clothes, slumped in the driver's seat of a white sedan with the left window shattered. His funeral was scheduled for Monday.
Iranian officials and state media attributed the killing to "global arrogance," a nod to the United States and its allies, without naming a country.
"I urge security officials to seriously investigate the crime," Iranian President Ebrahim Raisi said in Tehran before heading to Oman for talks with senior officials. "I have no doubt that revenge on criminals is inevitable for the pure blood of this honorable martyr. "
Israeli media have strongly suggested that Israel was behind the attack, and Israeli authorities on Monday warned their foreign diplomatic outposts to prepare for possible retaliatory action.
News outlet Nour, which is close to Iran's powerful Supreme National Security Council, wrote in a cryptic tweet that the killing was a "miscalculated crossing of a red line that will change many calculations."
"The perpetrators of this crime will pay a heavy price," it said.
Iranian lawmaker Mojtaba Zolnouri, chairman of the parliament's National Security Committee, said the "killing has no particular operational value" as Khodai is not under any special security protection.
But the murder had all the hallmarks of a spy thriller, suggesting a deep penetration of foreign intelligence into Iran. The successful assassination attempt in the heart of the Iranian capital represents another embarrassing security and intelligence failure for the country, which is aggressively jailing dissidents and dual nations amid flimsy espionage charges.
"Whoever did that had the operational intelligence and the ability to execute it and maybe escape," retired Israeli Brigadier General Assaf Orion, now a staffer at the Institute for National Security Studies in Tel Aviv, said in an interview. "On the one hand, that says something about the skills of the killer, but on the other hand, it also shows Iran's weaknesses."
The killing follows the November 27, 2020 killing of Iranian nuclear scientist Mohsen Fakhrizadeh, another daylight killing in Iran allegedly carried out by Israel and local agents, and several sabotage operations in 2021 targeting the country's nuclear technology and missile programs targeted Iran.
While Fachrizadeh has long been a figure of interest to Western intelligence agencies and international nuclear inspectors seeking answers about Iran's nuclear technology program, Khodai is an unknown figure. In a Middle Eastern intelligence and security space akin to a house of mirrors, little is known about what Khodai did for a living or why he was killed.
Iranian media have confirmed that Khodai was among the "defenders of the shrines," a reference to those who had served in Syria fighting a popular armed uprising on behalf of Bashar al-Assad's regime.
Few, if any, ordinary Iranian military personnel served in Syria. Khodai's rank and deployment in Syria suggest he was a member of the Quds Force, the IRGC's foreign branch allegedly behind assassination operations abroad as well as coordinating with armed allied groups in the Middle East and South Asia.
Some media outlets quoted intelligence officials claiming that Khodai was involved in the targeted pursuit of prominent Israelis abroad, specifically an operation to lure Israeli citizens to their deaths in Cyprus, Colombia, Kenya and Turkey. Recently, the Israeli Consul General in Istanbul and an Israeli-Turkish businessman have been the targets of foiled alleged assassination plots.
"Assuming what we read in the reports is correct, his occupation was part of the Quds Force and may have been involved in directing terrorist attacks against Israelis abroad," Mr Orion said. "If it's true, he's a terrorist. It may well be that this was an anti-terrorist operation where you are trying to prevent further operations."
But Israeli media, including the state-run Channel 13, also suggested that Khodai was involved in Iran's missile and drone program and oversaw the transfer of sophisticated weapons to Hezbollah in Lebanon.
None of the Israeli media named sources.
In Iran, the Revolutionary Guards and the Ministry of Intelligence and Security announced a joint operation that has arrested an unspecified number of operatives alleged to be collaborating with Israel.
In a statement released by state media, authorities accused the detainees of "robbery and destruction of private and public property, kidnapping and fabricated extortion of confessions".
Khodai's killing and arrests come amid a fresh wave of small-scale protests across the country over soaring food prices, after the government announced a plan to cut subsidies and increase spending on the poor.
Iran and the US are currently in direct talks aimed at restoring a collapsing 2015 nuclear deal that was supposed to rein in Iran's nuclear technology program in exchange for sanctions lifting. Talks have stalled over Washington's refusal to delist the Revolutionary Guards from a terrorist organization.
https://www.independent.co.uk/news/world/middle-east/iran-israel-irgc-asssassination-tehran-khodai-sayyad-b2085129.html Gunned down in Tehran: The killing of a Revolutionary Guard officer raises fears of an Iran-Israeli escalation