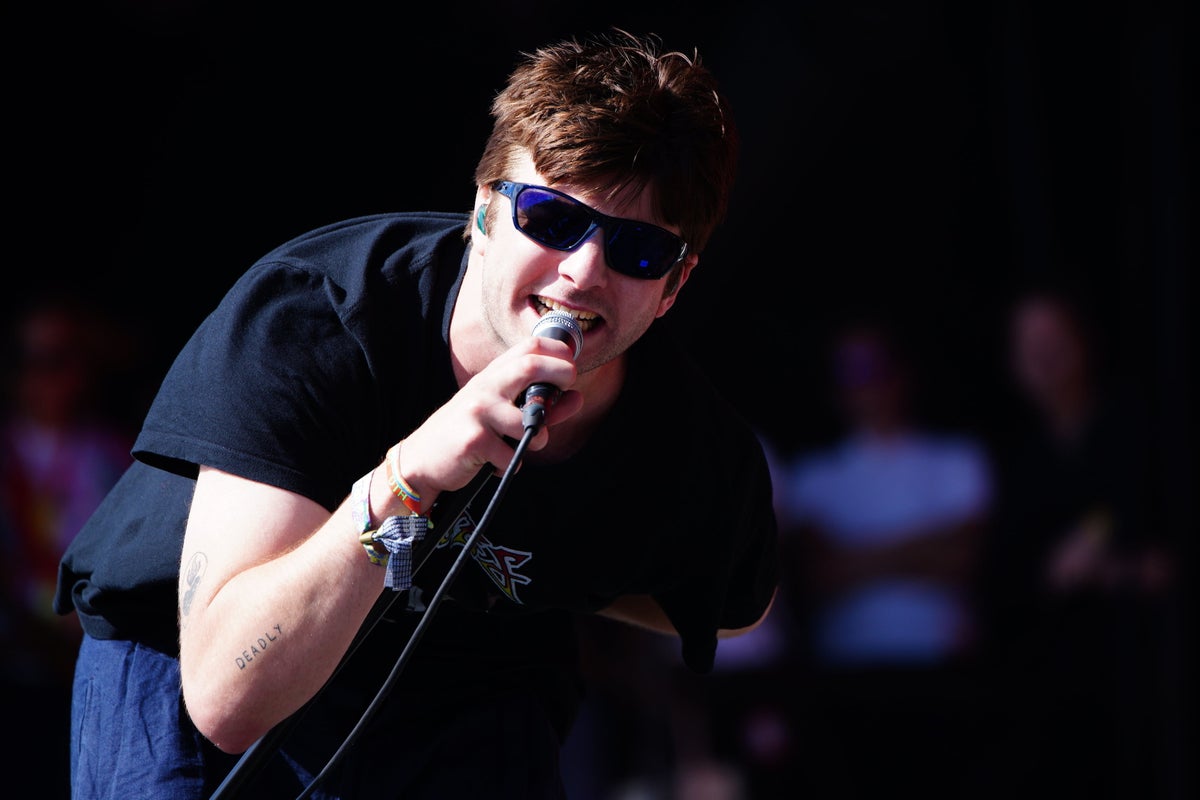 Fontaines DC – Different level
★★★★★
"My childhood was small, but I'm growing up!" Those were the promised words on Fontaines DC's debut album. With a steady build-up over the last few years and a massive hit after their #1 album, this year's Skinty Fia, the band has become just that. And on a hot Sunday afternoon in Glastonbury, the bevy of convulsing fans buzzing around the Other Stage only serves to confirm that.
Frontman Grian Chatten is a true showman – wearing his usual Pogues t-shirt – and throws his arms in the air for a cheer. The Dublin-based group landed a difficult window of opportunity when they clashed with Diana Ross in Legends slot over on the Pyramid. It's a testament to their fearsome reputation as a live act that they've attracted such a large crowd.
The five-piece band, now three albums deep, is at the forefront of rock's recent resurgence. They have also adamantly resisted categorization, instead defining themselves through Chatten's sharp, observational lyrics and intense, driving instrumentation.
They throw in a few numbers from their 2019 debut, Dogrel, along with the more acoustically moody but lyrically hopeful tracks of the follow-up, A Hero's Death. Usually an unabashedly cool collective, they can't help but grin when mosh pits simmer in front of them. At the cue "Jackie Down the Line" a sea of ​​sticky bodies bubbles and collides. Fontaines will not die a death any time soon.
McFly – Avalon
★★★☆☆
I know we live in an age of nostalgia, but even I (a former superfan) am shocked by the size of the crowd for McFly's first Glastonbury set.
you have to give it to them Nearly two decades since the art-pop, art-emo band burst onto the scene with their debut single "Five Colors in Her Hair," the foursome have filled the Avalon stage at Worthy Farm.
Things surprisingly start with "Red", giving the band a chance to show off their live guitar skills. More rocking deep cuts follow immediately afterwards: "Song for the Radio", "Lies". It's some of their best material, but you can tell the audience is impatient for the hits. I think I might be the only person within 10 meters to sing along.
At least the band is aware of themselves. "If you liked that, we are Mcfly. But if you didn't like that, we're Busted," the crowd is told, before a rendition of "Obviously" that perks everyone up to no end. A trio of crowd favorites follows: "All About You", "Room on the Third Floor" and the band's cover of "Don't Stop Me Now".
"Star Girl" receives the most praise for its eternally youthful lyrics: "There's nothing on earth that could save us/ When I fell in love with Uranus." Everything after 2008 is a bit flatter.
In short: a perfect McFly set especially for me. Others in the audience wanted more.
https://www.independent.co.uk/arts-entertainment/music/reviews/fontaines-dc-review-glastonbury-mcfly-b2109755.html Glastonbury Sunday Reviews: Fontaines DC and McFly