From masculinity to race, Apple's basketball series "Swagger" addresses "so much more than sports"
In an ideal world "Swagger" would benefit from the hype that was built around fellow Apple TV+ series "Ted Lasso." That recently ended hit proved that the appeal of a show set in the sports world lies not in any team but in the people who comprise it. 
"Swagger" also follows the more widely played and obsessed-over sport of basketball, taking inspiration from NBA player Kevin Durant's upbringing, but using his experience as a framework to examine accountability, brotherhood and masculinity. These are deeper issues than the themes of hope and kindness that propelled Apple's soccer comedy to the audience mountaintop. 
"This show is so much more than sports."
They're also presented with a profundity and infectious warmth thanks to O'Shea Jackson Jr.'s portrayal of determined youth basketball coach Ike "Icon" Edward, Isaiah Hill as his star player Jace Carson, and Oscar-nominee Quvenzhané Wallis as Jace's best friend Crystal Jarrett who, like him, is a basketball prodigy. Even so, its audience is still building. The good news is that more people are catching this ball when it's passed to them.
Stellar acting flows through the outstanding cast of "Swagger," and each game's drama, delivered via cinematography that swoops, flows and places the audience inside the action on the court as opposed to recreating the spectator's experience. 
One can easily get that perspective on ESPN, which "Swagger"creator Reggie Rock Bythewood understands. Where live sports broadcasts fall short is in conveying the personal and societal pressures always looming in the background for each player. 
The first season of "Swagger" introduces Jace as a 14-year-old training for greatness in Seat Pleasant, Md., a Washington D.C. suburb, while the second picks up with Jace in his senior year at a predominately white and wealthy prep school called Cedar Cove. He's also on the cusp of turning 18 and deciding on which college to attend, which should be a simple decision. He's a top student and a nationally recognized star athlete. Recruiters are circling.
But as Jace's profile rises, an assault he and other teammates committed against a sexually abusive coach comes back to haunt him, setting off an arc wherein the school's white board vacillates between standing behind Jace and the team or making an example of them. At the eye of this, Storm Jackson Jr.'s Ike finds himself facing off against Orlando Jones' Emory Price, the school's athletic director and an ardent proponent of W.E.B. DuBois Talented Tenth theory.
All of this sets up the season's themes of respectability politics versus raw integrity and what is lawful versus what's right and just alongside subplots dealing with race and class discrimination, social media judgment and one character's burgeoning sexual identity.
As Bythewood told Salon in a recent interview, conducted in his capacity as the show's executive producer and an episodic director, once people realize "Swagger" dives into these themes through the work one of TV's most engaging casts — and cinematography that makes the sport feel alive — they don't simply understand it, they become dedicated fans. He talked about this, and why the "Swagger" staff refers to installments as mazes as opposed to episodes in the following interview.
This interview has been lightly edited for length and clarity.
It's difficult to persuade people to watch a show about sports unless they're sports fans. But I've heard more people talking about this show in the second season than the first, and I realize from your perspective there's a mixed blessing with that. 
You know, my family and I went next door to our neighbor's house for dinner, and it was really interesting. The woman is Iranian, and her husband is Israeli. And somewhere in the middle of the conversation, they talked about "Swagger." He was trying to convince his wife that she should watch, and she said she's not really into sports. So they started having a debate in front of us about how this show is so much more than sports. It's about growing up. It's about social issues. So it was really interesting to have this little snapshot of what I really think is going on . . .  what's really worked in our favor is exactly what the husband was doing, which was like word of mouth. Like, just take a look. It's basketball. But truthfully, it's really about kids growing up in America and growing up in the world. The other thing that's really surprising, and very pleasing, is that women are finding it. You know, guys like it but oh my god, women are just taking it to a whole new level.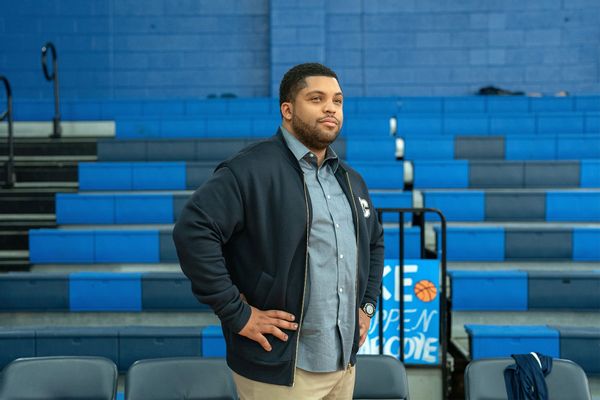 Swagger (Apple TV+)
One of the things that I thought this season did wonderfully was encapsulate all these themes in an idea that's introduced in the first episode: Is democracy a journey or a destination? Can you talk about how that was developed as this season's unifying element?
One of the things that we do on "Swagger" is to hold a mirror up to society. And in a contemporary setting, this question of democracy, this question of who has a voice, who has the right to have a voice, is prevalent. So when we look at placing them at a school like Cedar Cove, it becomes a template for America. It becomes an institution that challenges diversity, that challenges inclusion, that challenges giving everyone a voice. So in really wanting to make this an entertaining show, with amazing basketball, there's always an undercurrent of, how do we treat children in this country? And what's happening in the world outside of "Swagger"?  
Were there any specific moments or phenomena as you were writing the season that you wanted to weave into the story? 
"The worst thing to be in the world is a victimizer. The second worst thing to be is a victim."
Absolutely. The attack on critical race theory is a big one. And here's the thing, it's always like this interesting push and pull between politics and personal life. So there's a portion of the story that's inspired by Kevin Durant's life, and also a big portion of the story is inspired by my children's life. In particular, our youngest son is a baseball player, plays [Division-1] ball at UCLA, and he went to a prep school. And at the time that he was going there, there really started to be a lot more inclusion in terms of the materials they were reading, the academics, and Black authors. Now, my oldest son, who's three years older, went to the same school. And when he was there was like a fight to make the curriculum more inclusive. 
. . . Also, by the way, there was an article written a few years ago that we talked about – and this is not the Deep South, this is Los Angeles – an article where a lot of wealthy white parents thought wokeness had gone wild. So clearly it was just something that my kids were dealing with, my young men, and so it found its way organically in the storytelling.
This season did a wonderful job of showing that Cedar Cove has a class hierarchy and a racial hierarchy. Also, the inclusion of Orlando Jones's character as the person who's both holding back Ike but also is this necessary bridge to the school board reflects a conversation about the class divide within the Black community. Putting it into a storyline featuring a white upper-class majority in an elite prep school adds a different perspective. 
I don't want to give away details about the finale, but you brought it around in a way where Orlando's character was not so changed – he didn't reject W. E. B. DuBois. At the same time, he also recognized that those teachings were not all they were promoted to be.
We've had great leaders in this country. Two in particular, W.E.B. Dubois and Booker T. Washington . . . they saw their role as Black men, of what Black America needed to do and progress differently. Now, [Malcolm X and Martin Luther King] had differences. So often it's usually you have to choose one or the other, you know. But we're not a monolith. We can all be Black and have different points of view. That doesn't mean we're villains because we think differently. But in the best-case scenario, a character like Ike is right, and a character like Ike is wrong. And a character like Emory is right, and Emory is wrong. And so really it's just wanting to both be right and both be wrong and seeing where that takes us. 
So much of the season revolved around the beating from the first season coming back to haunt Jace and the various reactions as to whether people viewed it as justice, or it's purely a crime that they should be punished for. Did you adopt any particular guidance in terms of how you wanted to present the nuances surrounding that incident and building that storyline?
Yeah, there were a couple of things. One, I thought about what happened to Allen Iverson when he was in high school. There was this big fight in Virginia in a bowling alley and some people got hurt. And some people said Allen Iverson took part in it . . . There were certainly a lot of people that took part in it, but Allen Iverson as a star player was plucked as one of the people that they decided they were gonna make an example out of him.
I thought about that a lot in Season 1. But here in Season 2, I also just really wanted to hone in [sic] on this question of, "Are we free?"  Again, so much of it is me looking, like taking cues from my sons. 
Another thing that happened, that sounds like a small thing, but it's actually a pretty big thing for me emotionally: My son Toussaint played a baseball game in Compton and was driving home from that in the Valley. And he got pulled over by a police officer. Once it was done, he told me about it.
And by the way, as pullovers go, it was a positive experience.
"Even our characters are standing on the shoulders of our ancestors."
But as a parent, Gina and I had different reactions, I think Gina was really nervous and uptight because he didn't do anything, he just got pulled over. But I felt a sense of relief, of like, OK, everything I taught you, how I've told you to handle yourself, how I've told you to be polite, but be strong, like everything that you sort of tell your kid how to handle those encounters. I sort of felt like, OK, cool, like, it's a rite of passage. And I felt, "OK, you're gonna be OK." And it's a weird thing to sort of live with as a Black parent. 
One of the things that I tell my kids — they're young men now — is that the worst thing to be in the world is a victimizer. The second worst thing to be is a victim. So we talk about these things, we talk about our real-life experiences. And certainly, we're aware of what's happening in the news. 
I did not come into the [season] by the way, knowing that we were going to do one of our – you know I call them mazes instead of episodes – we didn't go in knowing that one of our mazes was going to take place in a detention center. But in the course of the conversation, I talked about my experience with other players at the detention center and talked with one of my writers who had been incarcerated for a little while, and for me, like creating an atmosphere where our real-life experiences can impact a character's experiences, that's when the magic starts to happen. And it requires a lot of trust in the writers' room to go that way. But ultimately, I would feel I would tell you, that's our secret sauce.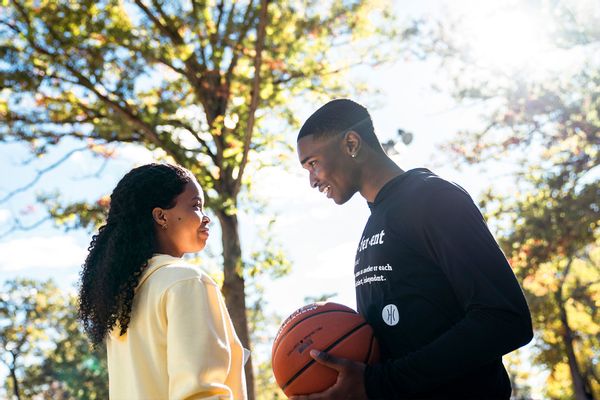 Swagger (Apple TV+)
For people who are going to be reading this, can you explain why you call your episodes mazes?
First of all, the opening image of "Swagger" is this hand-drawn maze that Jace's father gives to him, and "maze" becomes a metaphor for life. It becomes a metaphor for the lives of all our characters, to say that, you know, life is not a straight line. It has twists, turns, obstacles and opportunities – it's a maze. And so it's a way to look at their journey. 
Along with that, it's also a way that we can look at society. And then we can say, as storytellers, it's not just this snapshot. This is really the fabric of America – like this idea of a maze incorporates the Civil Rights movement, the Reconstruction Era. It incorporates everything we saw in 2020. 
And so when we start thinking that way, it obligates us to understand that even our characters are standing on the shoulders of our ancestors. So I really love approaching it in that way. 
Then it impacts all of our storytelling. Cinematically, within the world, it's all part of this maze, the way we shoot the basketball games. Even in the production design, there are maze-like things that are – sometimes it's the fabric on the bedspread. It's just really inspired so much of how we approach our storytelling.
I realize this is an imperfect analogy, but so many people went nuts over "Ted Lasso" after they discovered that it's a comedy about a sport that's not about the sport, but about the people who play it, coach it and are invested in it. People connected to its message of kindness and belief. If there were an equivalent message that you think "Swagger" is preaching, what would it be?
The urgency of community. The urgency of community. If there's anything that I want the audience to walk away with, it's that none of us gets where we get to alone. 
And I would say the urgency of community as it impacts children.
Season 1 starts out with our main character being 14 years old. Part of our research was to look at the most famous 14-year-old American history: Emmett Till. And we really had to take that on of like, how do we treat kids in our country? That's a big theme here. And so even as we're placing them in basketball, and it's a team sport where no one wins alone, no one loses alone, it's a team. But part of it also is to give a view from every seat in the house – from coaches, to parents, to sneaker company representatives, you know, all of the different fabrics that make up this game. You know, what we've all heard for decades is, "It takes a village." It does take a village, but another way to say it is it takes a community. And so what you see in "Swagger" is the urgent cry for community as it surrounds children who are often under attack by what's going on in this country today.
All episodes of "Swagger" are streaming on Apple TV+.
(The Directors Guild of America ratified a labor contract with Alliance of Motion Picture and Television Producers in June, while the Writers Guild of America and SAG-AFTRA, the guild representing, film and TV actors, remain on strike against the AMPTP. Salon's unionized employees are represented by the WGA East.) 
Read more
about this topic