Former Nats reliever Sean Doolittle is leaving after "11 incredible seasons."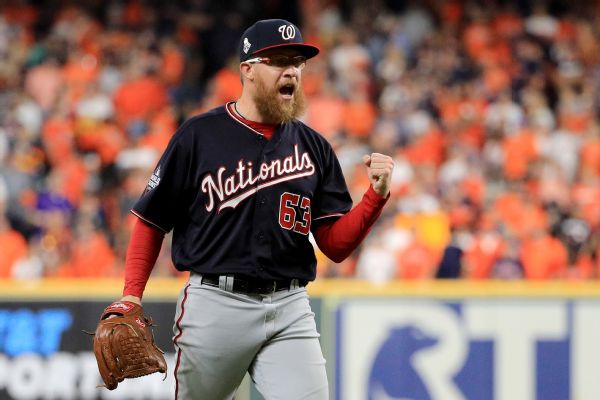 Sean Doolittle, a two-time All-Star reliever who helped the Washington Nationals to a World Series title, has announced his retirement.
Doolittle announced his decision in a Social media post On Friday, he wrote that his heart was "full" as he said goodbye "after 11 incredible seasons in the sport I love."
He said he felt very welcome in Washington, where he pitched from 2017 to 2020, earned his second All-Star honor in 2018 and recorded a save in Game 1 of the 2019 World Series when the franchise won its first and won only championship.
"The 2019 World Series title will always be the highlight of my career because we were able to share it with you," Doolittle wrote to Nationals fans. "I don't have the words to tell you how grateful I am for your support during my time here in DC."
He is expected to hold a news conference Friday before the Nationals host the Atlanta Braves.
Doolittle also thanked the Oakland Athletics, for whom he pitched for the first six seasons of his major league career. He acknowledged his 2021 season with the Cincinnati Reds and Seattle Mariners and joked that it furthered his availability as an option in the online game Immaculate Grid, adding that "my experience in baseball feels more complete" after playing for those teams have played.
His managers, teammates, clubhouse staff and family were among those Doolittle praised in his post.
After returning to the Nationals on a one-year contract, Doolittle last played in the majors in April 2022. He underwent season-ending elbow surgery in July and had signed a minor league contract with Washington this year. In 2023, he played eleven games at four minor league levels.
Nationals general manager Mike Rizzo said the team knew it would gain a tremendous reliever and man with the move from Doolittle in 2017, adding that proved to be true.
"As a World Champion, an All-Star and a leader in the clubhouse, Sean has set an example of what it means to be a pillar of the community," Rizzo said in a statement. "He was as wild as can be on the mound, taking the ball whenever he was asked to."
Doolittle, 36, retires with a 26-24 record, a 3.20 ERA and 112 saves in 463 relief appearances. He was selected by the Athletics team as a first baseman in 2012 and was then given the opportunity to try his hand at pitching after injuries made him consider retirement at the time.
"I am forever grateful to them for helping me turn a second chance into a career," Doolittle said.
The Associated Press contributed to this report.