Entertainment
Elton John at BST Hyde Park: Almost exactly what you expect – and all the better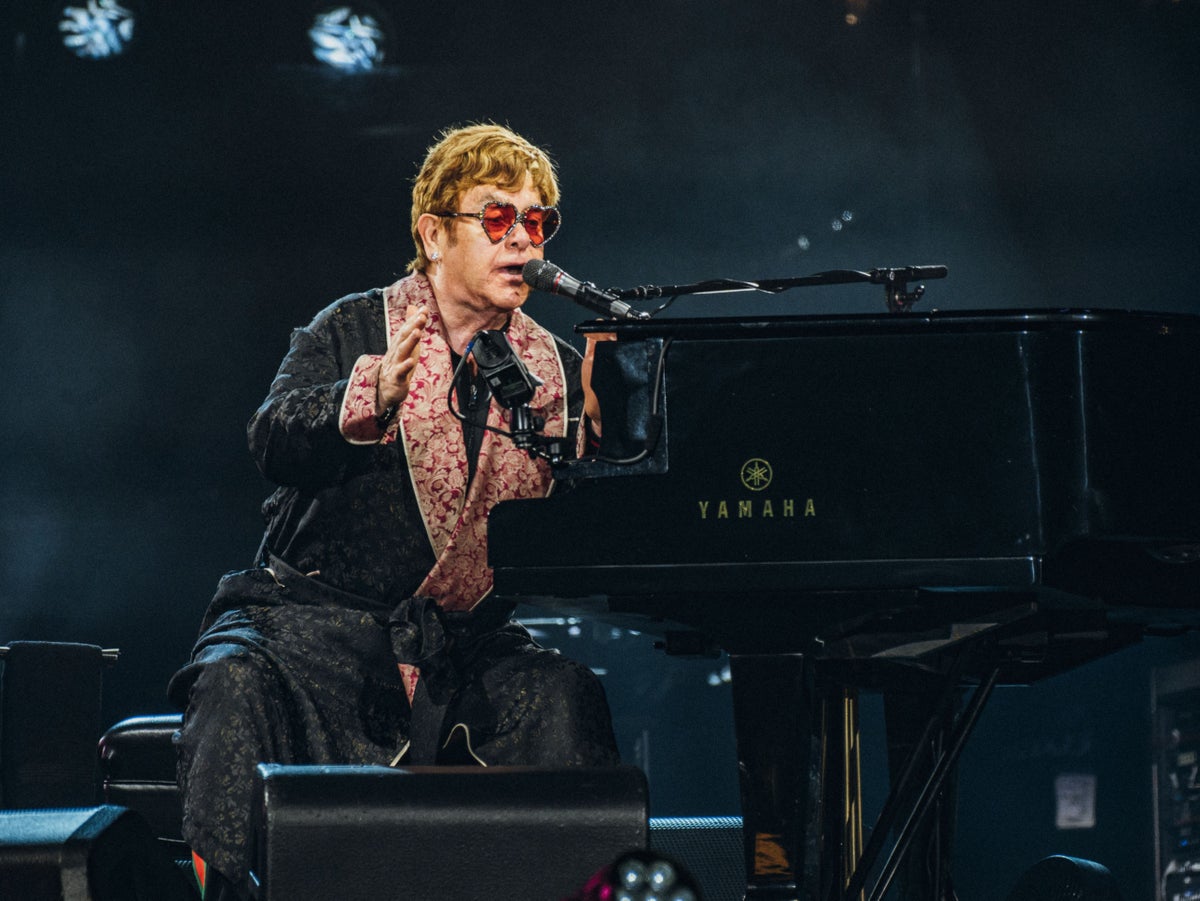 In the middle of his very last show in Hyde Park, Elton John sings the track that first made him an icon. It's a testament to his decades-long legacy that the crowd raises real lighters when he dives into the chorus of "Your Song"; not, as has become common, telephone torches.
That show — on the final leg of his epic, world-spanning Yellow Brick Road tour — has been a long time coming, delayed by two years and a pandemic. Maybe that's why he takes the stage on time tonight. The distinctive opening notes of 'Bennie and the Jets' hit at 7:50pm, catching the revelers off guard as they abandon all hope of a last-minute beer and flock to the stage. Dancing as they go, of course. The song, about a pop star as famous for his eccentric look — "electric boots, a mohair suit" — as his music, is a fitting introduction for John, seated at his piano in a white tuxedo and with his signature blinded frame. It's the tamest outfit he'll wear tonight.
Earlier this month, the 75-year-old denied "silly stories" in the tabloids that reported on his allegedly deteriorating health. He said he was in top form – and the proof is in the pudding. He never wavers during the almost three-hour show. The entertainer continues to keep it all on stage while tearing through several powerful piano solos. Though the days of hopping his keys are behind him, as a showman he finds other ways to please his fans. Here's a cheeky hip swing. A manic grin there. On the few occasions when he rises to blow him a kiss or to touch his heart in gratitude, he is met with screams and roars of admiration. Chatter is kept to a minimum. There's a tribute to the "magical and eternal" Aretha Franklin and a long list of thanks, but most of his energy goes into the splattering of those power chords.
John's voice has strengthened with age and he skillfully avoids any falsetto. His voice is as honeyed as ever on the played Americana touches of "I Guess That's Why They Call It the Blues." Joining him on stage are old buddies whom he introduces throughout the show and causes quite a stir: Ray Cooper on drums; Nigel Olsson on drums; Davey Johnstone on guitar. They've been playing together since the 1970s, never missing a beat – and all can keep up with their frontman's energy.
An epic trio of "I'm Still Standing", "Crocodile Rock" and "Saturday Night's Alright" banishes any hint of creeping fatigue. Not surprisingly, "Rocket Man" and "I'm Still Standing" are the hits of the night: rollicking sing-alongs led by the world's greatest maestro. Behind John, who bangs the keys with gusto, plays a sizzling reel of his decades-long career, a fitting – and emotional – accompaniment to a song about endurance.
Only one performance of his latest hit, the Dua Lipa duet "Cold Heart," falls flat. The track's only redeeming quality is that it gives John the perfectly emotional transition from his latest No. 1 to his very first as he next kicks off into the 1970s 'Your Song'. The jumbo screen shows many a wet cheek in the audience.
And with that, the music legend bows in Hyde Park for the fourth time. Now he's wearing a silk robe with a cat's blinded face on his back, because well… he's Elton John.
https://www.independent.co.uk/arts-entertainment/music/reviews/elton-john-review-bst-hyde-park-b2109254.html Elton John at BST Hyde Park: Almost exactly what you expect – and all the better