Business
Credefi Platform Hits $1 Million in Total Locked Valuation (TVL)
Location/Date: – March 2, 2022 at 2:57pm UTC · 2 minutes of reading
Contact: Credefi, Source: Credefi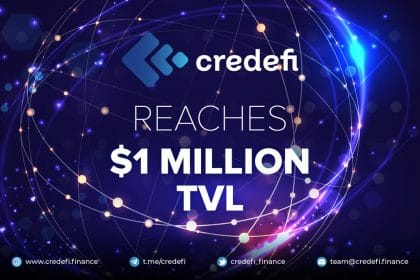 Credefi, the pioneer of DeFi and Fintech fusion that connects crypto lenders with SME borrowers from the real economy, has just announced that it has reached $1,000,000 in… Total Value Locked (TVL) on its platform.
In the crypto fintech ecosystem, Total Locked Value (TVL) is a number that represents the spot value of all assets staked within a particular protocol and is an important metric that is used to measure the health of the DeFi protocol.
This protocol aims to bridge the gap between the crypto world and the traditional financial sector. To do this, they have created a secure and accessible platform for both SMEs and crypto liquidity providers to provide lenders and borrowers with stable APY. and predictability necessary for them to insulate themselves from the volatility of the cryptocurrency ecosystem.
Credefi offers a low risk portfolio with a guaranteed minimum fixed APY of 10% on stablecoins like USDC, USDT, DAI and BUSD.
Regarding this milestone achieved, Ivo Grigorov, CEO and Founder of Credefi said he is excited about the support they have received from the community for the first data lending platform. Risk assessment and credit scores for lenders:
"Our platform is proving to the traditional financial system and especially to SMEs, as well as conventional DeFi services, that both worlds can appear in one place. through a secure platform, with certified risk management and smart asset management providing efficient, timely and low-cost solutions for decentralized finance with the creation of great APYs Greatly protected against the volatile nature of the cryptocurrency ecosystem. "
Credefi is the world's most advanced P2P DeFi lending platform using the power of blockchain. They call themselves the redefined bank and at the end of last year they had a successful IDO on CardStarter which, along with almost two million private round fundraising, has allowed them to continue to develop a roadmap ambitious in a short time.
About Credefi
Credefi is the first mover in the DeFi space that connects crypto lenders and SME borrowers from the real economy. Credefi's platform allows for decentralized and secured lending of portfolios of business projects or individual companies, protecting lenders while providing them with a fixed APY.
Twitter | medium | Telegram | Notification channel
https://www.coinspeaker.com/credefi-reaches-1-million-total-value-locked/ Credefi Platform Hits $1 Million in Total Locked Valuation (TVL)