Lifestyle
Christmas Bread Comparison: Pret A Manger vs Starbucks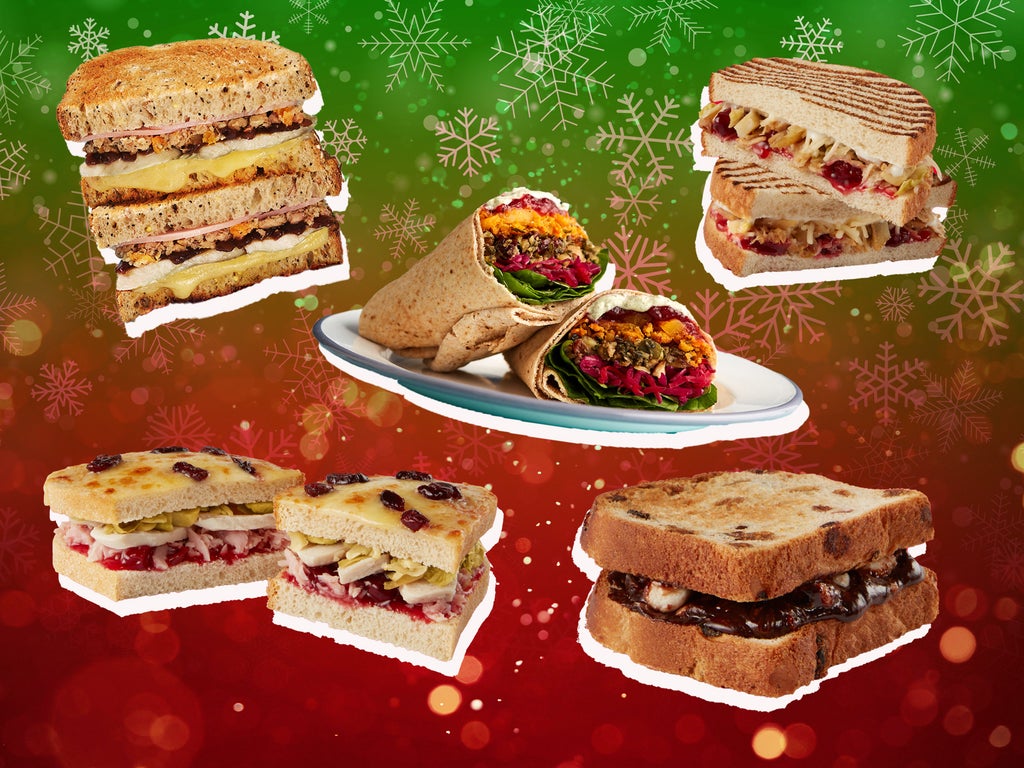 Christmas may still be far away for customers, but for retailers, the holiday season kicked off months ago.
In early November, brands launched their festivals advertisement, is playing Christmas music in the store and filling the shelves with seasonal sweaters and socks and – something we can all bring on the plane – sandwich.
Christmas sandwiches have grown in popularity in recent years, with fans waiting for months for festive food items from chains like Costa and M&S.
This year, we pitted two of the most popular companies – Pret a Manger and Starbucks – against each other, to see which is best in terms of taste, texture, and overall festival.
Read on for our thoughts.
Pret A Manger
Vegan Christmas Flatbreads, from £4.35
This sandwich was tested by Emma Snaith, audience editor
"I love the cranberry port sauce – it really cuts through the sweet potato falafel and definitely adds some Christmassy vibes. There was a good amount of filling and the pumpkin was nicely cooked.
"But the bread really makes it uncomfortable, and it's an important part of the sandwich experience. It is very easy to fall off and make it difficult to eat. Plus, I think flat bread is better than toast.
"I really can't enjoy vegan Christmas pesto. So aside from the cranberry port sauce, there's not much to differentiate it from a regular falafel packet. "
Rating: 3/5
Christmas veggie nut toast sandwich, from £3.99
This sandwich was tested by Olivia Petter, a senior lifestyle writer
"I love the combination of flavors and textures in this sandwich. The spices are very festive. Paired with butternut squash, malted bread and crunchy nuts and fillings, it's a pleasure to consume. "
Rating: 4/5
Christmas Lunch Sandwich, from £3.99
This sandwich was tested by Ben Kelly, vice president of audiences
"The meaty Christmas sandwich is as always, a full meal between two slices. A generous amount of turkey, and more than cranberries to keep it moist. "
Rating: 5/5
Christmas Lunch Bread, from £3.99
This sandwich was tested by Laura Hampson, deputy lifestyle editor
"It's official: Every sandwich needs an extra layer of crispy onions on top. The addition of onions to Pret's Christmas lunch bread only adds to its delicious filling – turkey, cranberries, rocket, stuffed pork and port sauce. You can't get more than this when it comes to festival fare. "
Rating: 4/5
Stuffing Mac & Cheese, from £5.85
This sandwich was tested by Lucy Thackray, the travel editor
"First impressions: Pret Christmas mac & cheese is making me wonder why I haven't eaten mac & cheese stuffed with fillings every winter day for the rest of my life."
Rating: 5/5
Final score: 21/25
Starbucks
The Very Merry Beyond Meat® Sandwiches from £4.49
This sandwich was tested by Harriet Hall, lifestyle editor
As a longtime fan of Beyond Meat burgers (textured, lots of meat! Taste, delicious!), I had high hopes for this bad boy. It's a relief when the high street is finally catching up on offering vegetarian and vegan food after enduring countless mushroom or spinach and feta disasters over the years.
Sadly, Starbucks seems to have forgotten that presentation is an important part of food preparation. The Very Merry Sandwich looked utterly dejected when I opened it, with the burger sloshing around and the vegan cheese appearing plastic and gloomy. Aesthetically, a lot has been desired here.
But about the taste. It's festival! I enjoyed it. More meaty and richer, the sandwich worked for me on the flavor front. Vegan cottage cheese is a great dupe for the real deal, and cranberry chutney is the best treat during the Christmas season. Oddly enough, the Dijon mustard mayo seemed to have frozen and left a rather nasty scum in the mouth.
And for fresh tomatoes I was promised – not a tom in sight! What place does the tomato have on the Christmas table anyway? Absolutely no place. All in all, not a total disaster – the burger took it – so I can only hope this is a stepping stone for next year.
Rating: 3/5
Blitzen's Blue Cheese & Chutney Toastie, from £2.99
This sandwich was tested by Kate Ng, a lifestyle reporter.
"A delicious, rich, yet plump toastie packed with crisp Blue Stilton® cheese, grated mozzarella, cheddar and Emmental cheese. Filled with melted cheese, this toastie is mixed with a rich apple chutney and topped with cranberries for the ultimate Christmas flavor.
This toastie is like a cheese making love to a sandwich, it's a cheese lover's dream come true. Truth be told, I'm not a huge fan of the Stilton – however, its inclusion in this sandwich isn't overwhelming and the sweetness of the apple and cranberry chutney balances out the saltiness of the all that cheese.
"However, some people may find that there is too much sweetness, Starbucks may find that reducing the chutney a bit provides a better balance of flavors. Serve while hot to get the most out of this delicious cheese toast, as the bread will harden and the cheese will turn curd when it cools. "
Rating: 3.5 / 5
A Toastie to be Thankful, from £4.49
This sandwich was tested by Laura Hampson, deputy lifestyle editor
"After a few bites of this toastie, I started to consider whether I needed to do a lateral flow test – there was barely any flavor to it. All the elements of Christmas are there, ham, sliced ​​turkey, minced leeks, cranberries and even the humble sprouts – but the flavors just don't match. Even molten cheddar and cranberry gems placed on top couldn't solidify it in my Christmas sandwich ranking. "
Rating: 2/5
Turkee & Trimmings Toastie, from £4.25
This sandwich was tested by Helen Coffey, travel editor
"This soy 'turkey' sandwich promises all the garnish – but the overall flavor is simply cranberries, cranberries and more cranberries. Where advertised the chopped potatoes, leeks, cabbage and sprouts? Or coconut oil substitute for mozzarella cheese?
"They might have been in the sandwich but they were definitely not on my gravy, which only noted the bland imitation turkey (feather?) against the sharpness of the aforementioned cranberry sauce. Baked sourdough is delicious enough – and interestingly, even though it's served hot, it actually tastes better when cooled.
"Overall, for something that is claimed to provide a 'full Christmas dinner', it's something of a disappointment."
Rating: 2/5
Chocolate & Orange S'mores Toastie, from £2.99
This sandwich was tested by Aisha Rimi, the editorial intern
"If you are a person who likes to eat sweets, then this is a perfect choice for you. But honestly, it's even a bit too rich for a sweetie like me. Sadly the bread was over-baked for my taste, making it hard for me to bite into. The sweet orange and raisins in the bread definitely overwhelm the chocolate. Unfortunately, there wasn't a single marshmallow in sight. "
Rating: 2/5
Overall Score: 12.5/25
And the winner is…. Pret A Manger!
It scored well all round for Pret A Manger in the Christmas sandwich taste test. With two full marks, it seems their dishes are completely successful in The Independent staff room. Unfortunately, the same can't be said for Starbucks, none of its items achieving ratings higher than three and a half times.
https://www.independent.co.uk/life-style/christmas/food-drink/christmas-food-pret-a-manger-starbucks-b1954984.html Christmas Bread Comparison: Pret A Manger vs Starbucks