Cezanne at Tate Modern Review: Anyone remotely interested in art should see this show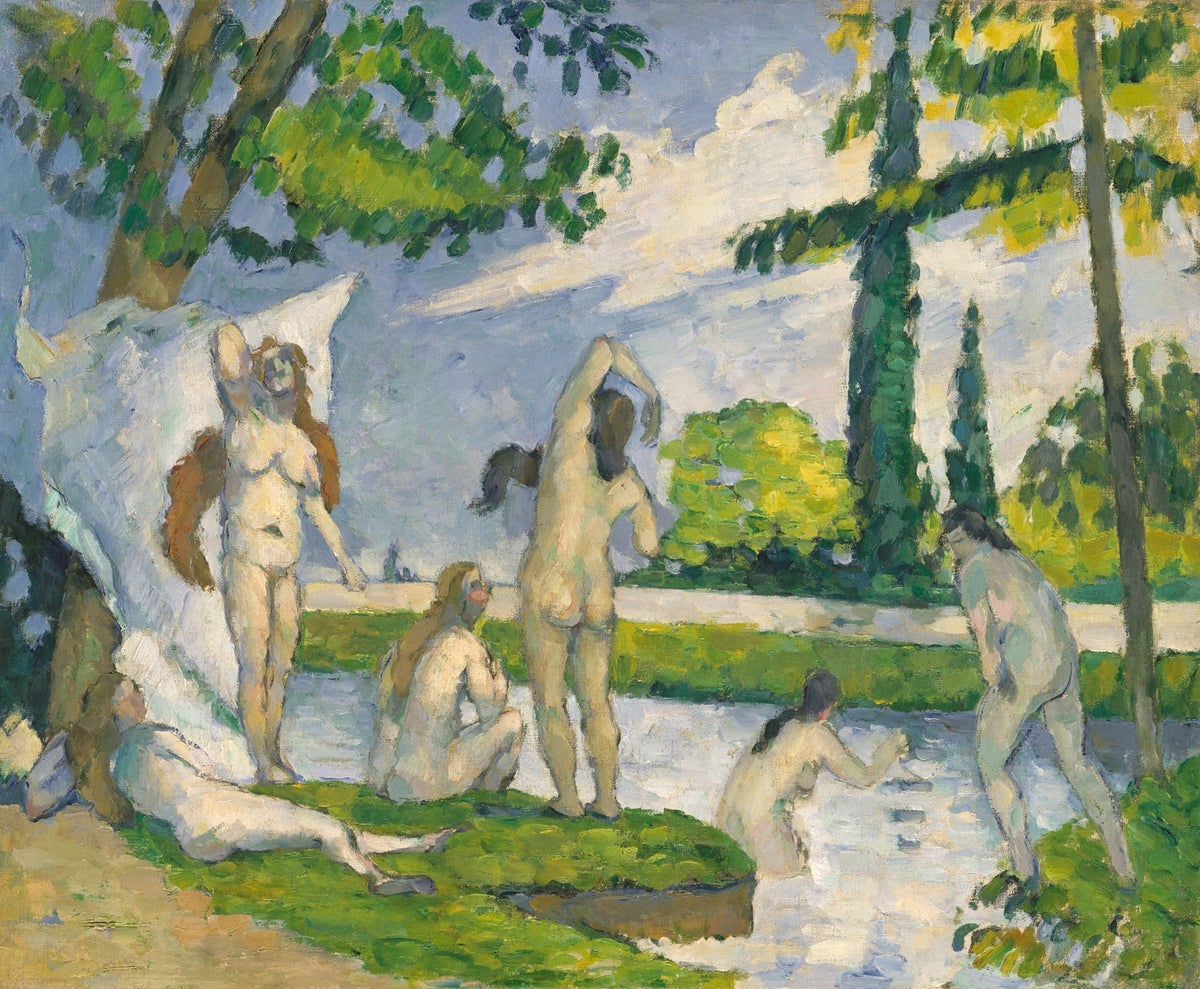 People either get Cezanne or they don't. This grumpy Provençal workaholic was dubbed "the greatest of us all" by none other than Claude Monet. Both Picasso and Matisse are said to have referred to him as "the father of us all". Even today, artists of all persuasions tend to salute the mere mention of Cezanne. His incomparably succinct landscapes, still lifes and portraits offer us not only the roots of everything radical that has come since, from Cubism to conceptual art, but also an uncompromising rigor that has set the gold standard for what the artist can and should be.
For the casual viewer, however, it can be difficult to discern what sets Cezanne apart from the many other Post-Impressionist painters, large and small, who fill the cafe tables of late 19th-century Paris. This much-anticipated grand survey begins with a trophy lending, the apple basket, from the Art Institute of Chicago. It shows, well, a basket full of apples, with even more apples spilled over a white cloth and an empty wine bottle, it's a beautiful painting. But it's hard to imagine that it's the starting point for exploding what art has stood for for the last 500 years.
However, the exhibition still has 10 large rooms where it can stand up for Cezanne and offer us a new view of him as an artist and as a person. Instead of the awkward outsider figure of popular myth who seemed oblivious to everything but the pursuit of the same few, elusive "motives" for decades, the exhibition seeks to show us a warmer, more politically engaged Cezanne who was anything but indifferent to "issues." of modernity".
While the show's new contextual backdrop is often intriguing — who knew he was an avid consumer of trashy popular magazines? – Some of the connections are very speculative. Placement of Cezanne's extraordinary painting Scipio (1866-68), showing the back of a black model well-known on the Parisian art scene alongside an engraving of the horribly scarred back of a beaten slave, provides important context – we all live in the time we live in, whether we want it or not. But the idea that the abolition of slavery had an impact on Cezanne remains, as the show admits, only "possible."
The fact that he painted 29 portraits of his partner and future wife, Marie-Hortense Fiquet, may attest to their "constant closeness, bond and partnership" – it is certainly a testament to their patience. But the two examples we are shown do little to counter Cezanne's own claim that he was interested in "bodies, not souls." in the Madame Cezanne in a yellow chair (1888-90) the subject's head is reduced to a severely abstracted oval awaiting Picasso's use of African masks in The World Change Demoiselles d'Avignon. If it's possible to detect a hint of tenderness in her eyes and mouth, that's certainly not something Cezanne was looking for himself.
Born into a middle-class family in Aix-en-Provence, Cezanne moved to Paris at the age of 22 with his childhood friend, the radical writer Emile Zola. His most distinctive early paintings, with their glossy spiked blacks, are grossly underrepresented. Just the melodramatic The murder (1867-70) and a tiny still life, Sugar bowl, pears and blue mug (1865-70) give a taste. But a group of early landscapes shows the importance of Cezanne's return to Provence, not only for him but for the future of art. Here, like Cezanne's art, the show begins to warm up.
Paintings created in and around Paris, such as Auvers, panoramic view (1873-75) have a drab, rainy-day-in-the-suburbs look reminiscent of Cezanne's early mentor, the great Impressionist Camille Pissarro. But in The Francois Zola Dam (1877-78) it is as if a gigantic light had dawned – in the artist's mind as well as in his surroundings. The dam itself is barely recognizable, but angles and contours become harder and sharper in the blazing southern light, the spatial distances between objects such as the olive trees scattered on the parched earth more precise. His earlier Nordic landscapes, indeed all of mainstream Impressionism, look gray and woolly in comparison.
It is as if the moment he got off the train in Aix, Cezanne was seized with an urgency to "treat nature in terms of cylinder, sphere and cone", as he famously put it. Paradoxically and typically, his desire to "make Impressionism something solid and enduring, like museum art," led to the shaking of traditional notions of form and space.
In the second half of the exhibition we feel we are getting much closer to Cezanne, as the focus narrows to what the exhibition calls his 'research': his obsessive examination of a few well-defined themes. When you see some of Cezanne's seemingly endless still lifes of apples, stone jars, and scraps of cloth, you begin to understand how he glimpsed the universal through minute variations in the shape and gravitational weight of these objects and their relationships to the surrounding space.
in the Still life with ginger jar and eggplant (1893-94) the forms appear dry and hard, with a massive, stone-like firmness, while in still life with apples, Painted in the same year with many of the same objects, the light seems subtly adjusted, giving the scene a barely definable radiance and luminosity.
Mont Sainte-Victoire, a limestone cliff outside of Aix, got under Cezanne's skin so much that he created 30 paintings of it. It seems to become more present and effective in each of the seven paintings shown to us, all dated from 1904 to 1906. The mountain is reduced to a luminous peak of almost Japanese sobriety on one hand and seems to crumble into fragments of color on the next, as if abstract painting were being invented before our eyes.
Cezanne's "research" produces another great idea of ​​modern art: the "series" as an end in itself. It's a concept that projects us to Picasso and even Warhol. Tate's magnificent 2018 exhibition Picasso 1932 showed the Spanish painter, who in many ways was Cezanne's great heir, relentlessly repeating images until he had exhausted them and himself completely. Cezanne, however, never tires. One lifetime wasn't long enough for everything he had to say about bunches of apples on tabletops, or indeed another of his major compulsion projects, The bathers.
What began as a youthful idea to create an imaginary composition with figures copied from paintings and sculptures by other artists resulted in three monumental paintings. He continued to work on them until his death, endlessly moving the abstracted figures around like giant beams on the canvas. The one shown here, on loan from the National Gallery (c. 1894-1905), feels simultaneously very classic and so modern that one wonders if Picasso, the next-generation boy wonder, has much left to contribute to the deconstruction of the human form.
Cezanne claimed to be in search of "sensations," feelings that other artists—perhaps all humans—experienced but that he believed only he had the courage to paint. He never tried to put these feelings into words, as they were naturally embodied in the images he created. What you see is what he intended. That's it.
In the last room one gets a sense of what this means when Cezanne, who was increasingly frail and diagnosed with diabetes before his death at the age of 67, appears to simultaneously increase and decrease the volume of light in his paintings. With many of these works it is difficult to tell whether it is day or night. But in the last of his still lifes and views of Mont Sainte-Victoire, forms take on a hallucinatory intensity as the artist seeks to transcend the inevitable through what meant most to him: work.
Much is missing from this exhibition: not many, and certainly not the best, of the crude early paintings, and only a handful of the portraits where you can best see the proto-Cubist Cezanne. But if this show only tells us half the story, dammit, what half. If you're even remotely interested in painting – or just art, really – you have to see this exhibition.
Tate Modern, until March 12th
https://www.independent.co.uk/arts-entertainment/art/reviews/cezanne-tate-modern-review-tickets-b2196177.html Cezanne at Tate Modern Review: Anyone remotely interested in art should see this show