Celtics survive Game 6 as Jayson Tatum starts late: 3 takeaways
Celts
Tatum turned a nightmarish game into a memorable ending.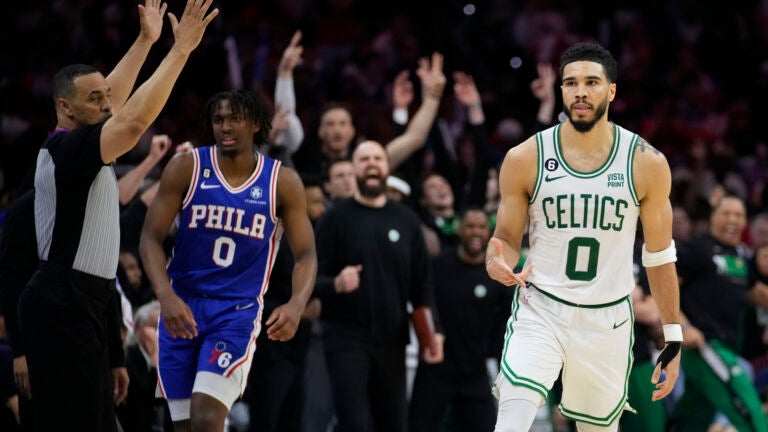 The Celts survived a roaring Philadelphia crowd and three-fourths of Jayson Tatum's nightmare basketball in Game 6 on Thursday, earning a dramatic 95-86 win to force Game 7.
Here are the takeaways.
1. Jayson Tatum was 4:14 away from a deeply uncomfortable summer of questions about his ability to handle a team and maybe even his status as a top player in the NBA.
Fresh from a near-unanimous selection for the All-NBA First Team, Tatum has had a 1:13 win rate over the Celtics season. He couldn't find the range, the Celtics' offense was freezing and the Sixers looked like they were about to take control.
It might have been a small thing, but with 6:31 left, James Harden fouled Tatum and sent him to the line for two free throws. Tatum did both. The free throws were quickly forgotten – the next time the Celtics had possession, Jaylen Brown flipped the ball over and Tatum committed a costly clear path foul that gave the Sixers two shots and the ball. But about two minutes later, Tatum placed his first shot since free throws – a 3-point throw in the corner over Joel Embiid.
He buried it. The Celtics led by a margin.
The next time the Celtics gained possession, Tatum shook Tyrese Maxey off with a vicious step-back dribble and set up another three-pointer.
He buried that too. The Celtics led by four.
Two minutes later, Smart and Tatum executed a pick and pop, and Tatum fired again from ten yards. He paid that off. The Celtics led by eight, and the ailing Sixers team never recovered. Tatum added another 3-pointer before the rapidly thinning Wells Fargo Arena crowd before the final buzzer sounded.
"To put it bluntly, I'm one of the best basketball players in the world," Tatum told ESPN's Cassidy Hubbarth in his post-game interview. "Live through battles, get through crises, it's a long game. Luckily I had some great teammates who stopped it."
2. The Celtics would not have been able to be saved by Tatum if Marcus Smart hadn't kept them in the game with one of the best two-way postseason performances of his career. Smart finished the game with 22 points on an 8-for-15 shoot-out and seven assists, giving the Celtics just enough attacking power to stand still and await their star's arrival.
Smart's performance backed up an impassioned quote he made ahead of Game 6.
"If you're not willing to get pretty dirty, if you're not willing to bleed, if you're not willing to break something, if you're not willing to rip something hard, then you shouldn't be on this seat 'cause that's it," Smart said. "That's what the playoffs are about. Hope you stay safe but that's the mentality. You have to go, you have to be willing to risk everything for these games. And that's the mentality we need to have."
3. The Celtics tried a new starting line-up, returning to their double-big group that had dominated all of last season, with Robert Williams alongside Al Horford. The results were excellent – Williams finished the game with 10 points and nine rebounds and posted a team-best +18 in just under 28 minutes of play.
Importantly, the fact that Williams was in the starting XI also gave a boost to the substitutes' bench, with Derrick White alongside Malcolm Brogdon. White and Brogdon made a combined 5-for-6 from three hits in the first half and while they cooled off in the second half, like Smart, they were instrumental in helping the Celtics get one despite Tatum's difficulties build up a lead.
Game 7 takes place at TD Garden on Sunday.
Later in the evening we will offer more takeaways.
Sign up for Celtics updates🏀
Get breaking news and analysis delivered to your inbox throughout the basketball season.