Catherine Zeta-Jones pokes fun at Michael Douglas' age difference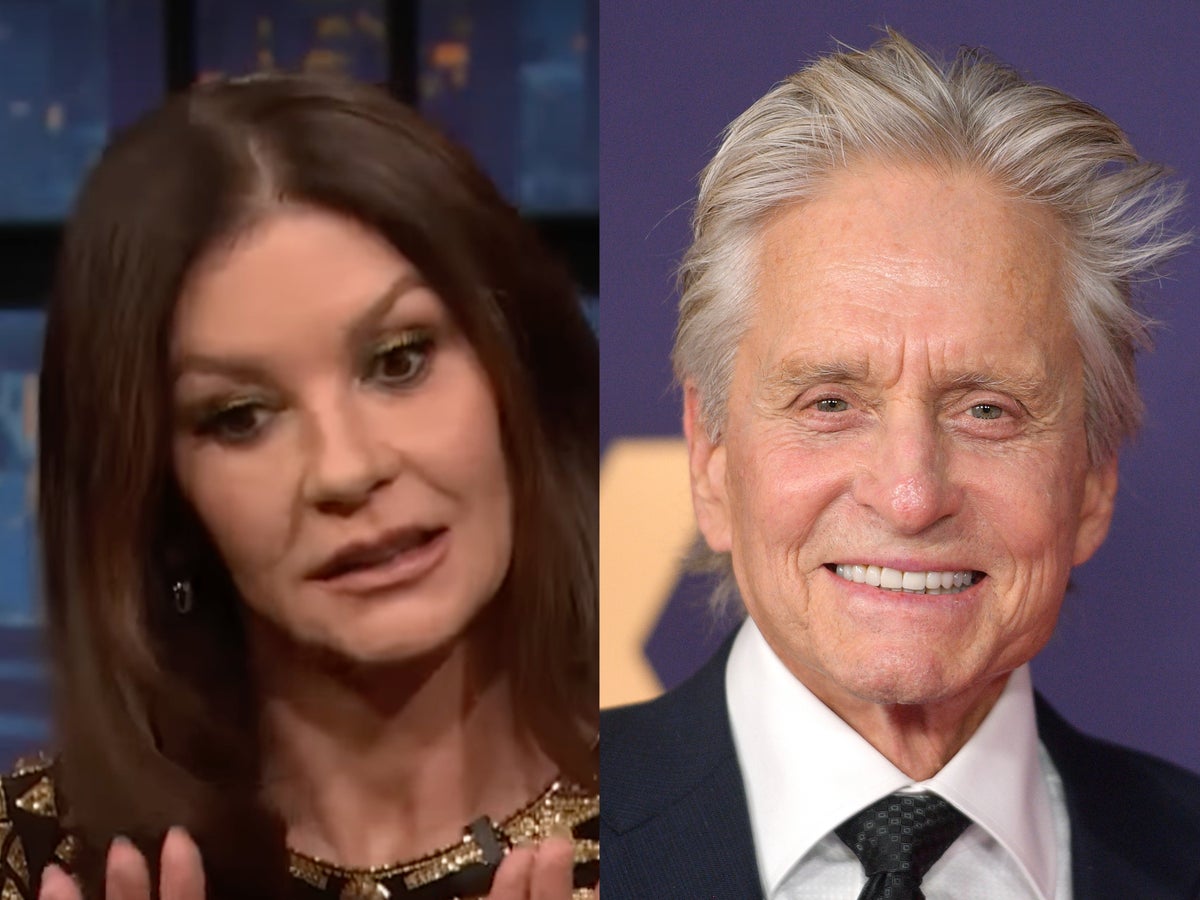 Catherine Zeta-Jones has poked fun at the age difference between her and her husband Michael Douglas.
The Welsh actor who is currently starring as Morticia Addams in the Netflix series Wednesdaywas watching Late night with Seth Meyers to discuss her upcoming role National Treasure: Edge of History.
During her appearance on the show, Zeta-Jones spoke about their most recent wedding anniversary, which took place in November. Zeta-Jones, 53, married Douglas, 78, in 2000.
As the crowd cheered after Meyers said the couple had been married for 22 years, Zeta-Jones replied, "I know. Can you imagine 22 years? And we have the same birthday. So September 25 is our same birthday."
She then pointed to the audience and added, while jokingly grimacing, "25 years difference. Not on the same day."
Speaking about how they celebrated the Anniervasry, Zeta-Jones said: "We left for Morocco. It really was absolutely fabulous."
The couple have two children – Dylan, 22, and Carys, 19 – and when asked if they've seen their previous roles, Zeta-Jones said, "They say they've seen it all, but they haven't. I get it. That's okay for me. I didn't see everything I did either."
Zeta-Jones said she becomes "way too critical and analytical" to fully enjoy some of her performances.
In 2021, the actor revealed that Douglas had cautioned her children against acting as he believes it's harder to succeed with famous parents.
According to Zeta-Jones, the Wall Street The actor said they had to work harder to get past their parents' association.
That doesn't seem to have deterred her, however, as Zeta-Jones told Meyers, "My kids want to be actors, even though I knew they would be history teachers, so they love the craft of acting. And they get our business.
She added: "Gosh, this deal has been amazing for me. I've had a really wonderful life so far."
National Treasure: Edge of Historya series based on the films by Nicolas Cage is available to stream on Disney Plus starting December 14th.
https://www.independent.co.uk/arts-entertainment/tv/news/catherine-zeta-jones-michael-douglas-age-gap-b2242164.html Catherine Zeta-Jones pokes fun at Michael Douglas' age difference