News
Biden's call with Putin starts to get awkward as US President fidgets with microphone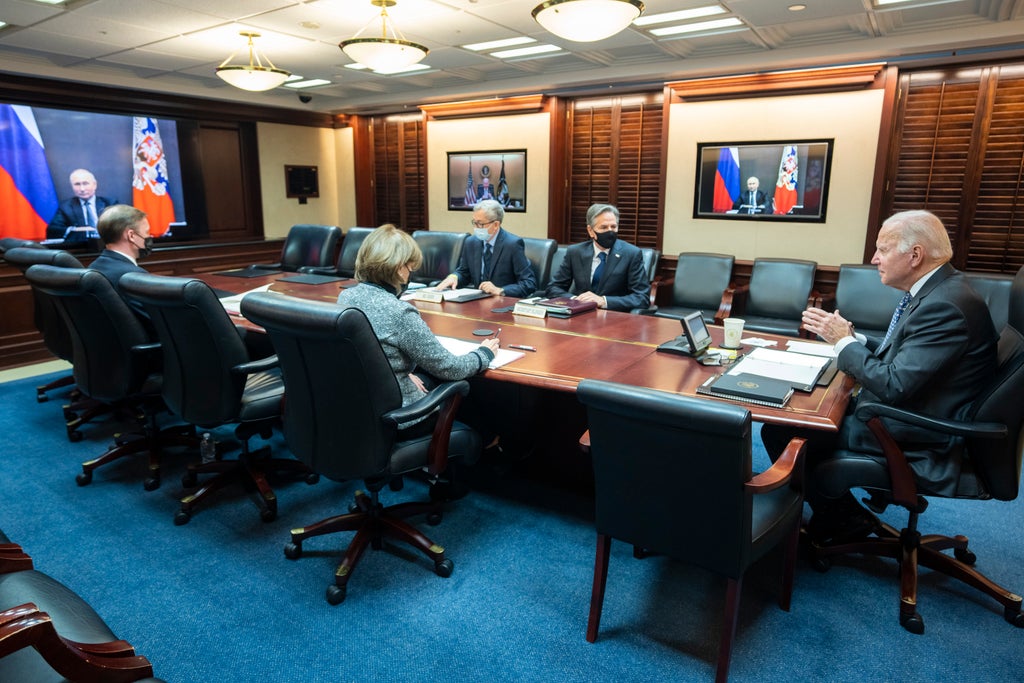 A bilateral discussion between Russia's Vladimir Putin and US President Joe Biden began on Tuesday with an awkward moment as Mr Biden fiddled with his microphone during the first few seconds of the call.
The moment that is subtracted from the tension that often leads to such a call comes as the Ukrainian government and many international analysts have warned that a Russian military build-up near Ukraine's border is a reason for aggression. .
In the video of the call first published by Daily mail, Mr Biden was seen greeting Mr Putin off the mic before adjusting the microphone and exclaiming: "Hi!" and laugh. Russian media obtained clips of the first few minutes of the call, but the call itself has not been fully released.
The White House released a bulletin of the conversation shortly after it took place, saying it covered "a wide range of issues on the Russian-American agenda."
President Biden expressed the deep concern of the United States and our European Allies about Russia's escalation of forces around Ukraine and made clear that the United States and our Allies would respond with economic and other forceful measures in the event of military escalation. President Biden reiterated his support for Ukraine's sovereignty and territorial integrity, and called for a de-escalation and a return to diplomacy," read the White House's description of the call.
The president's oath stopped short of threatening military action if Ukraine was invaded, a possibility the Ukrainian government has sought in its bid to join the NATO alliance.
Tuesday's confusion underscores the ongoing difficulties many are having in conducting formal business with new technologies that have become ubiquitous amid the Covid-19 pandemic, despite calls between The White House and foreign leaders were commonplace before the pandemic.
Mr. Biden added to his Russian counterpart during the meeting that he hoped the two would meet face-to-face in their next conversation, according to the clip obtained by Letters.
"We did not meet at the G20. I hope the next time we meet we will do it in person," Biden said.
The US President is said to be considering an "active" package of sanctions against the Russian President's closest advisers and allies should Russia invade Ukraine in the coming months, according to CNN. A White House official described the measures as a deterrent to deter Putin from launching an invasion, which US intelligence sources say is likely.
"We believe there is a way forward here that will allow us to send a clear message to Russia that there will be real and meaningful costs and long-term costs to choosing to go forward – if they choose to go ahead – with a military escalation", official.
https://www.independent.co.uk/news/world/americas/us-politics/biden-putin-call-microphone-video-b1971555.html Biden's call with Putin starts to get awkward as US President fidgets with microphone