At the Globe Summit, NCAA President Charlie Baker speaks about his role
College sports

Baker made it clear that the NCAA understands its place in the social media age, where young people can build brands and influence online.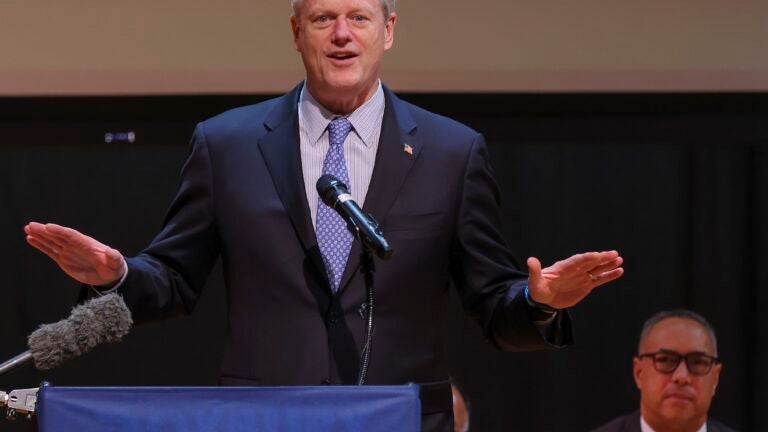 The pipeline from high-level Massachusetts politics to high-level sports leadership has grown strong in recent years.
Charlie Baker and Marty Walsh were close colleagues for several years during their respective terms as governor of Massachusetts and mayor of Boston, and now, improbably, they both find themselves in sports positions: Baker as president of the NCAA and Walsh as executive director of the NHL Players Association.
That path was the subject of discussion Wednesday at the Globe Summit's main event, where Baker discussed his role during a pivotal time in college sports when conference realignment, the transfer portal and NIL rules radically changed the landscape.
Walsh's path to the sports industry was a little more straightforward than Baker's, as he was tapped by President Joe Biden for a Cabinet post as labor secretary, a post he traded for a position largely defined by labor negotiations with the NHLPA.
Baker's jump into the NCAA, Led by Red Sox CEO Sam Kennedy, was a little more surprising. But between macro-level executive leadership and balancing dozens of conferences, hundreds of committees and more than a thousand member schools, Baker's new job certainly has some similarities to his old one.
"My willingness to work in an environment like this is very similar to where I came from, where there are legislators, local officials, lawyers, and a lot of things coming at you from a million directions all the time," Baker said.
"Being in an environment like that is familiar. In my opinion, the most important thing should be to find ways to create what I would call commonality and get us to the point where we make decisions before something happens, rather than reacting and reacting , if something happens. "
Baker made it clear that the organization understands its place in the social media age, where young people can build a brand and influence online. He has no problem with that; The concern is how the name-image similarity rules were implemented.
"The concern I have about the way it works now is that there is no framework, no transparency and no accountability," Baker said. "I mean, it's virtually impossible for a student-athlete or their family to know whether what someone is telling them – an agent, a representative – is true or not, and that bothers me.
"It's hard to say what the market value is, it's really hard to say. If someone says, "I've done this for five or six other kids," no one knows. And I've talked to student-athletes who have told me that they're worried about this thing because they just don't know who to believe."
Baker was asked about the contrast between his personal popularity as governor – polls have consistently shown him to be one of the most popular governors in the country during his time in office – and the widespread unpopularity of the organization he now leads.
For Baker, progress on that front began with a status report and meetings with all 97 conferences to hear grievances and initiate conversations about the future of college sports.
"I will meet with all of them every year and do our best to keep the focus on the student-athletes and also be a little forward-thinking," Baker said. "If we do that, and do that well, and if we implement the holistic student-athlete model, the injury protection insurance program and some of these other things, we can work on the brand."
"But I've always felt that if you have problems with your brand, you can't blame it on your communications people. These are not your communications people. They can only work with what they have. And it's up to us to find a way to convince people that this is a different NCAA."
While Baker's new role brings with it many of the same political and bureaucratic issues he struggled with in Beacon Hill, it does have its advantages. He highlighted last month's event in Nebraska where the women's volleyball team played in front of 92,000 fans, a moment that gave him goosebumps.
"It was really mind-blowing," Baker said. "Look, I played sports, my wife played sports, my kids played sports; I love watching kids play sports, I just love it.
"I've probably met a thousand student-athletes, and for all the noise that comes out on social media, it's those personal moments that I get to spend with student-athletes when I visit campus for one reason or another where I do that get what I would describe as a positive mood for the future."
Get the latest Boston sports news
Get updates on your favorite Boston teams straight from our newsroom to your inbox.