Astronaut Helen Sharman joins Richard Hawley on stage at Sheffield's Leadmill on the final night of his homecoming shows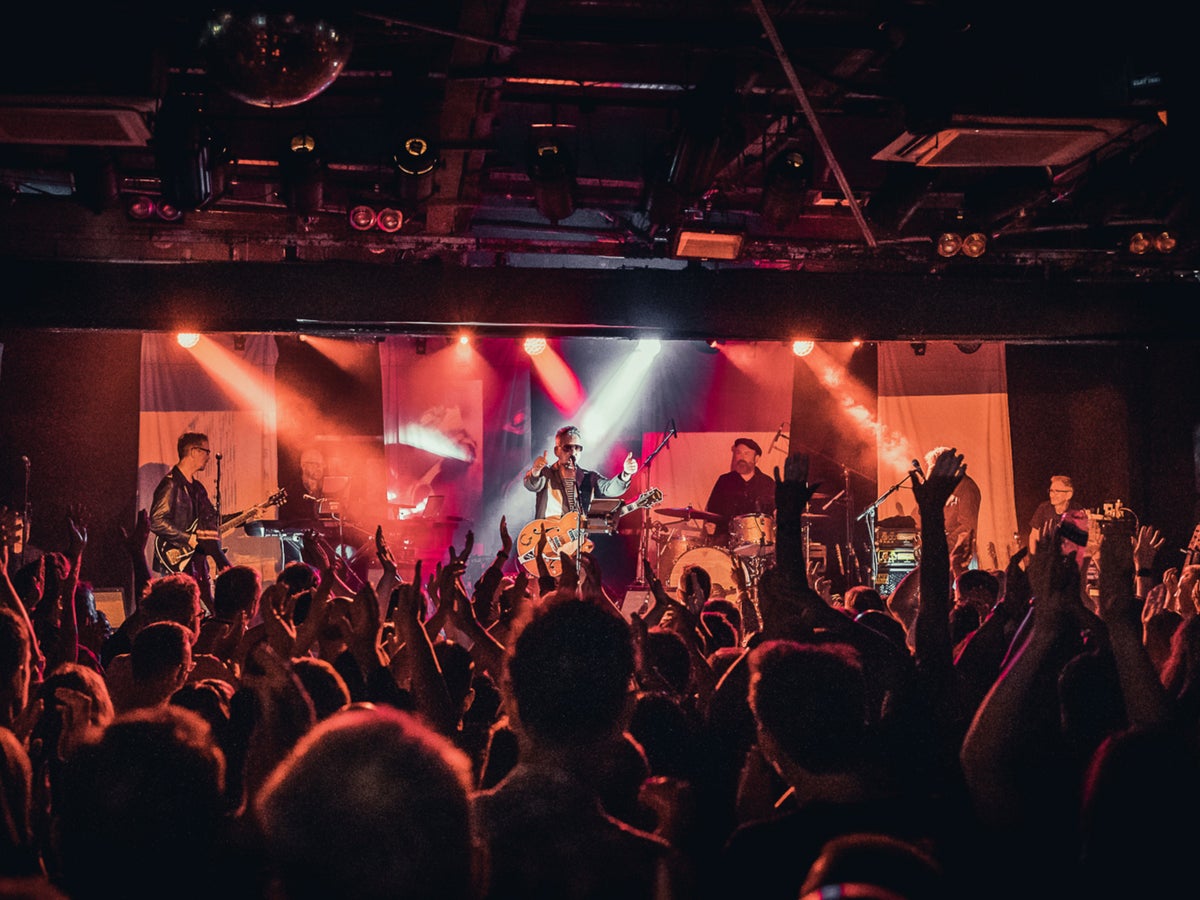 Astronaut Helen Sharman joined Richard Hawley on stage on the last night of his homecoming stay at the legendary Sheffield Leadmill.
Sharman, the first British astronaut to go into space, was the fourth guest to make a surprise appearance on Hawleys' series of shows. Jarvis Cocker, Self Esteem and artist Pete McKee also shared the stage with the 55-year-old during the week.
She gave a short speech about the importance of the venue to Sheffield and the importance of following one's passions before Hawley released a David Bowie cover.
Former Pulp member Hawley has just wrapped up his 4 night streak of sold out shows at the legendary venue in support of the ongoing battle for closure.
The Leadmill, which has operated under current management for 40 years, received an eviction notice in March this year.
Leadmill's new landlords, who also own Electric Brixton in London, say they intend to keep Leadmill as a music venue but will remove current management.
However, the current team at Leadmill argue that this still destroys the venue and its spirit.
In April they told NME:"She [the landlords] intend to capitalize on the goodwill and reputation built up over these 40+ years. It is a cheap, shoddy, sly and underhand way of doing business by forcing companies to stop trading."
On Tuesday night (August 9), Hawley was joined by his ex-bandmate, Pulp frontman Jarvis Cocker.
The performance marked Cocker's first appearance on the venue's stage in 29 years.
Cocker, who played the band's first-ever gig at Leadmill in August 1980, expressed concern at the venue's impending closure.
Describing the venue as "a form of magic", he said the Leadmill is "more than a building", adding "it's a feeling".
"Have some respect for a beautiful cause," Cocker said of the venue's new landlords, "they may own the bricks and mortar, but they don't own the spirit of Leadmill."
The pair then sang together and covered The Velvet Underground's "White Light/White Heat" before dueting Hawley's unreleased track "The Sunset" via Leadmill.
Self Esteem also made a surprise appearance at the venue on Monday (August 8), joining Hawley onstage to sing "These Boots Are Made For Walkin" (Nancy Sinatra) along with "Fever" (Peggy Lee).
On Thursday night it was artist Pete McKee's turn with a surprise performance.
The Leadmill currently run a petition to fight against their eviction planned for March 2023.
https://www.independent.co.uk/arts-entertainment/music/news/richard-hawley-sheffield-leadmill-jarvis-cocker-b2143000.html Astronaut Helen Sharman joins Richard Hawley on stage at Sheffield's Leadmill on the final night of his homecoming shows