"And Just Like That" isn't bold enough to give Lisa Todd Wexley any real choice about motherhood
Appropriately for its status as the penultimate episode of a TV season, much happens in the episode "The Last Supper Part One: Appetizer" in "And Just Like That…" to match the finale's phone call with fate – er, Samantha Jones. That's why many of us persevered this season, no matter how much it tested the integrity of our acrylics.
We knew the day would come that would reveal the circumstances in which Kim Cattrall's sorely missed diva would return to this world. Is it the wonder of FaceTime? Will it be the titular "Last Supper," set in the familiar brownstone apartment that is Carrie's (Sarah Jessica Parker) home? Who knows?
The only thing that is certain is that Aidan (John Corbett) is not present. Heck, Country Lurch doesn't seem to be watching much at all as his son Wyatt broke multiple bones in a truck accident he caused and claims he did it because he missed his father.
The Last Supper Part One: Appetizer is about clarifying open questions. Carrie actually sold her old apartment to the nice single girl downstairs, and for a bargain. All single ladies, now put your hands up!
Steve (David Eigenberg) gets a happy ending as a shell slinger on Coney Island, which in this series is like sending the old family dog ​​to an upstate farm. Stanford, tells Carrie Anthony (Mario Cantone), is now a monk who lives in a Japanese temple and left all his worldly goods to his ex. It's a way of excluding the late Willie Garson from the show – giving him an afterlife that's not worth exploring.
Meanwhile, Che (Sara Ramirez) destroys any chance of getting back together with Miranda (Cynthia Nixon) or winning over this show's audience by aiming a blowtorch at their eight-month affair on stage – a show – in their return to comedy , which Miranda unwisely made appears unannounced. Charlotte (Kristin Davis) sells an expensive piece of art to Sam Smith and celebrates by saying "F**k them kids" and getting drunk.
That's all for granted, along with the shocking/not-at-all-shocking part where Seema (Sarita Choudhury) exchanges "I love you" with her insistent film director and then freaks out. Seema is relationship-shy. Of course she would trip that wire.
Anyway, we're going through all of this so we can explore a character that the writers of this series have almost completely ignored this season — aside from Nya (Karen Pittman), we should say.
Instead, let's talk about the potentially great Lisa Todd Wexley, the acclaimed filmmaker, mother and wife-to-be of Nicole Ari Parker. In "And Just Like That," LTW was portrayed as a model queen who occasionally ventures out of her luxury apartments to frolic with Charlotte. LTW is the pin-up friend who hangs on the wall like a poster but isn't fully present for action-accelerating conversations.
Because of this, after two seasons of this show, LTW remains more of an idea than a fully realized person. So does series creator Michael Patrick King, who wraps an entire season's conversations that could have reinvented Parker's character and her husband, Herbert (Chris Jackson), into one profound, unsatisfying subplot.
LTW is the pin-up friend who hangs on the wall like a poster but isn't fully present for action-accelerating conversations.
First some table decorations. In There Goes the Neighborhood, an overwhelmed Mrs. Wexley passes out while trying to balance her career, planning Herbert's campaign and failing to mother properly. This throws Herbert into a tantrum until his wife reveals that she is pregnant.
The Last Supper Part One: Appetizer picks up this conversation at a lunch LTW enjoys with Miranda, Carrie, and Charlotte (remember, Seema's out to fuck this guy, so the rich lady brunch has a opening), and Charlotte can't help but sing her Praises of a Friend: PBS is expanding Lisa's documentary into a 10-part series.
"Your name is Ken Burns!" Miranda says approvingly. However, the filmmaker later expresses her doubts to Charlotte. She admits she's exhausted at the thought of producing ten hours of content.
"And Just Like That," like "Sex and the City" before it, is allergic to the growing discussion about everything including the cost-benefit analysis of balancing motherhood and a career. I also doubt that King, who both wrote and directed the episode, considered the "strong black woman" trap that Parker's character must fall into in this exchange, while Charlotte details how some people like such women in the let down.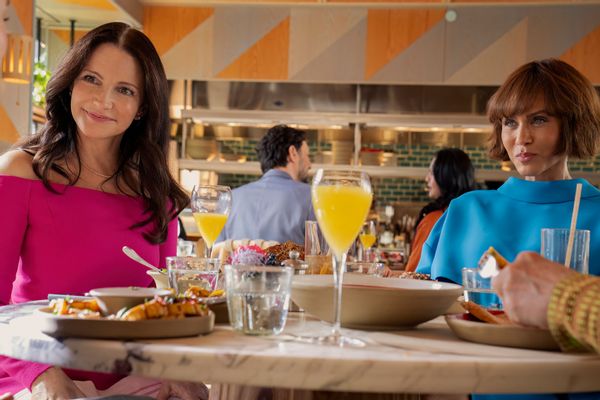 Kristin Davis and Nicole Ari Parker in "And Just Like That" (Craig Blankenhorn/Max)"You're in control of this home routine. You're like a machine!" Charlotte chirps. "I mean, this series had to happen. Think about what it will mean for your career. Also, think of all the untold stories of black women you can tell." LTW then tells Charlotte that on top of everything else, she's fathering a human, but Charlotte doubles down anyway. "Lisa – I think you could do this."
This discussion could have fueled an entire episode. LTW could have explained to Charlotte that remembering how strong and capable they are negates the validity of her stress and helps her reach a higher level. everyone grows We all win. However, that will not happen this season. LTW excuses to take a nap.
Mrs. Wexley really falls short, however, when she's in bed with Herbert and bangs a pillow, prompting him to turn on the light so they can talk about it.
In just under three minutes, here's what we learn: LTW asked Herbert to have a vasectomy after the birth of their third child, but he didn't, fearing she was "a little bit postpartum" when she made the request. "I wasn't sure if it was just the hormones," he says.
"It's never just the hormones," she snaps, at which he sighs, "I can't do anything right."
"You could have done that if you had done what I asked you to do eight years ago." Thank you very much!
Then Herbert slaps her along: "Lis, you can do it. If someone can do it, then you can do it. And I will be here to help."
That is not completly correct. She points out that he is in the middle of a political campaign and barely cares about the children they have.
Being a modern man, he brings himself to "have the other discussion". "It's your decision," says Herbert, "whatever is best for you, that's what I want."
Since they don't use the word "abortion," let's be clear: Readers, they're talking about having an abortion—something married people do in real life but we rarely see on TV.
However, "And Just Like That" isn't brave enough to be on top. Expressing appreciation for Herbert's support, LTW then says in amazement, "I've thought about it, but I can't. I mean, I'm really thankful that I have this option. I just have to deal with this new reality."
OK. Follow-up question: why exactly can't she? Is it a matter of cultural expectation? Believe? Do you worry that having an abortion could negatively impact Herbert's campaign? What is it? We'll probably never find out.
Two seasons into this series, Lisa Todd Wexley remains more of an idea than a fully realized person.
Consider the parallel between this moment and the Season 4 episode "Coulda, Woulda, Shoulda" in Sex and the City, in which Miranda contemplates having an abortion. The entire episode of "Sex and the City" focuses on the ultimate impact that abortion has on a woman's life. In fact, Carrie's long-ago abortion is one of the first secrets she keeps from Aidan. . . Until she decides to tell him about it.
Charlotte, of course, was against it. As it turns out, so did Miranda. This episode was the pre-announced announcement of Brady's entry into this universe. What a gift.
In our post-Dobbs era, And Just Like That had a chance to equally consider Parker's character from the perspective of a successful, ambitious woman who asserts her right to prioritize her success as much as her husband. Instead, it said, "I can't."
By not explaining why one of her main characters can't get an abortion on a show about women, countless viewers are left in the dark because of concerns about their reproductive options. It's also a regressive approach, akin to the hot potato toss seen on very particular episodes of 1980s and 1990s television where reproductive choices were acknowledged but never discussed in detail.
But what King ends up doing is even more disappointing than that: he takes a simple moral workaround by having LTW wake up the next morning to find that she's miscarried. In other words, he gives an exemplary character an out that doesn't violate the so-called "moral majority", but rather violates trust the actual majority of Americans who support a woman's right to a safe abortion – even wealthy women who seem to have everything.
---
Want a daily roundup of all the news and commentary Salon has to offer? Subscribe to our morning newsletter Crash Course.
---
So that's it. We now return to this pair's regular lack of expansion.
"And Just Like That" might revisit the subject of Herbert being a herb, although that's dubious. If King and his staff don't have the ovaries to muddle through conversations like this, they certainly won't risk the setback that might result from the one black male series that's a regular in franchise history being all other than acceptably imperfect.
But this was an opportunity to delve into a specific situation where something personal is also political, both on the show and in relation to the real world, and this show isn't ready to show us that better and in a real way through a woman to share. With only one episode left, it's too late to expect us to find out much more about LTW or Nya at Carrie's farewell dinner.
But wouldn't it be hilarious if Steve showed up with a bag of hot dogs and clams from Coney Island?
New episodes of And Just Like That air Thursdays on Max.
Read more
via And Just Like That