Alejandro, the stolen Chihuahua, is found and reunited with his owner
local news

"The universe does amazing things," owner Shelly Vermani said Thursday.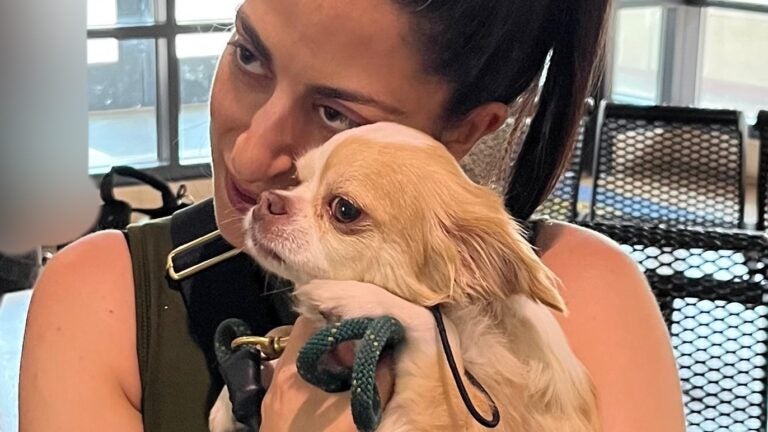 Alejandro the Chihuahua was reunited with his owner Thursday after a six-day ordeal that included a nap outside a Boston grocery store and a $5,000 reward.
Boston police previously said The brown-and-white pup was stolen outside a Whole Foods Market in Back Bay on Saturday morning while its owner, traveling nurse Shelly Vermani, was shopping inside. He was last seen near Massachusetts Avenue and Melnea Cass Boulevard, according to police.
Vermani and George Regan, CEO of Regan Communications Group, each offered $2,500 for the pet's return.
Then, around 10:30 a.m. Thursday, a Boston police sergeant received a tip on the dog's whereabouts and searched the Old Colony Avenue area, police said in a statement press release.
The sergeant-detective reportedly saw a woman matching the suspect's description captured on surveillance video walking away with Alejandro.
"Where is the dog?" he asked her, the press release said. She said she didn't know.
When the detective told her about the reward, police said the woman changed her mind and asked for the money first. Eventually she returned with the dog.
Police then arrested 24-year-old Emily Sardo, who has a warrant out and is facing charges in South Boston District Court. You will expect further charges, said the police. It wasn't immediately clear if she had an attorney.
In a public Facebook postVermani confirmed that "the sweet little Hondro" had been found.
"The universe does amazing things," she wrote.
Subscribe to Newsletter
Stay up to date with the latest news from Boston.com