Aaron Rodgers hints he will play again after tearing his Achilles tendon
Sports news

Rodgers tore his Achilles tendon in the fourth game of his career with the New York Jets.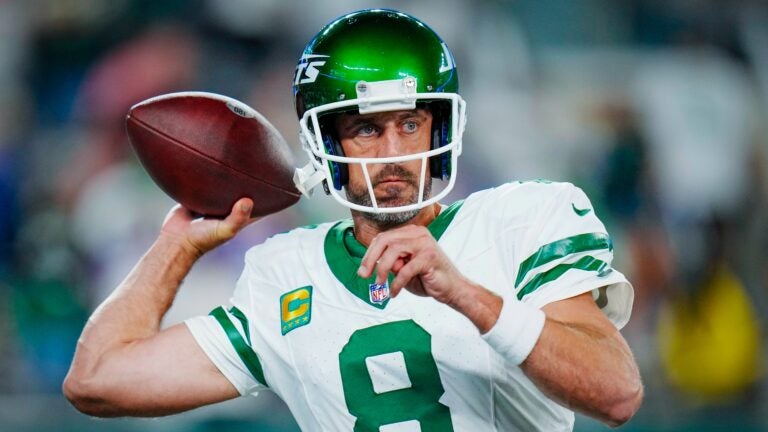 The Patriots list six players, including four offensive linemen, as questionable against the Dolphins


Tyreek Hill vows to 'dominate' the Patriots even as they double-guard him

FLORHAM PARK, N.J. (AP) — New York Jets quarterback Aaron Rodgers says he will use doubters as motivation as he rehabs from Achilles tendon surgery and hints he will play football again — perhaps even this season.
Rodgers tore his left Achilles tendon on the fourth snap of his debut with his new team Monday night, a 22-16 overtime win over Buffalo. The four-time NFL MVP underwent surgery in Los Angeles on Wednesday.
"I guess what I want to say is, give me the benefit of the doubt," Rodgers said Friday during an appearance on ESPN's "The Pat McAfee Show." "Give me the timetables. Give me all the things you think can, should or will happen because all I need is that little extra percent of inspiration. Thats all I need.
"So tell me your doubts, give me your predictions and then watch what I do."
Rodgers' surgery was performed by Dr. Neal ElAttrache, a Los Angeles orthopedic surgeon who has worked with numerous professional athletes throughout his career. The 39-year-old quarterback faces a long, arduous recovery and rehabilitation from the injury.
"The odds are definitely against me because of the age, but I like it," Rodgers said. "Put all the odds against me and see what happens."
He said he has spoken to several people who have had a similar injury and rehabilitation process.
"My entire focus and dedication is to get as much information as possible," Rodgers said. "And then on top of what I've already put together is a heck of a rehab plan that I think is going to shock some people."
Rodgers would not give a timetable for his return but made it clear that he intends to play football again. He was asked if he meant this season – whether the Jets will make the playoffs.
"I'm not going to make any of those statements," Rodgers said. "I feel like it's not fair to myself. I think, like Kevin Garnett said, anything is possible."
Rodgers said he knew immediately the injury was bad because it felt different than previous calf injuries he had suffered throughout his career. He was sacked by Buffalo's Leonard Floyd, stood up and took a few steps, looked over at the Jets' sideline, shook his head and then sat on the turf as the crowd at MetLife Stadium sat in stunned silence.
"Monday was a great starting day," Rodgers said. "Amazing night run on the field with the flag, electric. And then it became easily one of the hardest 24-hour stretches I've ever had in my life. A lot of sadness, a lot of tears, a lot of dark frustration and anger, the whole range of emotions.
"But then the sun came up the next day and I landed in LA and had surgery on Wednesday. And I've been feeling better since then."
Rodgers said one of the worst things was his teammates seeing him in the locker room at halftime, especially wide receiver Randall Cobb — who was also a longtime teammate in Green Bay and has a son to whom Rodgers is godfather.
"I kind of lost it," Rodgers said. "And you know, after everyone else comes in, despite the disappointment and the tears, you just cry a kind of thank you. But I'm grateful for the tears. It makes you feel like you're alive. And it's very important to me. What's important to me is what we wanted to establish and what we wanted to establish, you know, both in terms of chemistry and culture.
"It's just so close to my heart. It hit me like a ton of bricks for 24 hours."
Rodgers said he has been inundated with messages of support since the injury and appreciated everyone who has reached out. He cannot put weight on his foot while it heals but intends to return to the Jets' facility once he is cleared to travel.
"I miss the boys," he said. "I miss New York, New Jersey, the energy, the excitement."
Zach Wilson will start in Rodgers' place in Dallas on Sunday and for the foreseeable future. The third-year quarterback struggled in his first two seasons, but Rodgers took him under his wing since moving to New York in April.
"I have a lot of confidence in Zach and I think he has confidence in himself, which is the most important thing," Rodgers said. "I'm happy for him. He's a great boy. I love him and I pull for him."
Sign up for Patriots updates🏈
Get breaking news and analysis in your inbox throughout football season.