A Quebec hiker has been airlifted from the White Mountains after suffering a leg injury
local news

The woman's husband ran up the path to find a cellphone service provider and call 911, officials said.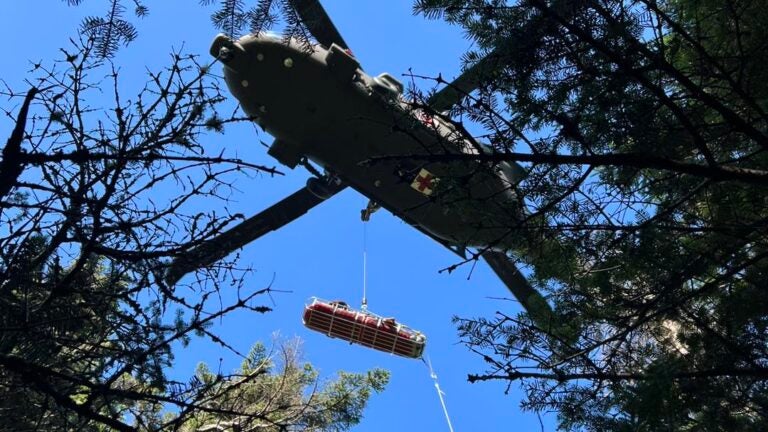 A Quebec woman was airlifted from Mount Madison in New Hampshire on Wednesday after seriously injuring her leg during a hike, officials said.
Just after noon, Susan Beaudoin, 54, slipped off a high rock while hiking the Daniel Webster Scout Trail with her husband, New Hampshire Fish and Game said in a statement press release. Beaudoin's husband ran up the path to find a cell service provider, called 911, and also texted photos of the injury to a conservation officer.
"The images made it clear that the injury could potentially be life-threatening[en]As such, an appropriate response has been initiated," said New Hampshire Fish and Game.
Rescue workers reached Beaudoin around 2:45 p.m. after hiking more than two miles.
A New Hampshire Army National Guard helicopter crew arrived at the scene around 4 p.m. and provided ground crew with a winch line with a stretcher, officials said. Beaudoin was secured in the stretcher and lifted to the hovering helicopter and then taken to Memorial Hospital in North Conway for further treatment.
"Although severe, all indications at the time of collection indicated Beaudoin would survive her ordeal," New Hampshire Fish and Game said.
Beaudoin and her husband are both experienced hikers and arrived "well prepared for their adventure" in the White Mountains, officials said.
"They checked the weather for the day before heading up the mountains and knew who to call in case of an emergency," according to New Hampshire Fish and Game. "The emergency responders were equally prepared and, upon receiving the call, responded with the right equipment, knowledge and attitude needed to save lives and bodies in the far corners of the state."
Subscribe to Newsletter
Stay up to date with the latest news from Boston.com