Tech
10 BEST texture packs for Minecraft 1.18: RANKED
We're always grateful to see Mojang continue to update Minecraft, thanks in part to the commitment and love the community has shown over the past decade. Once a new update is announced and a snapshot is available to play, many creators immediately begin a daunting task: updating their texture pack to the latest version.
Thanks to their selfless dedication and with the Caves and Cliffs Season 2 Update now out, we can now enjoy the latest additions to the game without sacrificing the graphical improvements. Unlocked with custom texture packs. Check out our list and see if one of the best Minecraft texture packs for 1.18 catches your eye!
Before proceeding, it should be noted that almost any entry will require you to install the latest version of Optifine to function properly. If you have problems with this visual mod, we have a great guide here to help you download and set it up. At this point, it's one of the essentials you need to add to your Minecraft game if you're tired of the vanilla experience!
LB Photo Realism Reload is a Minecraft x128 texture pack available for 1.18 that definitely lives up to the hype. 1LotS has been working on this package for almost 7 years and you can tell that they put a lot of effort into this project. Be aware that this resource pack is highly demanding, meaning that only high-end computers can run properly without performance impact.
However, trust us when we say your Minecraft world will look absolutely stunning. Aside from that, it still adheres to a vanilla aesthetic to some extent, so it shouldn't be a jarring visual experience if you're trying to spice up your Minecraft world graphics. Featuring a number of 3D models, random textures, and brand new animations, LB Photo Realism Reload goes beyond the original resource pack created by Scuttles many years ago as a direct inspiration.
If you like the classic resource pack, Stay True does exactly what you're thinking.
With a nice graphical overhaul that fits perfectly with the original style, this is one of the best texture packs for Minecraft 1.18, just from the beauty of the vegetation. Do you want Pink Birch Leaves and other cool textures? Then don't forget to use Optifine!
Stay True is an outstanding resource pack that you can use to relive your flower-like fantasies in Minecraft. We love crop variations, especially if you plan on creating vast farmland for your village! As an extra note, if you don't like the bushy leaves for some reason, there is an addon available to get rid of them.
What's great about this project is its constant updates and attention to detail, so make sure you're downloading the latest version available to enjoy all its features. Not only are the flowers, bushes, and leaves given personality in the Overworld, but the Nether kingdom also looks stunning!
Also: If you are impatient to know what happens next for this game, you can read Minecraft 1.19 Wild Update – Everything We Know About It and get yourself hyped with Deep End!
Clarity is all about high definition textures to elevate your Minecraft experience to the next level. This is one of the Minecraft 1.18 texture packs that will make your game look good through the day and night cycles perfectly. Not only does it present a spectacular overhaul to mobs and environments, but it also increases font resolution for easier reading and improves the GUI's buttons and menus. We really felt like we were building a cottage on top of a hill and spent the day admiring the skyline with the Clarity setting!
An interesting thing to note is that you can also use it for the Bedrock edition and we are happy to inform you that it works just as great as it does in Minecraft Java. Have fun playing with these settings!
BetterVanillaBuilding stays true to the original game's visual experience with some nice improvements. Specifically, this Minecraft texture pack for 1.18 includes the cool mechanism of renaming some items in Anvil to change their textures to unique and creative designs. Of course, this processing is also possible with hundreds of block combinations, thanks in part to Optifine's connected texture settings. Make sure to check out all the new customizations in public server!
We always love it whenever creators offer additional tools to customize their creation even more with add-ons! If you are going to install this resource pack, we recommend including the overlay addon to keep the surface 100% flat with grass, dirt, and sand blocks. If you are also a lover of dense leaves, then another addon is available for BetterVanillaBuilding which is super easy to install.
Also: We bet that managing all your Minecraft mods can become a tedious task. Why not use one of these 10 best Minecraft launchers and make the process easier with simpler settings and tweaks?
If you're looking for a fully customized graphical experience that takes the vanilla experience and adds a fun twist to it, you might want to try the New Default+. This resource pack for Minecraft 1.18 allows you to rename items with Anvil to change weapon and armor textures to replicate those available in Minecraft Dungeons or Minecraft Story Mode. The mob structure according to the biomes they spawn in also adds some much-needed variety in that department!
We love how some members of the community put together content from other related titles like this one! The enhanced colors and textures look absolutely stunning, though you'll get the most out of them if you follow their recommendations and use Optifine. You can still use New Default+ without it, but honestly – if you want to really improve the way you play your game, it's a must-have at this point.
Also: New update? No problem! We have compiled 15 Best Minecraft 1.18 Seeds works almost the same in Java and Bedrock versions so you can appreciate the latest additions in full effect.
Some players enjoy a more plastic aesthetic when playing Minecraft, and who can blame them? It's a perfect scenario to enjoy simpler textures and stay away from realism altogether. And, as a bonus, these types of resource packs can also be of great help in improving performance in some computers!
That's why we can't stop recommending Bare Bones as a must-have texture pack for Minecraft 1.18. Its vibrant and simple textures completely overhaul the visual experience of the game by making each block, item, and crowd look unique and fun. As a fun fact, this resource pack is also featured in 10 BEST Minecraft plastic texture packs list. If you are looking for similar texture packs to check out, be sure to check there!
Also: Start a new adventure by installing some 10 best modes for Minecraft 1.18. It's the best way to experience the amazing features in this release!
7
Misa's realistic texture pack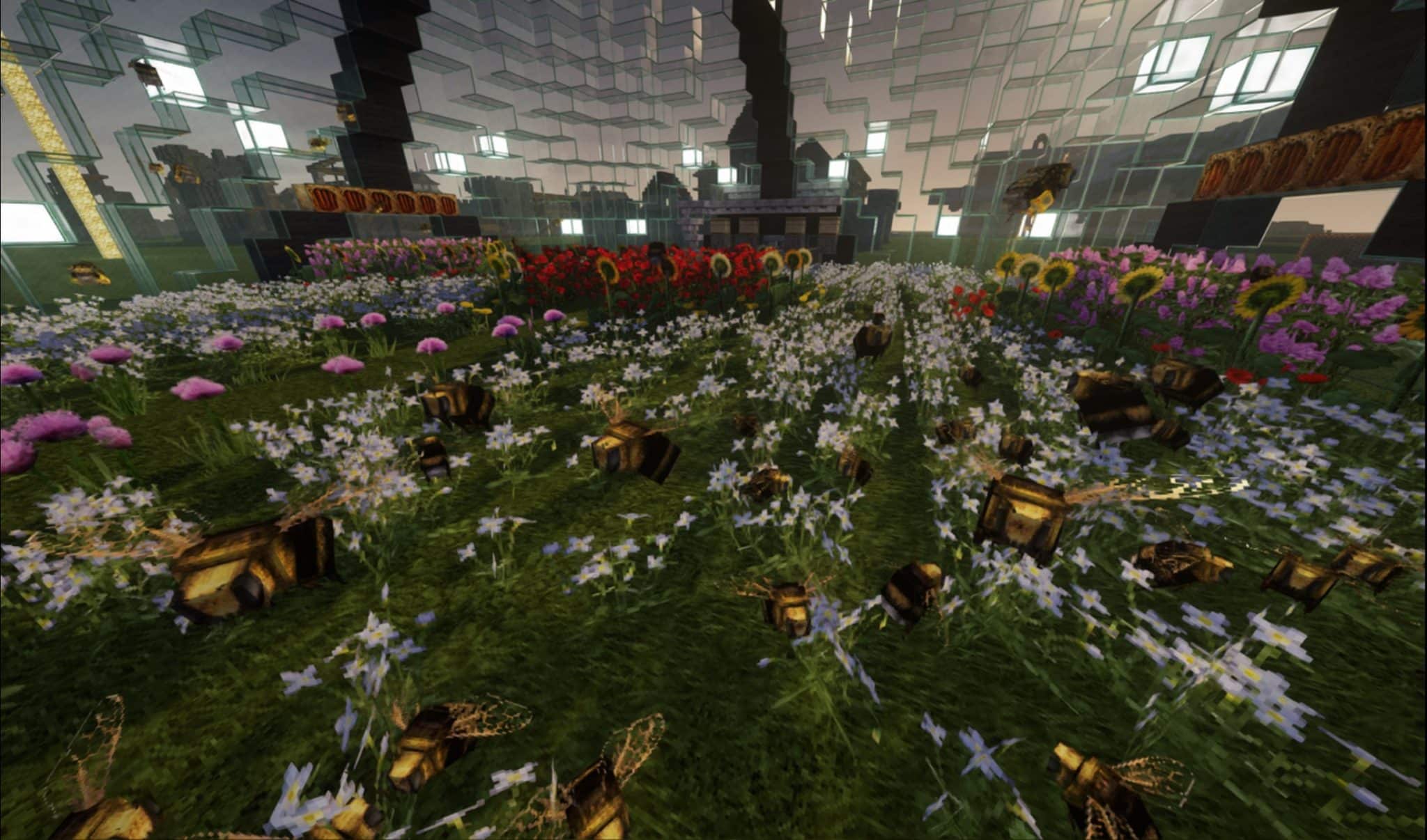 Misa's realistic texture pack for Minecraft 1.18 will blow your mind with its texture variations if your computer can handle the challenge. This project started in 2009 and we can tell that love and dedication has been poured into Misa's Realistic Texture Pack. Its palette is less vibrant and less saturated than vanilla, but that helps seep into all the details in each HD texture.
Best of all, you won't have to worry about trying to guess what each block is, as they strike the perfect balance between realism and utility. What else is there to ask for? We know it's mostly suitable for modern or higher end computers, but if you can test out Misa's Realistic Texture Pack without losing some frames then don't waste that opportunity!
Many players prefer Minecraft to create elaborate villages, castles, and even medieval-set RPG adventures. So if you want to significantly upgrade your game graphics and at the same time maintain the vanilla look, Excalibur is the Minecraft texture pack for 1.18. which you should check at least once. Brand new textures combined with 3D block enhancements are amazing! Of course, it also has random mob textures that you can enjoy when activating that option through Optifine.
It doesn't matter if you want to play peacefully in your solo world or fight other players in exciting PvP servers. Excalibur will help you achieve an appealing, medieval-style aesthetic that matches the original Minecraft graphics. Your Slapping favorite shader for 1.18 on top and start your new adventure in a breathtaking environment!
Do you feel nostalgic thinking about the good days? Maybe you miss the old combat system, or even back when the Ending was added recently. After all, it's been less than a decade since Minecraft came out!
Compliance 64x tries to keep some of that magic intact as it is very similar to the style we used to see in Minecraft up until 1.14, mostly created by artist Jappa. Anyone in the community can contribute to 64x Compliance by submitting new textures or voting on other people's submissions, but keep in mind that these include rich material to ensure these proposals do not stray from the original vision.
So if you want to go beyond the vanilla experience, we highly recommend checking out this resource pack available for 1.18!
We know that some players don't want to overdo it when testing texture packs. Instead of trying to reinvent the wheel, Coterie Craft Frontier mainly focuses on polishing the textures and overhauling the GUI to make it look minimalist. We can certainly appreciate the idea of ​​balancing between keeping the aesthetic of Minecraft while still adding some personality and vibe to the world.
You can download the x16 or x32 version depending on how much detail you want in your Minecraft game. There is also an addon available to replace new textures with Coterie Craft's original textures from its first iterations. One last bit: the good news for Bedrock players is that they are also working hard to fully convert the resource pack for that version.
Also: Get Rich With Our Guide To How to find diamonds in Minecraft 1.18!
Using texture packs is the best way to give your Minecraft world a fresh coat of paint. We hope that you can fully enjoy the best Minecraft resource packs for 1.18 and enjoy the new deep caves, high mountains and everything in between. Which resource pack is your favorite? Is there any package you are still waiting for on their 1.18 update? Let us know in the comments section below and thanks for reading!
https://whatifgaming.com/best-texture-packs-for-minecraft-1-18/ 10 BEST texture packs for Minecraft 1.18: RANKED