Stuck Review: Dylan Moran's 10 Minute Sitcom is blandly harmless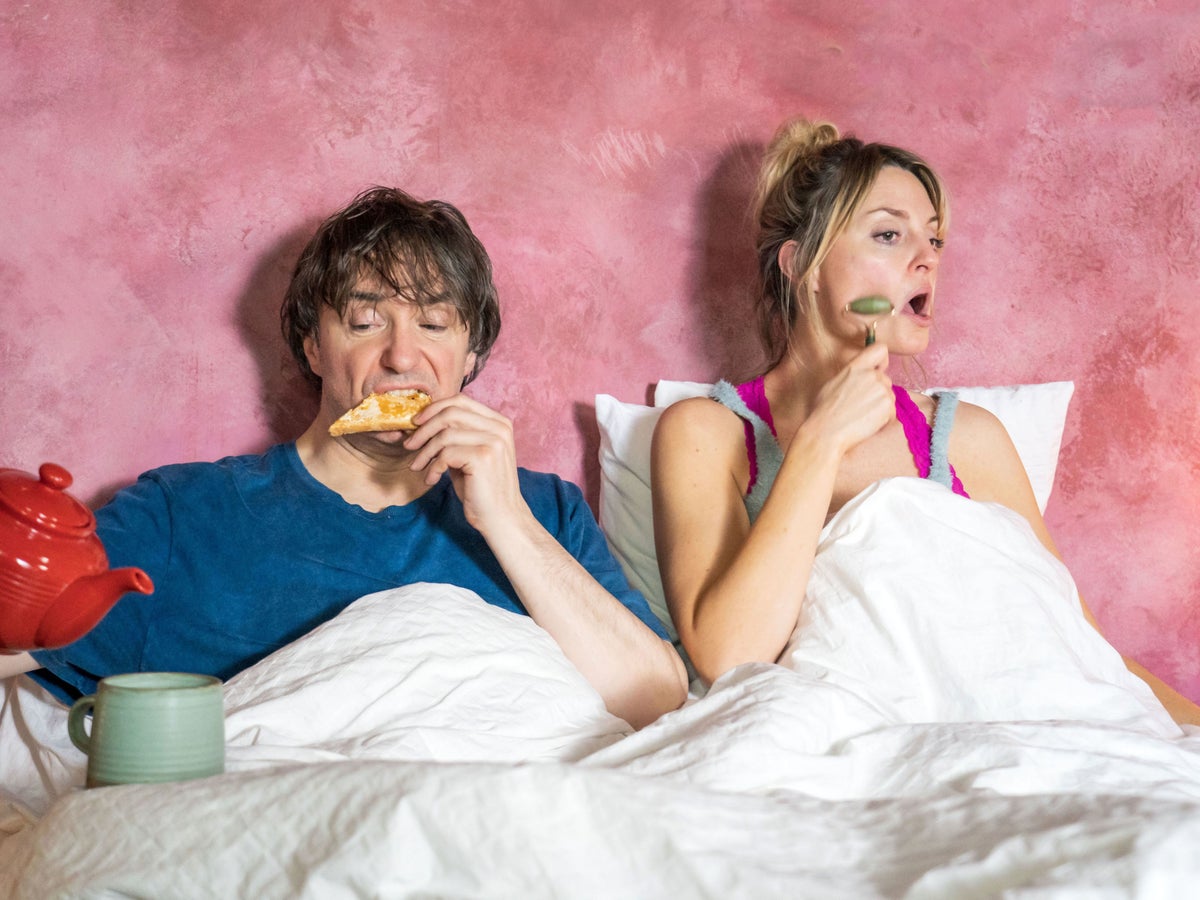 Google reportedly offers gourmet dining experiences to its employees on its campus. Apple, meanwhile, hired Stevie Wonder to play for its workforce. If the BBC is considering introducing a new employee benefit to motivate their staff, I would like to suggest free couples counseling. After the critically acclaimed misery of Stefan Golaszewski Marriage Last month comes the lighter counterpart, pluggeda sitcom about the claustrophobia of living together.
Dylan Moran is Dan, a recently fired jingle writer struggling to get his life back on track. Morgana Robinson is his longtime partner Carla, a sort of New Age therapist who's been pushed into taking care of this man who's a decade older than her. "Is that it?" she asks him. "Just me, flat out, and you farting around like an old fart?" Moran is on safe ground doing Moran stuff (he's the show's creator, after all). He pairs a world-weary cynicism with a shy energy not unlike the performance at which he was honed Black Books. Robinson continues her conquest of the small screen Neuark, Neuarkwith a role that doesn't extend her particularly far beyond her obvious comedic talents.
The title's stickiness is a nod to how relationships create a sense of imprisonment ("If it wasn't for me, you'd be in jail," says Dan; "I'm in jail!" replies Carla) and a supportive dependency. In that sense, it's a classic bittersweet display. The bitterness comes from the crumbs of daily frustration ("You hid the good chocolate chip cookies!" Dan rages, from cookies he's clearly eaten). The sweetness comes mostly from Carla's blind support from her partner. "Why didn't you tell me right away?" she asks when he finally admits that he was fired. "Lying is more manly," he replies sheepishly.
I can't imagine there were many people who felt that the tried and true 20 minute sitcom format needed to be cut further, but after that cheater The BBC returns with earlier this year, which featured a series of 10-minute episodes plugged, to this new tiny length. Only five of these micro-episodes are running, plugged could be viewed as an hour-long film about a woman who asks her partner to buy her a cat. These easily digestible chunks fit into even the busiest of schedules (e.g., lunch breaks at a company that makes you work too hard or halftime at soccer), but the brevity makes character development and all but the most fleeting supporting appearances impossible.
plugged is good. It has many charming moments and some smirking (if not laughing out loud) jokes. And if we were in an era of enveloping British comedy, perhaps her easy, almost mundane, harmless manner could be forgiven. But the comedy is currently feeling so preoccupied with the concerns of a middle-class milieu that this niceness is starting to feel like laziness. What the show presents as "truths" have become "truths" through cultural insistence. Yes, men promise to fix things and then don't keep them. Sure, there's nothing more annoying than your partner's morning alarm clock. Of course, your siblings-in-law have the perfect lifestyle. We all live with the same frustrations; The mistake is mistaking their observation for profundity for the millionth time.
"You're so old," Carla whispers lovingly to Dan in bed. "I bet you have a blue plaque over your wang." That kind of wild affection is as close as plugged comes to originality. But overall, it's just another portrayal of a middle-aged heterosexual couple enduring the nagging anxieties of modern life. At best, it can elapse the time it takes for the kettle to boil or the toast to brown; At worst, it could bring a few more marriages one step closer to divorce.
https://www.independent.co.uk/arts-entertainment/tv/news/stuck-review-dylan-moran-morgana-robinson-bbc-b2162642.html Stuck Review: Dylan Moran's 10 Minute Sitcom is blandly harmless