Entertainment
Phoebe Bridger's review, Brixton Academy: A Show of Catharsis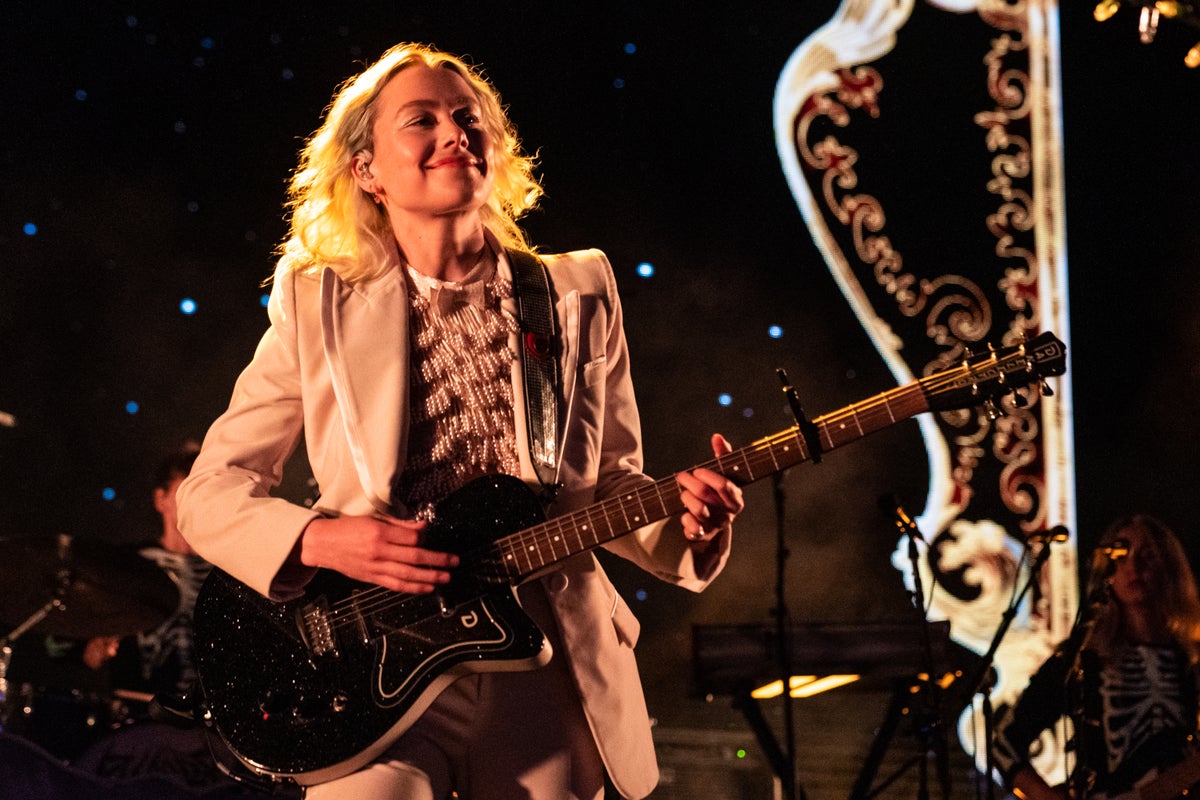 It feels weird watching Phoebe Bridgers in real life. The singer-songwriter's rise in the midst of the pandemic — or as she puts it, midway through an "S*** Hellstorm" — has meant that she's mostly manifested as pixels on a screen. The Grammy nominee was forced to make her Jimmy Kimmel debut via video call from the bathtub of her LA home last year; she was in her pajamas. But here she is in person tonight at Brixton O2 Academy. The thrill of Bridger's physical presence doesn't escape her fans, who squeal at the sight of her as she unexpectedly – but characteristically – ducks onto the stage early to casually introduce her opening act, "Wazzup?"
However, a veil of awe hangs over this crowd. As Bridger's voice, a feathery falsetto, soars in to the wistful opening chords of "Motion Sickness," her exquisite 2017 breakout song about singer-songwriter Ryan Adams, the screams fall silent. And there they stay for "DVD Menu", the instrumental prelude punisher, her second album, which revealed a spiky side to the gently plucked thoughts of her debut. Like a scene from an '80s horror film, the fog rolls around their ankles (courtesy of a smoke machine working overtime tonight), while the looping synths and grunting strings set the scene for an evening that flows fluidly between Bridgers' most ear-splitting moved howls and their softest whisper.
Personally, she is as forthright and open as her online presence promises. Tracks are introduced with witty one-liners: "This song is about getting locked out of your house"; "This is for the gays"; "This is about alcoholics." Her on-stage persona is a raised eyebrow and a cheeky but trembling grin. At one point, Bridgers asks the crowd, "Who has a good relationship with their father here?" Hearing the cheers and cheers, she flatly says, "That's nice. Who's in a fucking relationship with their dad now?" The response is significantly louder. She's also outspoken and political, and is giving that side of herself space tonight. "I've made that tirade before, but I had an abortion in October. Democracy in the States is a damn lie," she exclaims about the recent overthrow of Roe v Wade in the US. "To be politically outclassed by a country with a royal family is incredible."
Gigs often invite hugging friends, putting an arm around your shoulder, or reaching a hand into the darkness. Tonight calls for introspection instead. When they look up to Bridgers, people seem to withdraw into themselves, into them. Her songwriting is often praised for its versatility, the way it becomes sacred and profane at the same time. Her lyrics prove that Bridgers is a skilled storyteller; her live shows, an equally adept storyteller. Aided by her morgue-worthy band of skeletons, including a remarkable trumpeter, Bridgers offers a new perspective on her older stories like the early dirge "Funeral."
The picture-perfect illustrations projected onto the wall behind Bridgers maintain the balance between the whimsical and the mundane achieved in their music. They also add a sense of intimacy to the show. Hear how specific and vulnerable her lyrics are, and it feels like you're hearing snippets from a diary. The hand-drawn sketches on the wall, of a pack of sardines or a ghost in a cemetery, give the impression that we are now seeing them too. Often the lighting leaves Bridgers in the dark. At other times, when she's kneeling on the floor or stumbling across the stage, her face is obscured by a curtain of icy blonde, half-dyed lagoon blue. As a result, her voice seems to conjure out of nowhere: a ghostly specter in and of itself.
When the crescendo of "Kyoto" breaks down after a few songs, the audience is completely immersed. It's the first moment of catharsis in a show that's brimming in front of them. Later, Bridgers encourages the crowd to flush out any remaining pain during the disastrous and breathtaking "I Know the End." Smoke engulfs the stage as the illustrated house projected behind her catches fire. She has invited her opening act Sloppy Jane back on stage and together they throw up walls of noise. Strings screech when a cello player bows to the instrument like a weapon. It's the sonic equivalent of a Rage Room and Bridgers is the presiding Rage wielding her black BC Rich Warlock electric guitar.
Bridgers' music blossoms into melancholy. Perhaps that's why it found the audience it's had during a pandemic. Much of this is lonely music; Songs about feeling lonely, best heard alone. Therein lies comfort. But at the end of tonight, the audience and the Bridgers have found solace, not in loneliness but in solidarity. Alone but together. "Believe it or not, I'm feeling really positive," she smiles. For a sad girl icon, Bridgers sure knows how to spread joy.
https://www.independent.co.uk/arts-entertainment/music/reviews/phoebe-bridgers-review-brixton-academy-b2132275.html Phoebe Bridger's review, Brixton Academy: A Show of Catharsis