Philip Larkin at 100: Why the morbid curmudgeon still belongs in schools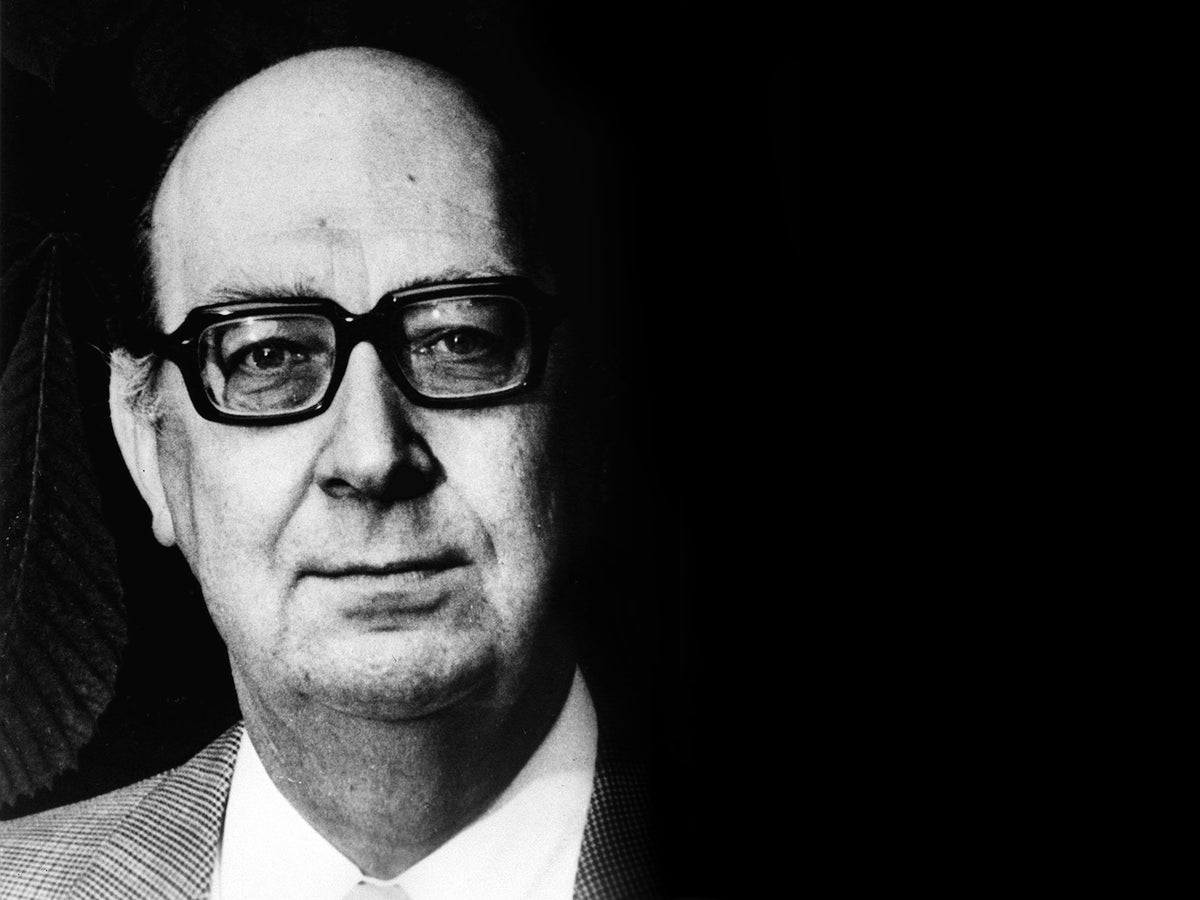 A A few years ago I went to Hull for a birthday present. I wanted to walk the Larkin Trail, a tour of various everyday places that were significant to the poet Philip Larkin. It took me to the Brynmor Jones Library at the University of Hull, where he was a librarian for 30 years, and to the nearby house at Newland Park, where he lived until his death in 1985 at the age of 63. The trail ended a bus ride away in the village of Cottingham, at the town cemetery on Eppleworth Road. The gates were locked when I arrived, so I clambered over a low stone wall, soaked to the skin by the torrential Yorkshire rain, in search of a poet's gravestone.
To me, Larkin is a writer worthy of a sodden pilgrimage. Like generations of British schoolchildren, I first read his poetry in GCSE English class. I fell in love with An Arundel Tomb, not because of its famous closing words, "What will survive of us is love," but because of the morbid way he moderates that epigrammatic thought in the preceding lines, "to prove / Our almost- almost true instinct…" On his original manuscript draft, Larkin scribbled a cynical retort to himself: "Love isn't stronger than death just because statues have held hands for 600 years".
Larkin wrote more and more clearly about mortality than any writer I have ever read. The best example is 'Aubade', Larkin's magnificent poem about 'The certain extinction to which we journey / And in which we shall always be lost.' Completed in 1977, shortly after the death of his beloved mother and occasional muse Eva, 'Aubade " for the first time in Times Literary Supplement that December.
The poet Andrew Motion was also working at the university at this time. "I remember seeing Philip a few weeks later when the Hull spring semester started and saying he ruined my Christmas in the best way possible!" Motion tells me from his book-filled Baltimore office. "He was beaming. However, it is an odd poem in some ways. Even though that fear of death and coming to terms with it are absolutely central to its bones from the start, it's so much less adorned. This somber iambic beat resembles things we've seen of his earlier poems, but it's also an overt statement of fear in its own right."
Larkin, too, had first read Motion at school and applied for the job in Hull, partly in the hope of seeing the reclusive poet. The two became close friends after an awkward first encounter in 1976. "We drank beers at lunchtime, which was kind of routine at the time," Motion recalls. "He was 53 but appeared to be much older. Overweight, bald, death suit, watch chain, all those things. He asked me what my father did and I told him he was a brewer. Philip was so pleased that I came from a camp that was producing something that people really want, alcohol, and not art to take or leave. Shortly after, he took a sip of beer that went the wrong way. He coughed and snorted a lot, took off his glasses and wiped his face. I slapped his back. When it comes to social icebreakers, it's probably a pretty effective one."
Motion's 1993 biography of Larkin, A Writer's LifeHe did not shy away from the poet's reactionary views and the racist language he used in some of his personal letters. "Those things make him a character that's less easy to adopt, but it also made him an even more interesting poet, I think, because it allowed us to ask what the relationship is between the things someone says in their poetry , and the life he has," says Motion. "I feel like he really spent a lot of his time as a writer not being Philip Larkin."
Larkin was born in Coventry a century ago, on August 9, 1922. His father Sydney was a Nazi sympathizer who attended Nuremberg rallies in the 1930s. "That would take a lifetime to get over, wouldn't it?" says Motion of Larkin, who wrote in "Aubade": "A single lifetime can take that long to ascend / break free of its false beginnings, and maybe No way". Arguably Larkin's most famous poem also concerns his upbringing. "They destroy you, your mum and dad," he wrote in 1971's This Be The Verse. "They may not want to, but they do."
At school, and later while studying English at Oxford University, Larkin saw his uneasiness towards girls harden into cruelty and misogyny. Although the term didn't exist then, I ask Motion if it would be accurate to refer to the young poet as "Incel." "If that concept had existed, I would definitely have liked to talk about it in my book," he replies. "It's not inappropriate."
Larkin took up the position of librarian at Hull in 1955, the same year he published his seminal collection of poetry The less deceived. He single-mindedly set out to lead a largely solitary life, inspired in part by literary critic Cyril Connolly's famous assertion, "There is no more sinister enemy of good art than that stroller in the hallway." As Larkin Connolly did at the poet John's 1984 memorial service Met Betjeman, he leapt across the lawn, shook his hand and said, "Sir, you created me." However, Motion believes Larkin's withdrawal from life is also linked to his own depraved physiology. "He had a very strong sense of himself as deformed in some way," he explains. "He's deaf. He can't see very well. He constantly complained that something was wrong in his body. He has low self-esteem, and you can easily see how these things could boil down to a reluctance to spend much time with other people. He just wanted to hide."
Despite Larkin's well-deserved reputation as a curmudgeon, Motion remembers him as a good friend who would genuinely ask how others were doing. He was also, according to Motion, "by far the funniest person I've ever met. Not only funny, but certainly that, but also with a very strong sense of the hilarious in life." He points out that it is not necessary to agree with Larkin's fiercely conservative political or personal views to be touched by his work. "I never voted the way he voted. I don't feel that way about women. I don't feel the same about 'abroad'," he says. "You go through the whole range of prejudices that he has and you think: I might have prejudices of my own, but these aren't these. And yet I read almost every page of the poem and I think, 'Yes, that's life. This is my experience of being alive.' It's a remarkable thing."
The less deceived Larkin made a name for himself as a poet and began to build his reputation as a prizewinner of the everyday. In "Toads," he rants about having to work for a living: "Why would I let the toad work/perch on my life?" He expressed that sentiment even more vividly in a short verse he sent to his long-suffering girlfriend, Monica Jones : "Tomorrow, noon and a bloody night / Seven damn days a week / I'm toiling at dirty work that could be done / Any book could do it – Drunk freak / This goes on 'till I kick the bucket / F*** IT F *** IT F*** IT F*** IT.
Larkin's next collection the Pentecost weddings, including An Arundel Tomb, which made him nationally famous in 1964. A decade later he published high windows, a collection that transformed him from a well-known writer into a national monument of sorts, the country's poetic dour recluse. It contains some of his most famous works, including the transcendent title poem This Be The Verse and Annus Mirabilis, which managed to capture the national imagination with its tongue-in-cheek opening: "Sexual intercourse began /In nineteen sixty-three/ (which was quite late for me) – / Between the end of the 'Chatterley' ban / And the Beatles' first LP."
Motion argues that Larkin's most memorable lines have embedded themselves in the British psyche more than any other poet. "His reputation may be more complicated now than it was at the end of his life, but he's entered the national bloodstream in quite a surprising way," he says. "I think more lines from Philip are in the national bloodstream than TS Eliot and that's saying something."
Earlier this year, the GCSE examining body, OCR, announced that Larkin, along with World War I poet Wilfred Owen, would be dropped from their English curriculum to offer more diversity. Nadhim Zahawi MP, then Minister of Education, described the decision as "cultural vandalism". Motion, too, believes Larkin deserves another spot in the classroom. "He should be there because he tells the truth about human experience, regardless of our background, our skin color, our age, whatever, and he says it in a beautiful and memorable way with a great skill that is worth, to be respected for its own sake," he says. "There's also a great deep emotional charge that reading opens us as individuals."
This is not to say that the English curriculum does not need new voices. "Why can't we have both?" asks Movement. "Why can't we have the new kids on the block just like these old boys? Surely teachers and students will then have a richer reading experience themselves, and that certainly corresponds to the accusation that one could level at such expulsions that they make literature serve some social idea instead of being an end in itself. It is an end in itself for many reasons. One is that almost all other types of discourse in life serve a purpose. Paradoxical as it may be to say, one of the deepest pleasures and most meaningful things about literature is that it lets nothing happen."
When I read "Aubade" for the first time, I was in suspense. I have returned to it countless times since, drawn by its profound ability to articulate the deepest terrors of human existence "plain as a wardrobe." "We need moments in our lives where the relationship between cause and effect is broken and we just sit in the moment, thinking our thoughts and not feeling obligated to draw conclusions," says Motion. "Indeed, to really meditate on the indecisiveness of life." He pauses before arriving at a statement that Larkin would certainly have agreed with. "Except that it will end."
https://www.independent.co.uk/arts-entertainment/books/features/philip-larkin-100-poet-andrew-motion-interview-b2138662.html Philip Larkin at 100: Why the morbid curmudgeon still belongs in schools