Entertainment
NOS Alive Festival Recap: The return of Europe's friendliest festival brings spectacular musical twists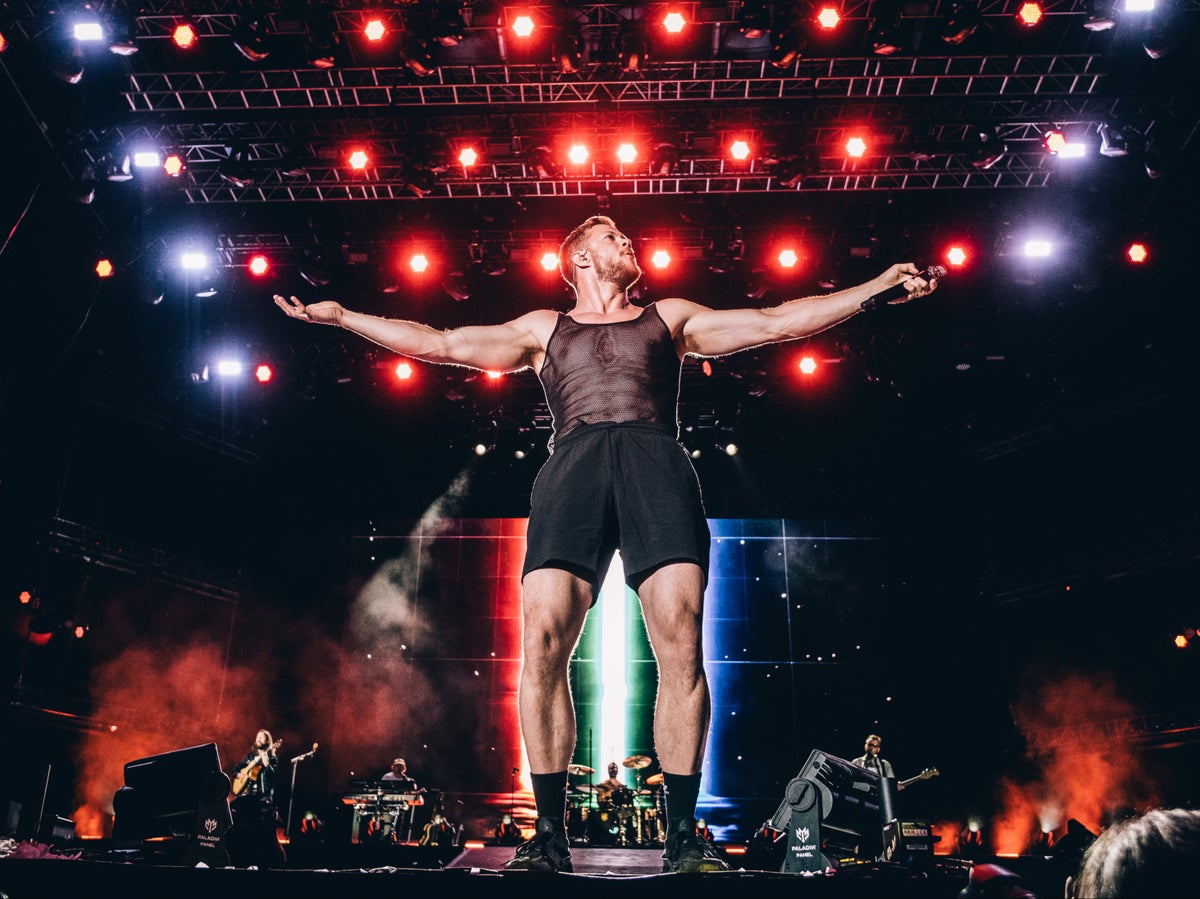 It's pretty much impossible not to have a great time at NOS Alive. Take the backdrop: the artificial turf-covered docklands of Portugal's Passeio Marítimo de Algés, flanked by the steadily flowing Algés River on one side and Lisbon's cheery pastel yellow and pink houses on the other. The journey to the festival site takes you past some of the city's best structures, from the 16th-century Belém Tower to the Ponte 25 de Abril, a prominent suspension bridge that connects the city to Almada. Then there's the weather. It's ideal for sun lovers: the Portuguese heat starts to rise early in the day, while a cool river breeze provides a respite in the evening.
The first day is the least in terms of foot traffic, but lower turnout doesn't stop the crowds from making an impact. Irish rock band Fontaines DC took over the audience on the Heineken stage on Wednesday. If the tent had walls, sweat would drip down them; The early evening heat leaves fans wet but happy after intense moshing to "Boys in the Better Land." As the festival goes on, the dizziness continues. In the late afternoon on Thursday, Celeste enchants with her powerful and crisp singing.
The highlight of the day – maybe the highlight of the whole festival – comes later with Florence + The Machine. Alternating her setlist with new tracks like "King" and classic crowd favorites like "Dog Days Are Over," Florence Welch dances and twirls around the long stage in a fantastic display of endurance. In a more vulnerable moment, she shares that 2011's "Never Let Me Go" was dropped from her setlist for years as it reminded her of a sad time in her life. When she sings it now, the audience evidently feels its potency – there are goosebumps everywhere. At the latest with their double encore "Shake It Off" and "Raise It Up" the atmosphere is almost exuberant.
Indie band Sea Girls made their Portugal debut at the Heineken stage on Friday to a great crowd. A small group of die-hard fans mix in with newcomers, but they all end up singing along to the anthemic "Ready for More" hook. On the main stage, West London best AJ Tracey gets the crowd going with club banger 'Ladbroke Grove'. A quick glance at the rows of black T-shirts with spiky logos shows that many have made camp for Metallica in front of the stage. Still, they seem intrigued, not alarmed, by the cool and collected rapper. Royal Blood continue to electrify the crowd, commanding us to get wilder during their thunderous singles "Trouble's Coming" and "Figure It Out." Despite drinking from a tequila bottle throughout, drummer Ben Thatcher keeps us hooked with solos of astounding complexity and incredible precision.
When Metallica take the stage, excitement is at an all-time high as thousands applaud their arrival. "Still awesome after 41 years," explains frontman James Hetfield. It's a fair point. Although a newcomer to the metal pioneers, I join loyal supporters in the snake pit just meters from the band on the final date of their European tour. The performance is a true spectacle: these four horsemen of the apocalypse have made it their task to give their audience an unforgettable night. Interpretations of favorites like "Nothing Really Matters" and "Enter Sandman" are transcendent, especially when surrounded by thousands of hardcore fans.
On Saturday, sister three-piece Haim kick things off with the deceptively upbeat "Now I'm In It," whose cheeky instrumentation contrasts with darker lyrical themes. When Da Weasel takes the stage, the heaving, sweating crowd is bubbling with excitement. The Portuguese hip-hop/rock group are a big deal – even fans busy buying beers can't stop themselves from singing along to their funky 2004 hit "Re-tratamento." Meanwhile, the fado stage is constantly packed to the brim with fans hoping to catch performances from Sara Correia and Marco Rodrigues, two examples of young artists reviving the centuries-old genre defined by acoustic guitar and passionate, mournful vocals. For Phoebe Bridgers back on the Heineken stage, there's a different kind of excitement: the fans are in love and they want her to know. Bridgers hardly has to sing a word for "Graceland Too" – the crowd is behind her.
Finally, all eyes are on Imagine Dragons for their stadium-worthy conclusion on Saturday's main stage. There's a floor-shaking performance of "Believer," while a shower of red confetti adds a fair amount of bombast to the evening just 20 minutes into their set. Lead singer Dan Reynolds, dressed in a mesh top and simple black shorts, is magnetic; no matter where you are on the festival site, you can't get past his powerful voice.
There's an atmosphere of fun and friendliness that feels totally unique to Nos Alive. Though the 14-year festival focuses mostly on rock and electronic music, it does well to incorporate Portugal's traditional fado music and stand-up comedy scene, and give rap, pop and soul artists time to shine . Come to Lisbon (and the incomparably delicious pastéis de natas), stay for the promise of a hell of a good time.
https://www.independent.co.uk/arts-entertainment/music/reviews/nos-alive-2022-review-b2121672.html NOS Alive Festival Recap: The return of Europe's friendliest festival brings spectacular musical twists