News
Nobel Peace Prize winners say independent journalism can fight tyranny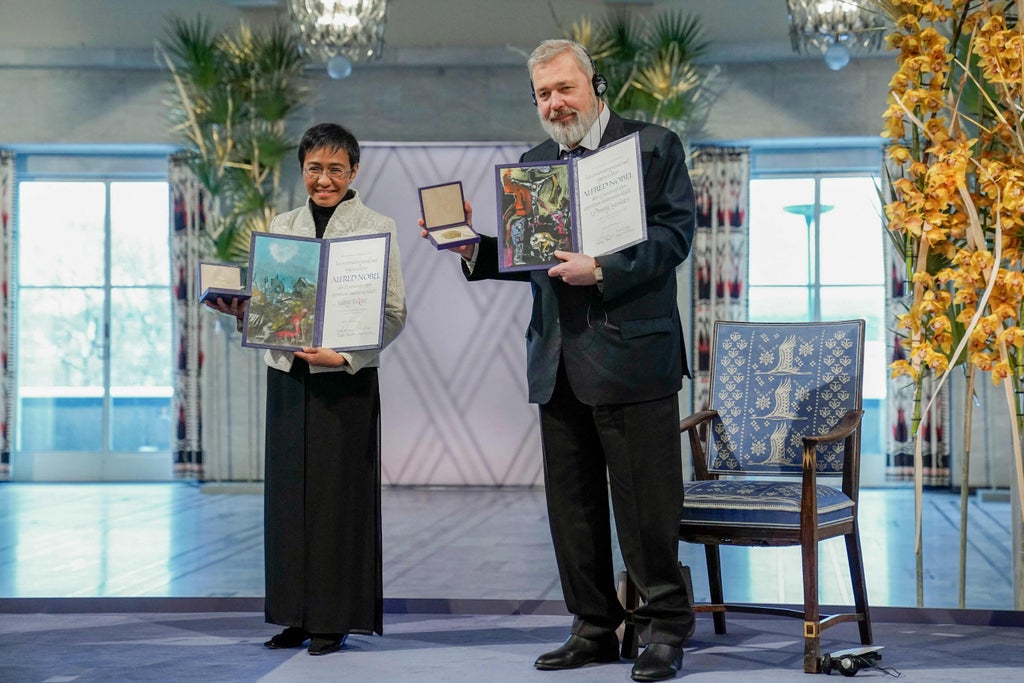 Both journalist who shared this year Nobel Peace Prize warned that the world must support independence newspapers and protect reporters against the power of the governments.
Maria Ressa afterward Philippines and Dmitry Muratov of Russia received their awards in Oslo on Friday, having been selected for their own struggles for freedom of expression in countries where reporters have faced attacks, harassment and murder. persistent person.
Ms. Ressa, 58 years old, co-founder Rappler, a news website critical of the Philippine government, in 2012. Mr. Muratov, 59, was one of the founders in 1993 of the independent Russian newspaper Novaya Gazeta.
The Philippines' first Nobel Peace Prize laureate, Ms. Ressa, gave a bleak assessment of journalism, saying that the "age of competitive news is dead".
"We need to help independent journalism survive, first by giving more protection to journalists and standing up against countries that target journalists," she told an audience of 200, including including Norwegian royalty and officials.
Mr. Muratov said that in Russia, the press "is going through a dark valley" with many reporters and human rights activists being seen as "foreign spies".
He also used his speech to issue a dire warning of the possibility of war between Russia and Ukraine. The massive Russian military buildup near Ukraine's border has led to Western diplomatic efforts to stave off an invasion, which the Kremlin denies are planning.
"In [the] To the head of some crazy geopolitics, a war between Russia and Ukraine is not something that cannot happen anymore. But I know that wars end with identification of soldiers and exchange of prisoners," said Mr.
He concluded his lecture by asking the congress to honor reporters "who have devoted their lives to this profession, with a minute of silence" before saying, "I want journalists to die of old age."
On Thursday, the Brussels-based International Federation of Journalists said that more media workers are being jailed, with 365 journalists detained compared with 235 journalists last year. Nine journalists were killed in the line of duty in Afghanistan alone, and 102 were jailed in China.
Ms. Ressa and Mr. Muratov are the first journalists to receive the Nobel Peace Prize since Germany's Carl von Ossietzky won it in 1935 for revealing a secret Nazi rearmament program. The winner share 10 million kronor (£833,000) between them.
https://www.independent.co.uk/news/world/europe/nobel-peace-prize-maria-ressa-dmitry-muratov-b1973799.html Nobel Peace Prize winners say independent journalism can fight tyranny