News
Live Updates | Ukraine reports further airstrikes on Azovstal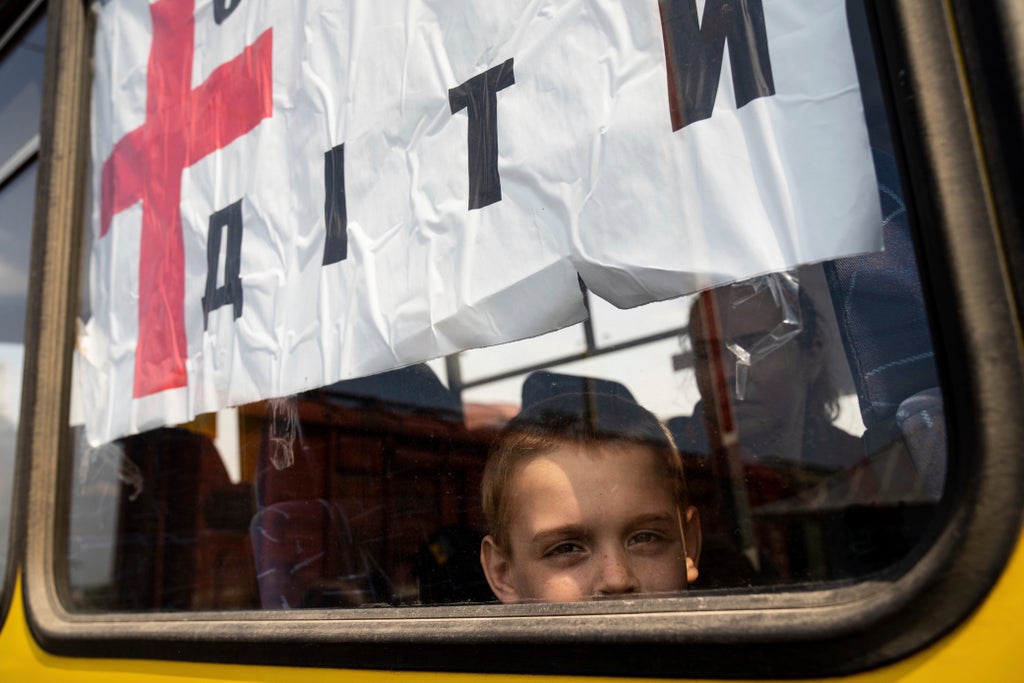 Kyiv, Ukraine — Ukraine's military says Russian forces are continuing airstrikes on the Azovstal Steelworks in Mariupol and are accelerating their advance on cities in eastern Ukraine.
In its statement of operations for Day 78 of the war, the Ukrainian military general staff says Russian forces also fired artillery and mortars at Ukrainian troops in the Zaporizhia direction, which was a safe haven for civilians fleeing Mariupol.
It did not elaborate on the recent actions surrounding Azovstal.
The military says Russian forces have also fired artillery at Ukrainian units north of the northeastern city of Kharkiv and reported Russian attacks in the Chernihiv and Sumy regions to the north.
In the Donetsk and Luhansk regions of eastern Ukraine, the scene of ongoing fighting since the war began, the Ukrainian military noted a "partial success" in Russia's advance. It said Ukrainian forces repelled nine Russian attacks and destroyed several drones and military vehicles. The information could not be independently verified.
__
KEY DEVELOPMENTS IN THE RUSSIA-UKRAINE WAR:
— Ukraine offers to exchange prisoners for injured Mariupol militants
– Quick Senate OK for $40 billion House-approved aid to Ukraine
– Wives of Mariupol defenders to the Pope: "You are our last hope"
— Born during the war amid air raid sirens in a hospital in Ukraine
— Follow all AP reports on Russia's war against Ukraine at https://apnews.com/hub/russia-ukraine
___
OTHER DEVELOPMENTS:
Kyiv, Ukraine — An adviser to the mayor of Mariupol said Wednesday that Russian forces have blocked all evacuation routes out of the city.
The adviser, Petro Andriushchenko, said that after weeks of bombing there were few houses to live in and very little food or drinking water.
Andriushchenko said some residents who remained in the city are cooperating with the occupying Russian forces in exchange for food.
Meanwhile, Ukrainian Deputy Prime Minister Iryna Vereshchuk said Ukraine has offered to release Russian prisoners of war if Russia allows the evacuation of the seriously injured militants from the Mariupol Steel Plant.
Russian troops have surrounded the plant, the last bastion of the Ukrainian resistance in the southern port city.
Vereshchuk said no agreement had been reached but negotiations were ongoing. The fighters trapped inside the factory have refused to surrender to the Russians, fearing torture or being killed.
___
WASHINGTON — US Secretary of Commerce Gina Raimondo said a ban on sales of semiconductors and other technology to Russia by the US and its allies would have serious implications for Russia's ability to produce military equipment.
"We have reports from Ukrainians that when they find Russian equipment, military equipment, on the ground, it's full of semiconductors that they took out of dishwashers and refrigerators," Raimondo said Wednesday during a Senate hearing, adding that she met with the Prime Minister of Ukraine a few weeks ago.
Raimondo said two of Russia's tank factories have closed and many of its automakers have furloughed workers and closed.
"So the point is, we're having a very serious impact," she said. "What we need to do to continue this is enforcement, enforcement, enforcement."
Raimondo said US tech exports to Russia have fallen nearly 70% since late February, when the Biden administration, in coordination with European and Asian allies, imposed sanctions and export controls on Russia in response to its invasion of Ukraine.
__
WASHINGTON — Congressional final approval of a $40 billion aid bill for Ukraine appears certain within days, according to some lawmakers.
Top Senate Republicans said Wednesday they expect strong GOP support for the measure passed by the House of Representatives. This will signal a bipartisan, increased commitment to thwarting the bloody Russian invasion.
In his nightly video address on Wednesday, Ukrainian President Volodymyr Zelenskyy said the funds from the aid law would allow Ukraine to get more arms and equipment and help with Russia's war crimes investigations.
The law would also help regional allies replenish weapons the Pentagon has shipped overseas and provide $5 billion to address global food shortages caused by the war, which has disrupted the normally robust production of many crops paralyzed in Ukraine.
The new measure includes $6 billion for arming and training Ukrainian forces, $8.7 billion for restoring American stockpiles of weapons shipped to Ukraine, and $3.9 billion for US forces, who are stationed in the region.
There is also $8.8 billion in economic assistance to Ukraine, $4 billion to help Ukraine and its allies fund arms and equipment purchases, and $900 million for housing, education and other assistance for Ukrainian refugees in the USA
__
BERLIN – The UN nuclear agency says it is again receiving remote data from Ukraine's Chernobyl power plant after an interruption caused by the Russian occupation of the site.
The International Atomic Energy Agency said late Wednesday that data transmissions had been restored following a visit by its inspectors and technicians in April after Russian forces withdrew.
The agency said it was the first time in two months that it had received remote data from all nuclear power plants and spent fuel storage facilities in Ukraine where monitoring systems are in place.
Its head, Rafael Mariano Grossi, said this was "a very important step for the IAEA to continue implementing safeguards in Ukraine."
However, Grossi warned that the on-site verification at the Zaporizhzhya nuclear power plant "remains a challenge due to the presence of Russian forces and Rosatom personnel at the site," calling the situation "unsustainable."
Grossi said he had proposed to lead an expert visit to Zaporizhia "after the necessary consultations and at the earliest opportunity".
___
MOSCOW – The governor of a Russian region near Ukraine says at least one civilian was killed and six others wounded in Ukrainian shelling at a village near the border.
Belgorod Governor Vyacheslav Gladkov said that the village of Solokhi was shelled by the Ukrainian side late Wednesday. He said that the villagers are being evacuated.
Gladkov's account could not be independently verified. Russian authorities in regions close to Ukraine have repeatedly reported incidents of border areas coming under Ukrainian fire.
___
Kyiv, Ukraine – Ukraine's Foreign Ministry has accused Russia of stealing the country's grain and attempting to sell some of it on world markets.
The ministry said in its Wednesday comment that the theft of Ukrainian grain amounted to looting.
She warned countries buying Russian grain that some of their shipments could contain the grain stolen from Ukraine, making their buyers potential accomplices.
The ministry cited official estimates that Russia may have already stolen 400,000 to 500,000 tons of grain costing over $100 million. She accused them that "virtually all ships leaving Sevastopol with a cargo of grain have on board grain stolen from Ukraine".
She called on the world community to tighten sanctions against Russia.
___
TURIN, Italy – A Ukrainian band taking part in this year's Eurovision Song Contest joined a rally in a Turin park with several dozen of their compatriots to express their solidarity with their war-ravaged homeland.
Ahead of Wednesday night's competition, the Kalush Orchestra posed for photos with about 50 Ukrainians living in Italy.
Each of the participants of the rally put a hand on the heart as a sign of devotion to Ukraine.
The Kalush Orchestra was one of the participants this week to qualify for the finals of Europe's hugely popular annual song festival, with the winner being determined on Saturday.
The Ukrainians gathered behind a stage where free concerts by some of the music groups from the 35 submitting nations take place every evening on the fringes of the actual competition.
The Kalush Orchestra's upbeat entry into the competition is a song composed by the band's frontman as a tribute to his mother.
But the song "Stefania" became a kind of hymn to Ukraine, which on February 24 was invaded by its powerful neighbor Russia.
The song quickly became a sentimental favorite for many Eurovision fans.
https://www.independent.co.uk/news/world/europe/ukraine-ap-zaporizhzhia-mariupol-gina-raimondo-b2077173.html Live Updates | Ukraine reports further airstrikes on Azovstal