Lifestyle
How to create a Christmas table scene suitable for a big party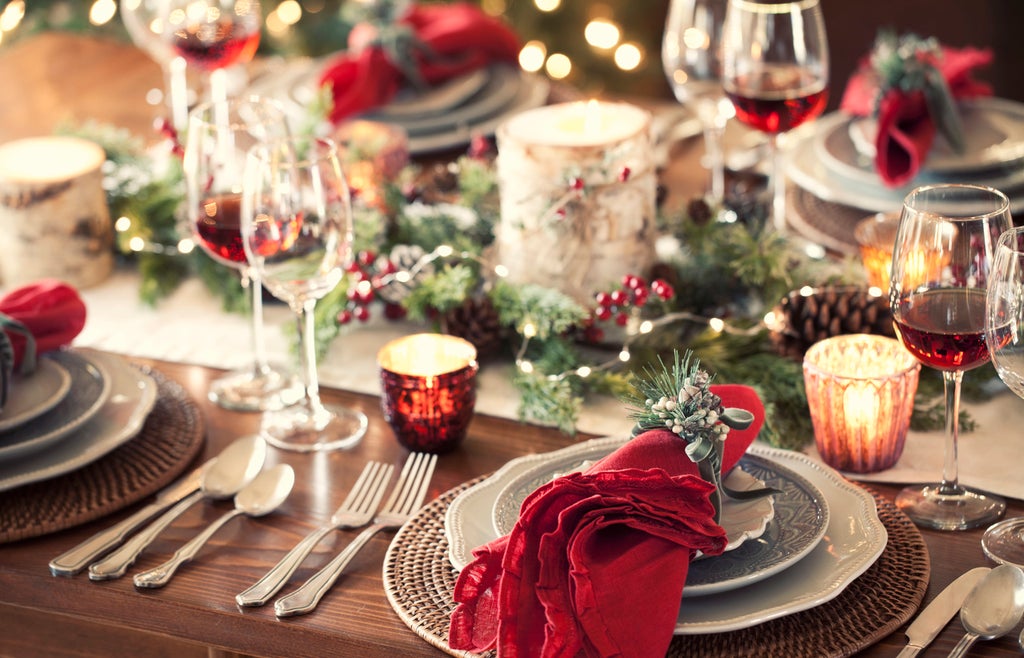 For many people, Christmas dinner the highest expectations meal of the year – so if there is a day to decorate table, this is it.
The traditional Table decoration began in the late 18th century, during the Enlightenment, when the aristocracy flirted imagine and whimsical creations as a form of expression.
Table reservation is a tradition that embraces pomp and ceremony and subtly builds festive excitement, as package on your gifts and the lights on your Christmas tree.
Whether you prefer the classic French siècle des Lumières or the trendy style of today, these tips will get you well positioned and help create a bold and beautiful table arrangement.
Start at the center
Focus on the tablecloth or the tablecloth, but don't focus on both. You can get a tasteful New England look with a large checkered blanket that doubles as a tablecloth, or go more traditional with a crisp white or white canvas. Those who are more classy may prefer some black cardstock. If you have a striking wooden table, go for one that runs down the middle (the scarf on the right can do this). Then add a bold centerpiece – such as a large candle, several candles on a stand, a tray filled with Christmas items, or a vase or seasonal wreath.
Natural features
For a real festive taste, bring the outdoors in. Those with natural wood tables can achieve this by accenting the tone of the table with a running chair, rather than a tablecloth. Prepare your table with things like pinecones, red berries, holly or walnuts, and fir branches scattered along the runner, maybe with dried oranges for a bit of color. You can also add a sprig of rosemary to each person's glass or cinnamon sticks tied with ribbons.
Scene lighting
Lighting is extremely important in creating a festive atmosphere. Avoid fluorescent lighting, which will make your desk look like an office canteen. Keep power low. Also don't use lighting from above, this can create a buffet lighting effect. Instead, use party lights, candles, or tea lights in festive vases.
Those with children may want to try battery-powered LED lights. Some flashing patterns look unbelievably realistic and will help avoid accidents and wax dripping on your tablecloth. Also, solid battery-operated Christmas lights along the fir branches and natural touches on your runner (again, use low-wattage bulbs).
It's all about craft
Give personal touch to all the little details you add to your boards. If you're using conifers, why not spray them with gold or silver paint? Or dip the tips in glue and then roll them up in a bowl of eco glitter? If you have candle holders, consider adding festive ribbons to them.
Create personalized name cards to look like gift cards and place them on your guests' plates. Alternatively, you can fold the colored card pieces to place on top or on a plate, featuring handwritten names in gold or silver to match the centerpiece decoration. If using black cardstock, write the place name in chalk. Or add homemade tree decorations to each scene (think: gingerbread angels or baubles).
Set your location
Create a decadent feel with your tableware. Place a small boot disk on the main disk, on top of a pad. The venue doesn't have to be Christmas themed, try natural or bold tones with red or green. Place folded or rolled napkins on top with a ribbon or a sprig of blueberries, or place your napkin between plates. Add elegant tableware and sparkling glassware to complete.
As simple as beautiful
Apply some of the techniques above, but don't overdo it. For example, if you use ribbons on napkins, skip them on candles and vice versa. Choose two or three colors and tones to work with, or you risk your dining room looking like Santa's cave. Go easy on glitter, a little sprinkle is enough. Choose a few decorations, not all of them.
https://www.independent.co.uk/life-style/christmas-dinner-candles-table-decoration-b1974184.html How to create a Christmas table scene suitable for a big party