Do we really need a 24-hour live stream of the in-state Queen?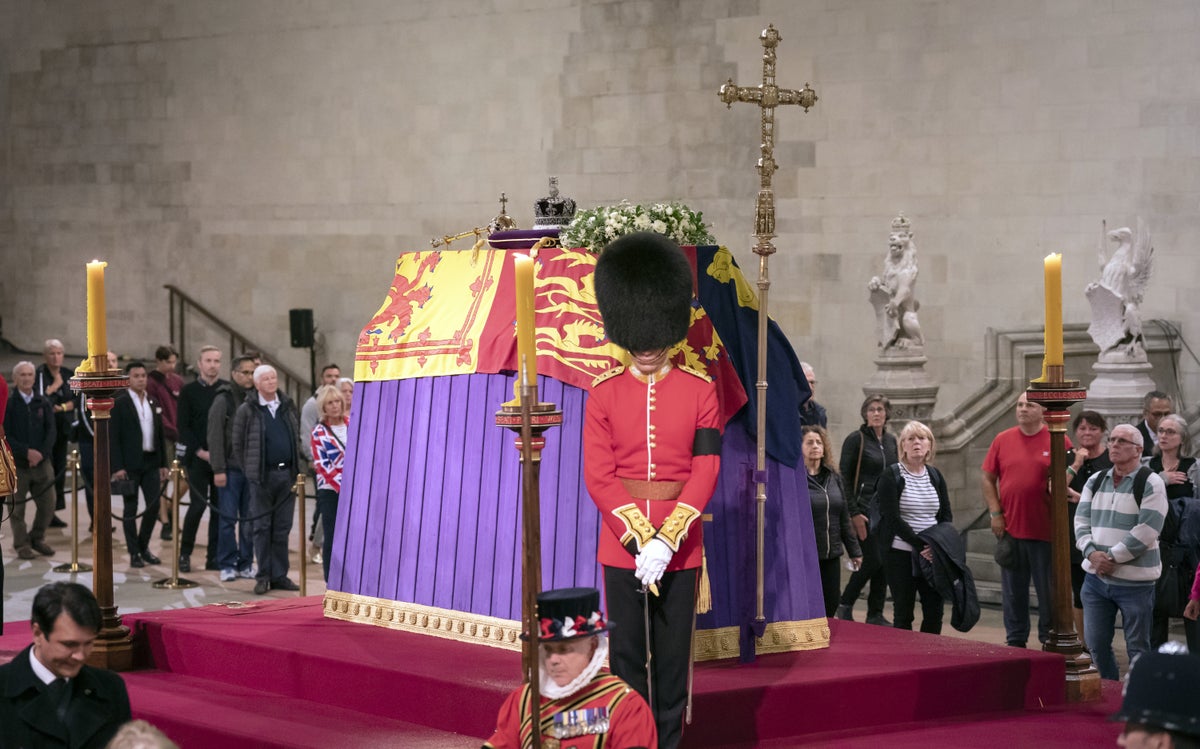 TThere have been many extraordinary broadcasts here in the wake of the Queen's death, a long-planned event that somehow still feels bigger than anyone could have anticipated. The presenters were heroes – spending hours solemnly narrating a recording of a goal is quite a skill – and watching King Charles III's proclamation ceremony, televised for the first time, was chilling. But there's always a moment when things get a little silly, and that moment has now arrived with the surreal livestream of The Queen Lying Down. Her coffin stands at Westminster Hall ahead of her funeral on Monday for the public to show respect; Filming takes place 24 hours a day for five days. Anyone can tune in as people pass by — some in backpacks and raincoats, others in their best black hats — with watery eyes and bowed heads before moving on. As I write this, almost 15,000 people are watching on the BBC's website.
Standing in line to see the resting queen is a tall, physically grueling undertaking; The wait was 14 hours before it closed on Friday to reach capacity. In practical terms, the live stream is not just for the curious, but also for those who can't handle the long wait. Some have said how much they enjoy it and find it calming and peaceful. And there have been major technological advances since Britain last had a new monarch, so why not? This urge to get it all on film is understandable – we're all a little struck by the sheer historicity of it all. But the live stream feels a bit like taking pictures with your phone that you'll never look at again, when you should've just been enjoying what's happening right in front of you.
The relentless filming of the event has stripped it of its odd power, dulled its commanding edges and turned it into something oddly voyeuristic. I find it tremendously moving that everyone has chosen to be there for their own reason. But as the camera zooms in on the faces of people walking by, the audio is oddly intrusive. It becomes more of a whimsical spectacle than the deep moment of respect and sadness that is clearly present in the room. Everyone makes the same joke: It's like the Channel 4 Big Brother retro livestream. It's strange to see grief being turned into reality TV.
The fact that its seriousness has been lost in translation also prompts many people to declare how "very British" it all is. It becomes clear that "very British" is actually a code word for "eccentric". The live stream seems to embody that. One person wrote on Twitter: "I saw there is a special live stream for the Queen who is in state and I have to ask if Britain is okay." Another: "There is nothing more British than people who are queue for 2.5 miles to see the Queen, follow the line online and then watch her live stream." Of course, watching people patiently wait their turn to um looks absurd at bottom to bow sadly. But being there, part of this strange but dignified ritual, clearly feels very different.
The performative-cute notion of Britishness is widespread in this time of mourning. The Queue has overtaken Paddington Bear as our new national symbol of gentle stoicism. Everything feels anachronistic and yet somehow exactly as it should be. The royal parks had to ask people to stop leaving jam sandwiches; Ladbrokes across the street from me has its windows filled with tributes to the Queen. But being here – in the room, so to speak – I find that eccentricity is endearing, even comforting. When separated from its real atmosphere, it looks exaggerated and cartoonish. And there is always a risk of slipping into snobbery. "How long before they become memes," one person asked on Twitter. I feel tenderness towards those who wanted to make this journey; By zooming in, we never feel far from a common feeling, "why are you, weird person, doing this weird thing?".
Plus, it's obvious that TV coverage will continue to be weird enough. You just have to turn on the TV to see the latest weird things someone is saying or doing. I watched Sky News for five minutes this morning and historian Anthony Seldon incoherently extolled Kay Burley the virtues of pilgrimage. "We all need pilgrimages in our lives," he explained. "As a former principal, it's really important to do things that are physically difficult. To have the stamina of a night's watch. Deprivation. Those things are important."
Just before he spoke we met eight-year-old Freddy from Salisbury who had been queuing with his family all night in his Beavers uniform. When asked what it was like to finally see the Queen, he replied: "It was good… fun…" before the truth set in: "Tiring. Ah. Very tiring." The presenter insistently asked again. What was it how? "Uh… sad?" said Freddy, pausing to think before adding with a shrug, "Sad again." I'm sure he'll tell his grandkids if he has any. But his confusion, almost insult, when asked to discuss the experience and describe it live on TV seemed to sum it up. The live stream isn't the most British – Freddy is.
When it comes to TV coverage of a royal event, there is no saturation point. Be it a marriage, a birth or – as now – a death, we are nationally reconciled to one fact: it will be endless. There is talk, talk and more talk, broadcasters are thrown into a whirl of speculation and participants resort to platitudes. So much so that former BBC broadcaster Simon McCoy has frequently gone viral for his blunt desperation to cover royal births. "There's a lot more to come, none of this is new…but that won't stop us," he infamously ended a live connection from outside the Lindo Wing in 2013. It's ironic, considering a cherished anecdote about the Queen getting her traumatized war surgeon David Nott excited to pet the corgis before saying, "There. That's so much better than talking, isn't it?"
https://www.independent.co.uk/arts-entertainment/tv/features/do-we-really-need-a-24hour-livestream-of-the-queen-lying-in-state-b2168849.html Do we really need a 24-hour live stream of the in-state Queen?