News
Debates in Georgia: Perdue runs for election, Kemp pushes the record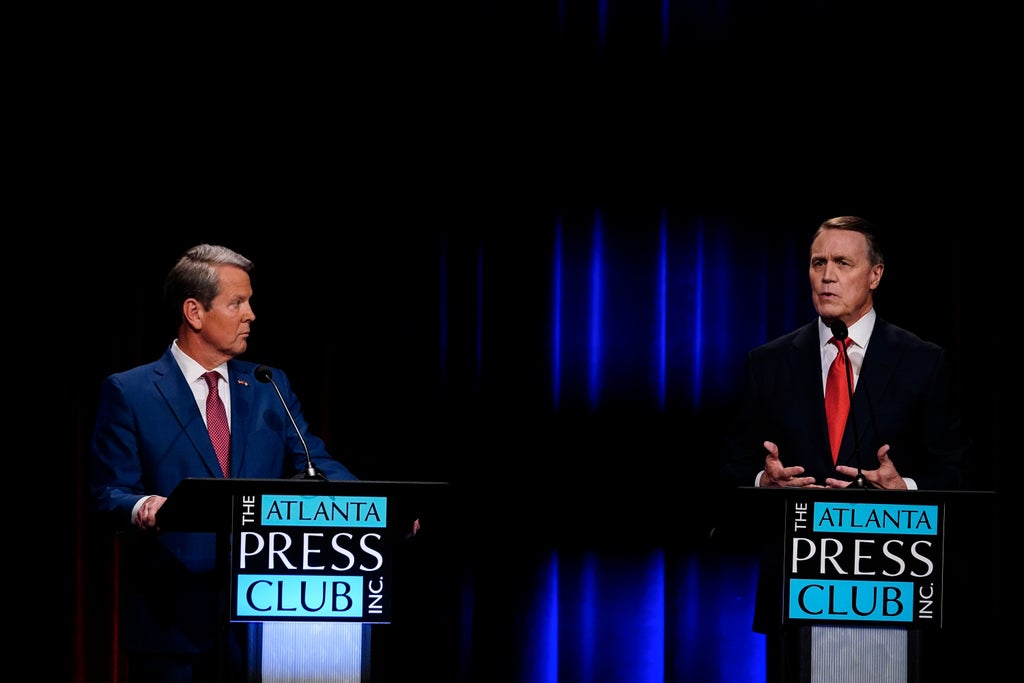 After three Republican primary debates in Georgia's Governor's Race, a few things are clear: Former US Senator. David Perdue wants the May 24 primary to be about the 2020 election, the incumbent governor said. Brian Kemp wants the election to be about his record, and when in doubt, every Republican should say he's the one to beat the Democrat Stacey Abrams in the autumn.
Sunday's Atlanta Press Club-sponsored debate was slightly different, with candidates Kandiss Taylor, Catherine Davis and Tom Williams, after only Kemp and Perdue were represented in the previous two debates.
Polls show Perdue is well behind Kemp, increasing the chance the incumbent could pick up 50% in May and avoid a possible June 21 runoff. While Perdue landed a few licks on Kemp, most notably in the April 24 debate, it's unclear if the clashes changed voters' minds.
The debates will take place when voting begins in the May 24 primary. Some counties are already sending mail-in ballots, and early in-person voting begins Monday.
Here's a look at some of the topics from the debates:
FOCUS ON ELECTION
At times, Sunday's other candidates have teamed with Perdue to attack Kemp in elections, blaming him for paving the way for Democratic control in Washington, an issue Perdue has hammered.
"Brian Kemp gave us Joe Biden. He gave us the problems that we see in Georgia," Williams said, even though Biden would have been elected president without winning Georgia.
Kemp pushed back further, saying he complied with the law, which requires him to certify the election. He tried to reassure Republican voters that he had resolved issues with the restrictive electoral law that Georgia passed and Kemp signed into law in 2021.
"I was just as frustrated as everyone else with the 2020 election results," Kemp said. "And I've actually taken action to work with the Georgia General Assembly to address these issues."
Federal and state election officials and Donald Trump's own attorney general said there was no credible evidence the election was rigged. The former president's cheating allegations have also been firmly dismissed by courts, including Trump-appointed judges.
KEMP STANDS ON HIS RECORD
Kemp highlights his accomplishments, including raising salaries for teachers and state employees, cutting taxes and quickly lifting restrictions following Georgia's brief COVID-19 lockdown.
"I did everything I said when I was campaigning in 2018," Kemp said.
Perdue stronger defended his Senate record on Sunday, saying Kemp is accepting loans for projects funded with federal money Perdue helped secure.
"We deepened the port after 20 years of career politicians trying to deepen it," Perdue said of Savannah. "We have moved the Army's cyberwarfare headquarters to Fort Gordon. We provided disaster relief to farmers in South Georgia."
WHEN IN DOUBT, MENTION STACEY
When asked if they would support Republican candidate Sunday even if they aren't, some of the candidates turned the question into an anti-Abrams discourse.
Kemp and Perdue mentioned Abrams 19 times in the second debate, prompting Abrams to tweet, "Sure, I live rent free in their heads."
Invoking fear of Abrams has been a constant throughout the debates, using fear of her election to motivate Republicans, and it continued Sunday.
"You better win this race now because if Stacey Abrams wins this race, we're not going to win a Senate majority this year and we're not going to win the presidency in 2024," Perdue said Sunday.
But Davis said the constant discussion about Abrams detracts from an honest look at Republicans.
"Stacey Abrams is not the standard by which voters should measure the next governor," Davis said. "You made her a bogeyman. You get rid of a bogeyman by turning on the light."
EDUCATION FINALLY SHOWS
Education had only been mentioned in passing in the first two debates, although candidates raised several questions about public schools on Sunday.
Kemp was asked if bills he signed to prevent "divisive concepts" from being taught would discourage people from becoming teachers.
"That's what people want…" Kemp said. "They worry about their children and what they are being taught in the classroom."
He also promoted the $5,000 raise he won in two stages for teachers.
But other candidates have focused on doing more to prevent the ideology from infiltrating the classroom.
"The most important thing we can do for our teachers, our parents, and most of our children is drive the woke mob out of our Georgia schools," Perdue said.
IT'S PERSONAL
Perdue and Kemp showed genuine dislike for each other, repeatedly calling each other liars in the first two contests.
"I'm just telling you, the worst mistake I've ever made was getting Donald Trump's endorsement for this man," Perdue said Thursday on WTOC-TV in Savannah.
Kemp retaliated several times that Perdue attacked him for not having his own records and said it was Perdue's fault that he lost his re-election bid to Democrat Jon Ossoff in the 2021 runoff.
"The reason everyone here is looking in the rearview mirror tonight is because they can't win a record going forward," Kemp said on Sunday.
___
Follow Jeff Amy on Twitter at http://twitter.com/jeffamy.
https://www.independent.co.uk/news/world/americas/us-politics/brian-kemp-ap-georgia-david-perdue-stacey-abrams-b2069604.html Debates in Georgia: Perdue runs for election, Kemp pushes the record