News
Brexit latest news: Truss to give EU 72-hour deadline on Northern Ireland before scrapping protocol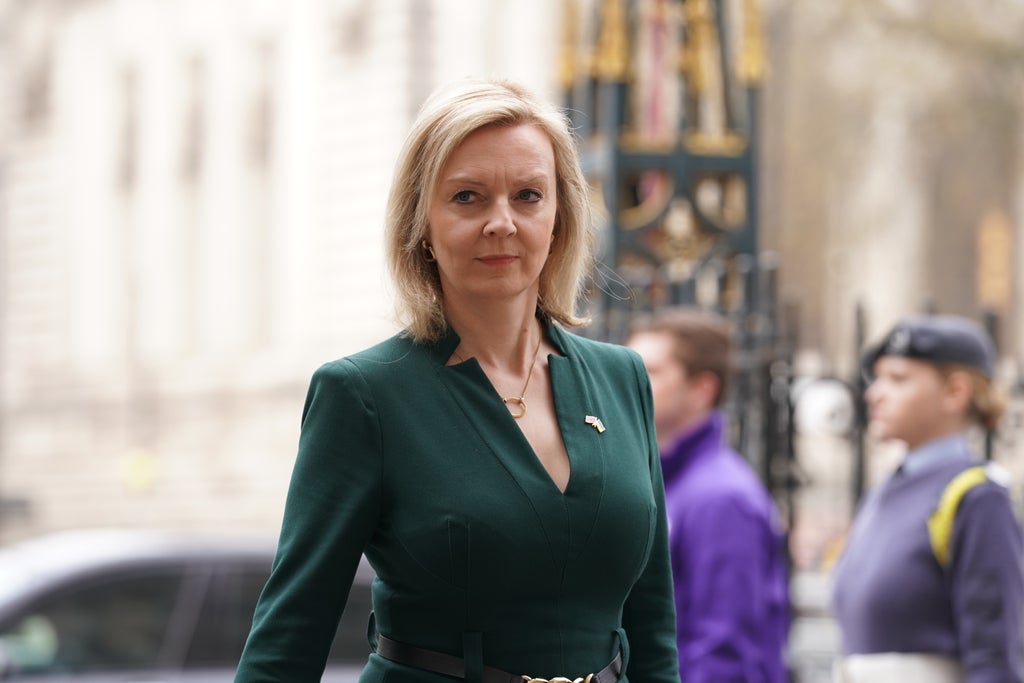 Related video: 'Frustrating' lack of flexibility from EU over protocol, says Northern Ireland secretary
Foreign secretary Liz Truss on Thursday is expected to offer the EU 72 hours to budge in talks over Northern Ireland border checks or the government will unveil legislation to tear up the protocol.
The decision will be taken as early as Monday whether to hand ministers sweeping powers to override large parts of the withdrawal deal, sources told The Telegraph.
Irish foreign affairs minister Simon Coveney earlier said that threats from the UK government to override elements of the Northern Ireland protocol "have gone down really badly" with the EU.
Speaking during a visit to Belfast, Mr Coveney said: "We don't believe that the way forward in terms of solving outstanding issues can be done unilaterally by either side."
Prime minister Boris Johnson on Wednesday told the EU there is no need for "drama" as he doubled down on hints he could override elements of the post-Brexit deal. Mr Johnson added that the Good Friday Agreement is more important than the Northern Ireland protocol while dismissing suggestions of any possible escalatory response from the EU as "crazy".
1652344948
Tory MP refuses to apologise for 'common sense' claim food bank users can't cook properly
A Conservative MP has doubled down on his controversial comments claiming poor people use food banks because they "cannot cook properly" and "cannot budget".
Lee Anderson sparked widespread outrage by claimed there is not "this massive use for food banks", urging Labour MPs to visit a charity in his Ashfield constituency where people get cooking lessons.
Mr Anderson was unapologetic when asked about his remarks on Thursday – claiming that people "would be able to fend for themselves" with the right education.
The Tory MP told Times Radio: "There are generations of people there who simply haven't got the skills to budget properly and go shopping and do a proper weekly shop, like we did back in the day."
Tory MP claims there is no 'massive use' for food banks in UK
He added: "The point I was making was that there are a lot of people out there that with the right help, and the right support, and the right education, they would be able to fend for themselves."
Mr Anderson said he was not "being a nasty Tory", before adding: "I'm glad that it's caused all this fuss. Because it brings that debate out."
Tom Ambrose12 May 2022 09:42
1652343862
Labour says Government should cancel NI rise
Lisa Nandy has called on the Government to cancel the rise in national insurance contributions and reiterated Labour's calls for an emergency budget.
She told BBC Breakfast: "I think the Government should cancel the rise in national insurance contributions – I think that is causing real havoc for a lot of families across the country and we opposed the cuts to Universal Credit."
On removing the £20 uplift, she said: "That is a lot of working families who are now unable to make ends meet.
"In my constituency now, our local food bank says they're not just giving out food parcels to working families – to parents in work – they're giving out cold boxes to families because people can't actually afford to cook the food because they can't afford their energy bills.
"So, if you put those things together, you get real payment to the people who most need it very quickly and then you've got to take the long-term action, such as retrofitting homes to improve energy insulation – that creates jobs, it creates growth, it gets money back into local economies.
"There's lots of ways in which the Government can help now and can help to preserve and build resilience in the economy, and in family budgets, for the future.
"But that's why we have been calling for an emergency budget, but so far we've had absolutely nothing from this Government, and it beggars belief at a time when people are struggling."
Tom Ambrose12 May 2022 09:24
1652343082
Minister condemns Tory MP's food bank comments
Prisons minister Victoria Atkins has said she does not agree with controversial comments made by Tory MP Lee Anderson in which he suggested people use food banks because "they cannot cook properly".
Asked on Sky News about the remarks made in the House of Commons on Wednesday, Ms Atkins said: "This is not the view of me or anyone else in Government. We want to give not just immediate help but longer-term support as well."
She added that the comments may have been misinterpreted, saying she thought Mr Anderson had been referring specifically to his local food bank providing longer-term support.
Responding to a suggestion that the comments accused people of using food banks to get a "ready meal" because "they can't be bothered cooking", Ms Atkins said: "Yeah, that's not right and that's absolutely not right.
"I've spent my ministerial career working with very vulnerable people … cooking lessons will not be the complete solution to that."
Tom Ambrose12 May 2022 09:11
1652342122
Oil company bosses "the new oligarchs", says Tory MP
Conservative MP Robert Halfon has labelled oil company bosses "the new oligarchs" as he called on the Government to hit them with a windfall tax.
Speaking on BBC Radio 4's Today Programme, he said the Government had done "a fair bit" to tackle the cost-of-living crisis but that families were still struggling with food and energy bills.
Mr Halfon said: "I do think that the Government should consider properly a windfall tax.
"Oil companies or oil bosses are the new oligarchs – one of them earning a salary over £76 million, getting a £4.5 million bonus."
Pressed on the oligarch claim by Nick Robinson, the Harlow MP pointed to "the way oil companies are ripping off motorists at the pump by not reducing the price quickly when the oil price falls internationally".
Arguing that windfall taxes were not "un-Conservative", Mr Halfon argued: "Margaret Thatcher did it, David Cameron has done it, Conservative governments have imposed windfall tax on oil companies in times of need."
Tom Ambrose12 May 2022 08:55
1652341342
Tearing up Northern Ireland protocol would be legal, claims attorney general
Boris Johnson's attorney general has received legal advice that it would be lawful to tear up parts of the Northern Ireland Protocol.
The government's chief law officer Suella Braverman is said to have approved the scrapping of swathes of the agreement, giving the prime minister legal cover to make the move, despite warnings from White House and EU not to take unilateral action.
Ms Braverman has advised that legislation to ditch protocol checks on goods would be legally sound because of the "disproportionate and unreasonable" way it has been implemented by the EU, according to The Times and the BBC.
The attorney general has submitted evidence accusing the EU of undermining the Good Friday Agreement by creating a trade barrier in the Irish Sea, and warned of "societal unrest" in Northern Ireland.
Tom Ambrose12 May 2022 08:42
1652340382
Johnson refuses to rule out potential windfall tax
Boris Johnson has refused to rule out a windfall tax on the profits of the energy companies to help relieve the pressure of the cost-of-living squeeze.
Chancellor Rishi Sunak has reportedly told Treasury officials to examine plans for a levy on the soaring profits of the oil and gas giants, PA Media reports.
It follows an admission by BP chief executive Bernard Looney, who said his firm's investment plans would not be affected by a windfall tax.
In an interview with LBC, the Prime Minister said that while he still does not like such taxes because of the impact on investment, it is something that they would have to consider.
Pressed on Mr Looney's comments, Mr Johnson said: "Well, you know, then we'll have to look it."
He added however: "The disadvantage with those sorts of taxes is that they deter investment in the very things that they need to be investing in – new technology, in new energy supply.
"I don't like them. I didn't think they're the right thing. I don't think they're the right way forward. I want those companies to make big, big investments."
Tom Ambrose12 May 2022 08:26
1652339482
Northern Ireland Protocol is creating "political instability" – minister
Prisons minister Victoria Atkins has said the Northern Ireland Protocol is creating "political instability" but insisted she believed "the EU will listen to our arguments".
Asked about whether she would support scrapping the protocol, which Attorney General Suella Braverman is said to have received advice about, the MP for Louth and Horncastle told Sky News: "I haven't seen the advice and, of course, the attorney will be seeking legal advice on matters of such significance as this."
She added: "We know the protocol at the moment is creating political instability because we need to get the executive up and running.
"That is proving very, very difficult but it is also providing problems for people in their day-to-day lives, so rising prices, shortage of goods and so on.
"I'm convinced we will be able to find a solution to this because I'm sure that the EU will listen to our arguments, but I think it's right we review this."
Tom Ambrose12 May 2022 08:11
1652338456
'Walk down any high street in the country and you can see that businesses are struggling'
Lisa Nandy also said "people can see through" Government slogans that it is supporting local communities with the UK Shared Prosperity Fund and a "long-term plan".
Speaking to BBC Breakfast, she said: "I'm afraid this is just more nonsense, more flannel and more slogans from a Government that is completely out of ideas.
"I think people can see through it now – you walk down any high street in the country and you can see that businesses are struggling, shops are boarded up, people simply don't have money to spend.
"We've had a decade of cuts to our local services, to our local councils, and, at the moment, we're facing a perfect storm where people are paying more in taxes and they're getting less than ever before.
"We've got to get money back into people's pockets. We've got to get money back into local communities because otherwise what you see is what we've had for a decade, which is that people just simply can't spend.
"Every pound you put into the pocket of working people goes back out into the local economy and because the Conservative government has consistently prioritised tax breaks for the very wealthy over money into working people's pockets, that's why we've got this crisis across the country, that's why we've got very sluggish rates of growth compared to other similar economies and that's why we are having to raise taxes because we've got a low-growth economy, because we haven't invested in people and places for far too long."
Tom Ambrose12 May 2022 07:54
1652337958
Nandy: Money is being "sucked out of communities"
Shadow levelling up secretary Lisa Nandy said money is being "sucked out of communities" and this is playing out in the slower growth seen in Thursday's GDP figures.
Britain's economy grew at the slowest pace for a year at the start of 2022, as official figures showed a contraction in March amid mounting fears that the cost-of-living crisis may plunge the UK into recession.
The Office for National Statistics (ONS) said gross domestic product (GDP) rose by 0.8% between January and March, down from growth of 1.3% in the previous three months and the weakest since the first quarter of last year.
The figures showed that on a monthly basis, GDP fell by 0.1% in March after growth stalled in February and rose by 0.7% in January.
She said levelling up is "all the more important and even more crushing that we've had two years of big promises from the Government but no real action".
She added: "We've just released figures this morning which show that a billion pounds has been stripped out of the English regions, money that was promised to us by the Government that then would replace … that we used to receive via the European Union, but no longer do.
"This is causing an absolute crisis around the country because if we strip money out of people's pockets, if you suck money out of communities, that people don't spend, the economy doesn't grow and businesses don't thrive.
"That's what we're seeing playing out in these GDP figures this morning, but it's also what we're seeing playing out in the crisis that is engulfing families and businesses."
Tom Ambrose12 May 2022 07:45
1652337070
Khan launches panel to examine cannabis legality
Health secretary Sadiq Khan has announced a commission to examine the effectiveness of the UK's drug laws, focusing the ones on cannabis.
A panel of independent experts in criminal justice, public health, politics, community relations and academia will be assembled to consider global evidence on the outcome of drug policies, the London mayor's office said as reported by The Guardian.
Mr Khan, who is on a four-day visit to the US, reportedly visited a cannabis dispensary and cultivation facility and met licensed retailers and growers.
Alisha Rahaman Sarkar12 May 2022 07:31
https://www.independent.co.uk/news/uk/politics/ni-northern-ireland-protocol-boris-johnson-brexit-news-b2077116.html Brexit latest news: Truss to give EU 72-hour deadline on Northern Ireland before scrapping protocol