News
Boris Johnson pictured holding Christmas quiz in Downing Street 'clearly violating Covid law'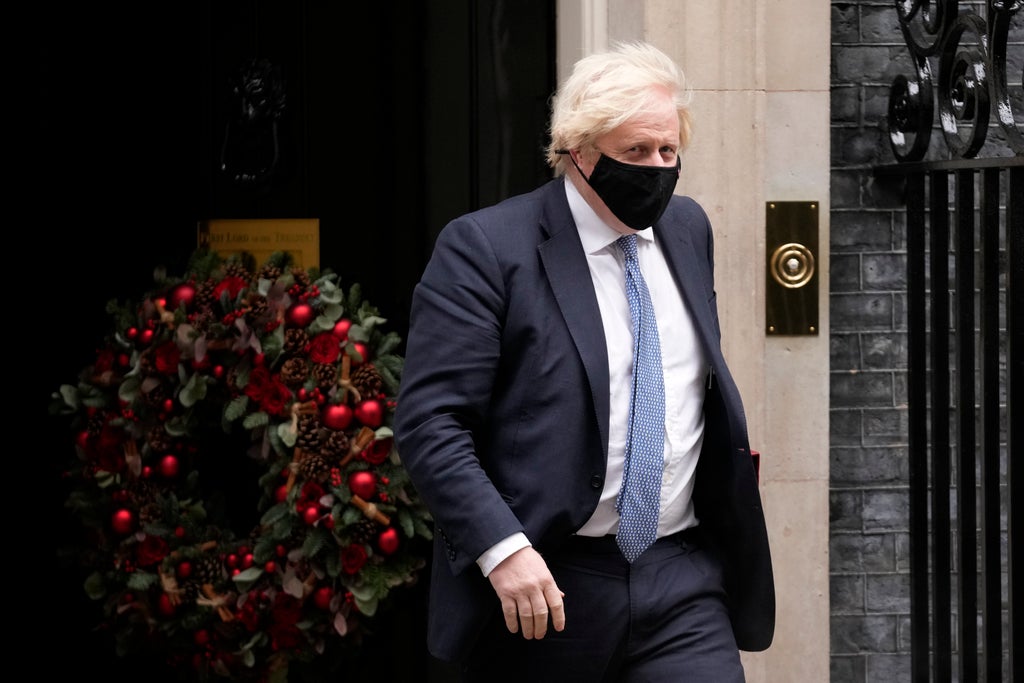 Boris Johnson was envisioned storing a Christmas Downing Steet's test last December for "a clear violation" of his own government's Covid rules.
An image obtained by Sunday Mirror shows the prime minister sitting with two colleagues beneath a portrait of Margaret Thatcher as he reportedly reads questions to staff via video.
Sources told the paper that the test was held on December 15, while London was subject to a second-degree restriction barring socialization. Staff were invited to join online but dozens reportedly chose to do so from Number 10 instead.
An insider told Mirror that in an office, four teams of six took the quiz while gathered around a circular computer screen.
Under Covid regulations in London and most other parts of the country at the time, gatherings of two or more people indoors were prohibited unless "reasonably necessary for business".
The official guidance states: "You may not host a Christmas lunch or party at work where it is primarily social and not permitted by the rules of your grade."
Attorney Adam Wagner tweeted that the reported details suggested "a clear violation of government guidance and a potential breach of law, including by the Prime Minister".
A source told the Mirror that the test ended at 9pm but staffers stayed for two hours drinking and talking, some of them walking together in each other's offices.
The source said: "Nobody ever questioned whether this was against the rules or we shouldn't have done this.
"We all just go ahead and do it. At the time, we didn't even click that what we were doing was seriously wrong. I've realized now that it's actually quite outrageous. "
A No 10 spokesperson said: "This is a virtual test. Downing Street employees are often required to be in the office to work in response to the pandemic, so those who are in the office for work may have barely attended from their desks.
"The Prime Minister quickly took part in a virtual check-in to thank the staff for their hard work throughout the year."
Reports also surfaced earlier on Saturday that Secretary Therese Coffey's staff had gotten into the habit of late-night drinking in her office at the Department of Work and Pensions (DWP) while the rest of the land. water at home according to the restrictions of Covid-19.
Follow Mirror, DWP staff and officials will also order takeout to her office and on one occasion Ms. Coffey, secretary of state for work and pensions, delivered well-rounded Christmas presents.
The DWP confirmed that, although the drinking took place after work, the employees were still working at the time.
But a source told Mirror: "Even during the lockdown, there are constant parties."
Another added: "There's a constant stream of alcohol in the office."
A DWP spokesperson told The Independent: "Throughout the pandemic, DWP officials have followed government guidance while continuing to provide critical services to millions of people.
"Staff work from home where possible but a core team that works directly with the Secretary of State regularly works from the office, in line with COVID-19 rules as they evolve.
"The team often worked late into the night, and in some cases, they ate takeaways and drank a bit of alcohol.
"On one occasion near Christmas, the Secretary of State gave her core team a present, like every year."
https://www.independent.co.uk/news/uk/politics/boris-johnson-christmas-quiz-downing-street-b1974395.html Boris Johnson pictured holding Christmas quiz in Downing Street 'clearly violating Covid law'