Tech
An architect's mission to bring DeafSpace design to the masses
Richard Dougherty grew up in a house with a rectangular dining table, pocket-sized windows and small rooms. Built over 200 years ago, this Georgian style house in Ireland was once used as a vicarage. It was dark, damp, and cold, which "made it particularly difficult for me as someone who relies on clear eye contact, lip reading, and other facial expressions to communicate," he says. Even the locked rooms didn't help."[because they] limited my visual range and cues."
Dougherty is deaf; his parents and four siblings are not.
Dougherty is the lead architect of what is expected to be the first public space in the United States to be built using DeafSpace design and architecture. The design philosophy, developed in 2006 as the DeafSpace design projectincludes more than 150 architectural elements that "consider the distinct ways that deaf people relate to their physical environment," says Dougherty, including space and proximity, sensory reach, mobility and proximity, and light and color, and acoustics.
The new space, which includes an outdoor area called the Creativity Way, is located on the campus of Gallaudet University, the only four-year liberal arts institution in the country for the deaf and hard of hearing. Chartered by President Lincoln in 1864, Gallaudet, where the DeafSpace design was developed, is also adding three new buildings that utilize DeafSpace principles and will open the campus to the surrounding DC neighborhood.
***
While Dougherty grew up in a hearing household, his wife Sarah grew up in a home that "embodies everything about the 'deaf world' – a rich sensory world full of silent conversations, visual animation and a specific cultural identity". says Dougherty. Sarah, her siblings and her parents are all deaf. "The house was an oasis of spatial joy for me," says Dougherty, recalling his first visit. "[There was] an abundance of natural light, tactile and warm finishes, free access to the gardens. The smells were different too."
His in-laws, he says, spent years remodeling their 1930s home to "fit the family's unique 'nature of being'," which involved removing walls and adding strategically placed lights and mirrors. Reflective surfaces can facilitate visual communication and allow a deaf person to see that someone is behind them. The differences between Dougherty's childhood home and his wife's helped him "appreciate the values ​​and power of the fundamental connections between deaf people and the spaces in which they live."
This paved the way for Dougherty to become lead architect for GU's pedestrian-facing public space, as well as consultant to GU for the three new buildings. These will include 30,000 square feet of retail space on the ground floor and 15,000 square feet of campus space above, including 245 residential units described by stakeholders as "GU's gateway to the community." This new project, Dougherty says, is the school's way of reaching out to the neighborhood to foster a new relationship between the two.
***
DeafSpace design, dubbed human-centered design, can benefit everyone, says Dougherty, who works at Hall McKnight, an architecture firm with offices in Belfast and London. Paste it[s] the idea of ​​empathy" into the design and advocates, for example, circular or curved seating as a key element.
Deaf people are "spherical people," writes Ben Bahan, professor of American Sign Language (ASL) and Deaf Studies at Gallaudet. While a hearing person may look for angular designs that include walls and enclosed spaces, for deaf people this approach can create a sense of isolation. Architect Todd Byrd writes that visual access and fewer walls or half walls with "implicit enclosures" is a design approach that benefits deaf communication. Dougherty calls circular seating a "democratic balance"; Not only does it make visual communication easier, but it gives everyone equal status as no one is seated at the head of the table. It also allows people to see each other better, which can highlight facial features, which is also vital for improved communication, whether people speak ASL or not.
In fact, most if not all of the DeafSpace principles are beneficial to the listening community, says Dougherty. And, according to Sam Swiller, GU's director of strategic real estate planning, business development and external relations, they're designed to be "just as efficient as traditional designs." "Applied correctly, [DeafSpace design] should not affect space availability."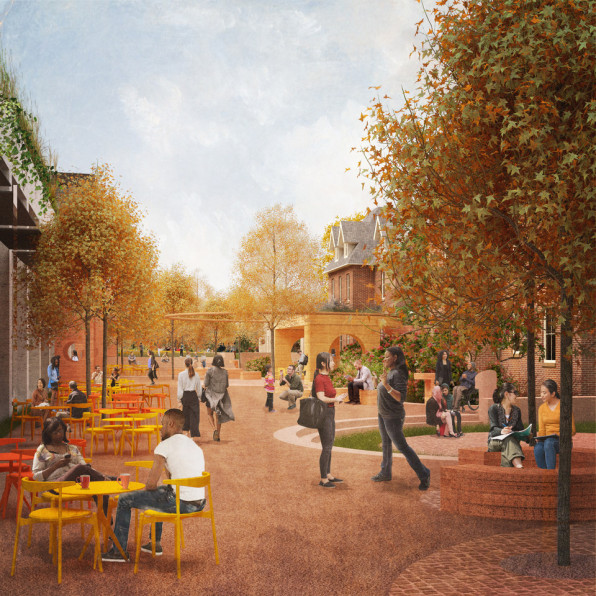 "[DeafSpace design] is not limiting at all," says Robbie Saclarides, vice president of development at JBG Smith, the developer of the project, adding that the design concepts are not intrusive or even necessarily obvious to the user. The lobbies of the three new buildings, for example, will have open sight lines, a concept Saclarides says is appreciated by the majority of the populace, and circular seating or furniture that can be placed in various configurations.
While the hallways of the new buildings will be wider, the living units themselves will not have any discernible differences, according to Saclarides. (For example, there will be no half-walls in the rooms.) But there will be improved lighting. "I don't think you would necessarily say, 'Oh, the lighting in this room is spectacular,'" she says. "But you would have an unconscious feeling [lighting designed] to avoid certain types of shadows", which is important for ASL communication. Color palettes – especially blues and greens – not only create a calming background; They've also proven to be the best backdrop for communication between people of different races, says Dougherty.
The Creativity Way will also feature wider sidewalks to make room for signed conversations, which Dougherty says anyone can walk and speak from, including people in wheelchairs and parents with strollers. And trees with clear undergrowth improve everyone's line of sight.
"We worked very closely with our landscape architects to consciously choose the types and colors of materials we implement on sidewalks and crosswalks and wherever we control the design of the public space," says Saclarides. "If you don't hear a car coming, you will certainly see and feel that contrast in the pavement beneath you – bumps or different textures in the pavement as you approach potential areas of conflict." This can act as a warning to pedestrians to look up and theirs environment, much like a rumble strip on a freeway or the bumpy texture at the edge of a train station platform.
***
The Creativity Way will encourage people to stop and chat with sunken conservation pits and amphitheater-style seating. It will also act as a transitional space between the school and the district: the Creativity Way will be open to the public from dawn to dusk, and the ground floor retail space will serve the public.
When it comes to cost, Saclaride's DeafSpace design compares to green design. "Are there ways to do eco-friendly design that's really expensive? Yes. Are there ways to be more sustainable without increasing costs? Yes absolutely. So I think that is [also] This also applies to the DeafSpace design," says Saclarides, adding that it largely depends on the construction site and the specifications.
While JBG Smith and GU have yet to commit to specific tenants for the retail space, they plan to allocate at least 5,000 square feet to a deaf-owned store. As for the other tenants, Saclarides says JBG Smith is looking for business owners who "have intentions of really getting involved with their location and environment." Saclarides says all retail tenants receive training on how to communicate effectively with those who speak ASL.
Saclarides sees the project, which will break ground this fall, as one that will not only "test and put into practice" Gallaudet's ideas of DeafSpace design, but also allow others to adopt the principles and to further improve them.
According to Dougherty, the project has the potential to become a global design model for celebrating sensory diversity. "I firmly believe in an architecture that focuses on building connections. . . . One that is profound and comprehensive, responding equally to the demands of the body and the mind; an ethical architecture that integrates instead of alienating."
https://www.fastcompany.com/90738970/one-architects-mission-to-bring-deafspace-design-to-the-masses?partner=feedburner&utm_source=feedburner&utm_medium=feed&utm_campaign=feedburner+fastcompany&utm_content=feedburner An architect's mission to bring DeafSpace design to the masses